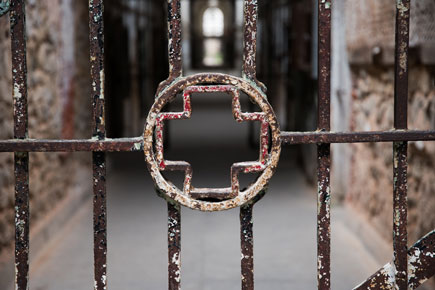 Nikon School Presents: Photograph Eastern State Penitentiary Historic Site with Nikon Ambassador Joey Terrill
Join internationally renowned photographer and Nikon Ambassador Joey Terrill in making stunning images at the Eastern State Penitentiary Historic Site during this exclusive hands-on workshop. This workshop will offer attendees a mix of environmental and architectural photography as well as the opportunity to create a stunning portrait of a model in this abandoned setting. This workshop is a must for photo-enthusiasts who love history, creating images in unique locations, and those who want to learn from a top portrait and commercial photographer. Exclusive access to some of the Hands-On History locations where attendees will make photographs include the Hospital, Soup Alley and a designated Cellblock.
During the course of the hands-on workshop, Joey Terrill will instruct attendees on the Nikon Creative Lighting System for making images within this historical location, as well as in photographing a model. Attendees will receive a mix of classroom and hands-on education, as well as private access before the site opens to the public and the ability to bring photographic equipment into Hands-On History spaces.
To enhance your shooting experience and personal gear, Nikon will provide access to lenses, DSLRs and Speedlights for you to use to take these extraordinary images and try something new. Attendees are welcome to bring their own gear—and photographers using all brands of photographic gear are welcome to attend.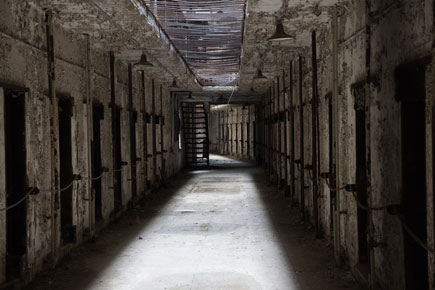 Hands-on workshop agenda
The workshop will take place from 7:00am to 3:00pm, which includes time before Eastern State Penitentiary Historic Site opens to the public. Also part of this hands-on workshop is a 60 minute guided tour through the facility. Attendees will be provided with additional time after the workshop to tour the premises, prior to the site closing at 5pm. Should you desire to take photographs during this time, it is recommended you bring your own camera equipment.
Included in the ticket fee, attendees will receive early/private admission access, the opportunity to bring photographic equipment into Hands-On History spaces, make photographic portraits during private hours, access a guide-led tour as well as a self-guided audio tour, receive a year long equipment pass, lunch, and a Nikon premium gift bag.
You must be at least 21 years old to attend this Workshop. All participants are required to sign a Release, Waiver and Hold Harmless Agreement prior to arrival.
Proud Sponsors of Nikon School
Nikon School Cancellation Policy
Nikon Ambassador Hands-on Workshop: Registration cancellations are eligible for a full refund less a 10% (per ticket) transaction fee if Nikon receives a written cancellation request including the original eticket(s) at least ten business days prior to the Nikon School date. To submit your cancellation request, please email: nikonschool@nikon.net or mail to: Nikon School, 1300 Walt Whitman Road, Melville, NY 11747. THERE WILL BE NO REFUNDS AFTER THAT TIME.
Attendance is limited to 35 students. This workshop will take place rain or shine.
To attend this workshop, you must be over the age of 21. If you arrive to the workshop and you are under the age of 21, you will be denied access to the program. All students are required to sign a release from both Nikon Inc. and the event operators prior to arrival.
Price, date, location, and agenda are subject to change at any time without notice.
LCD, Video and Photo Gallery images are for illustrative purposes only.
Reviews are coming soon
We can't wait to hear your firsthand experiences with this product, but first we need to actually get the product in your hands! Please check back after it's available for purchase.