Exotic animals and fantastic adventures in Animal Kingdom® Theme Park
Encounter exotic animals and exciting adventures at Disney's Animal Kingdom® Theme Park, one of the largest animal theme parks in the world. Home to more than 1,700 animals across 250 species, the park reflects Walt Disney's dedication to conservation and is committed to animal care, education and research. It also provides endless opportunities to create wonderful images of wildlife.
NEW! Pandora – The World of Avatar
Visit a world beyond belief in this all-new land that celebrates the magic of nature. In addition to expeditions like Avatar Flight of Passage and Na'vi River Journey, Pandora – The World of Avatar lets you walk through the Valley of Mo'ara amid floating mountains, glowing fauna and flora and many other wonders—providing some truly out of this world photo opportunities. At night, when the exotic plants come to life with beautiful bioluminescence, select a Scene Mode like Night Portrait or Night Landscape. If your camera doesn't have Scene Modes, select a high ISO setting and keep your camera as steady as possible.
Pandora – The World of Avatar ©Twentieth Century Fox Film Corporation. JAMES CAMERON'S AVATAR is a trademark of Twentieth Century Fox Film Corporation. All rights reserved. ©Disney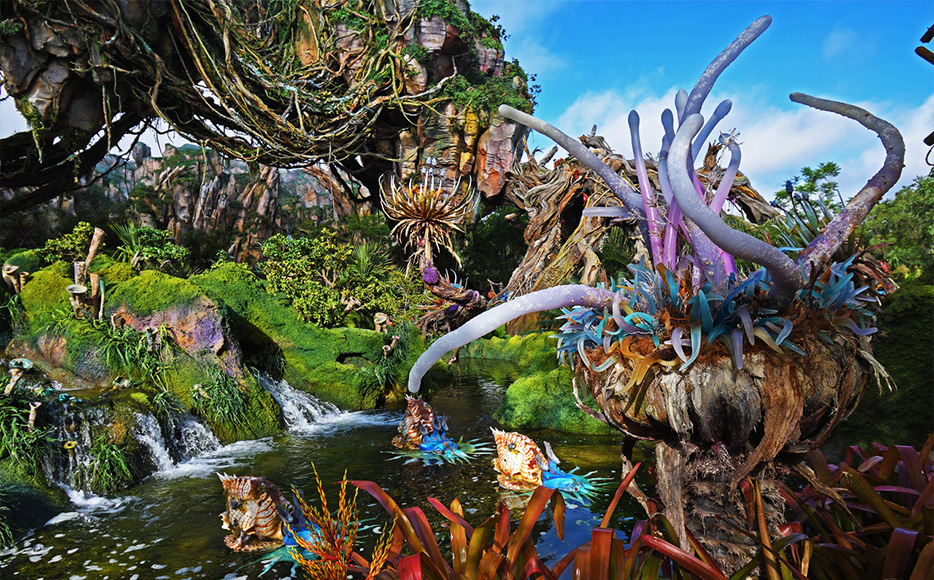 Photographing Pandora – The World of Avatar with
Ron Magill and Mike Corrado
Nikon Ambassador Ron Magill and Sr. Manager of Pro Relations Mike Corrado take an awe-inspiring journey through this land that's unlike any on Earth.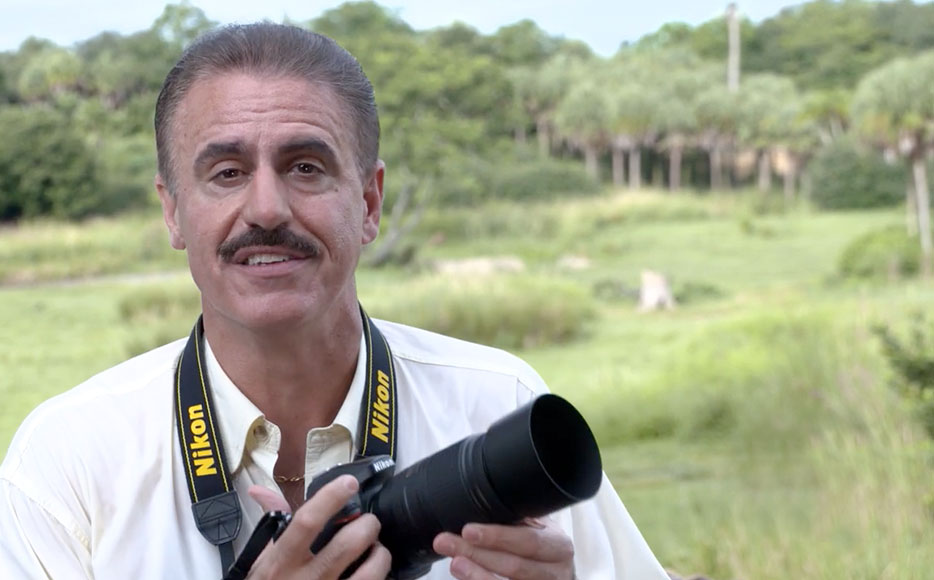 Photo tips

made easy

with

Ron Magill

Professional wildlife photographer and Nikon Ambassador Ron Magill shares tips and advice for turning an ordinary image into an extraordinary image.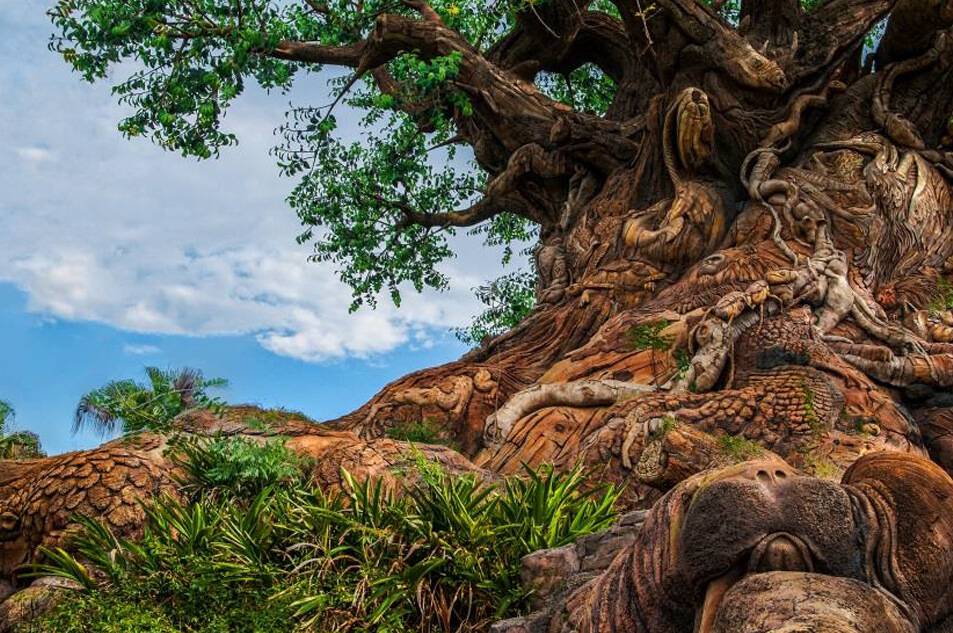 Tree of Life® Attraction
Celebrating all living creatures, the Tree of Life® Attraction is the iconic centerpiece of Disney's Animal Kingdom® Theme Park. For a unique photo of this breathtaking sculpture, turn your camera vertical, get close to the tree and shoot upwards. Or, zoom in and fill the frame with your favorite carving (there are over 300!).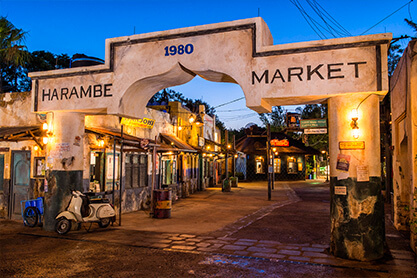 Harambe Market
The entrance to the colorful Harambe Market provides a great wide-angle opportunity. Zoom all the way out and pay attention to the edges of your frame. For added fun, take a shot of your family underneath the sign that welcomes visitors to the market. When you get home, it will remind you of your visit.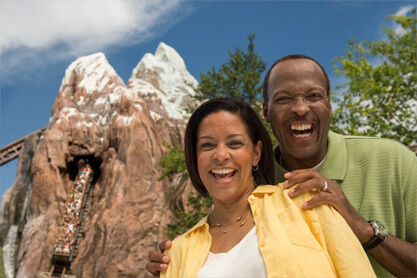 Expedition Everest – Legend of the Forbidden Mountain®
Gather together for a photo in front of one of the tallest and most popular attractions in the park, Expedition Everest – Legend of the Forbidden Mountain®.
When photographing wildlife at the park, use a fast shutter speed or Sports Mode, and take many, many shots—animals move fast.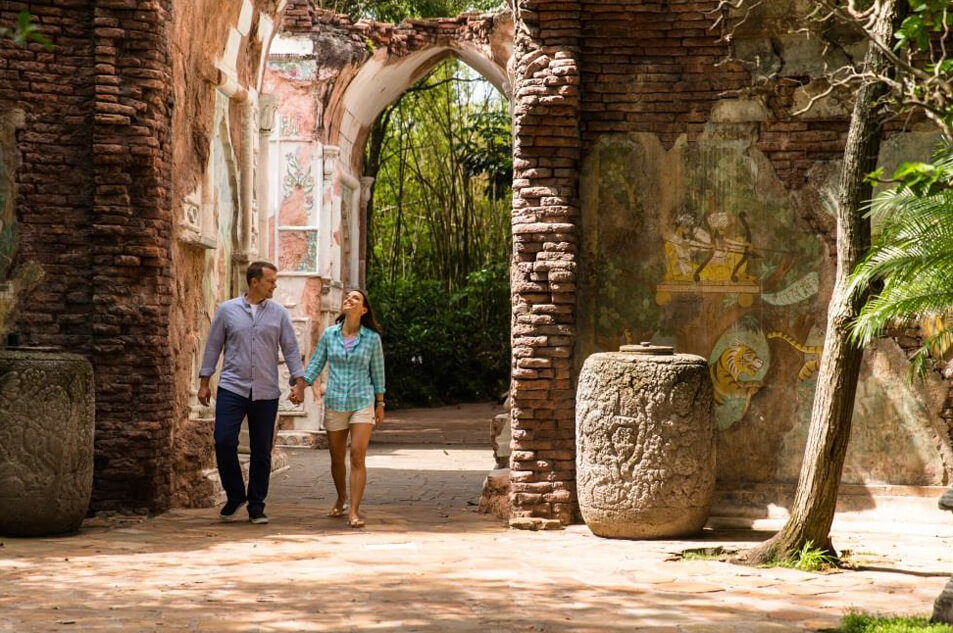 Maharajah Jungle Trek® Attraction
Maharajah Jungle Trek® Attraction lets you embark on a self-guided tour of Southeast Asia—home to tigers, fruit bats, dozens of species of birds and even a flying fox! If your camera has a built-in flash, make sure it's off. The light won't reach the animals, and it will just deplete your battery. Also consider taking photos of the signs that identify the animal species so you can find them in your photos later.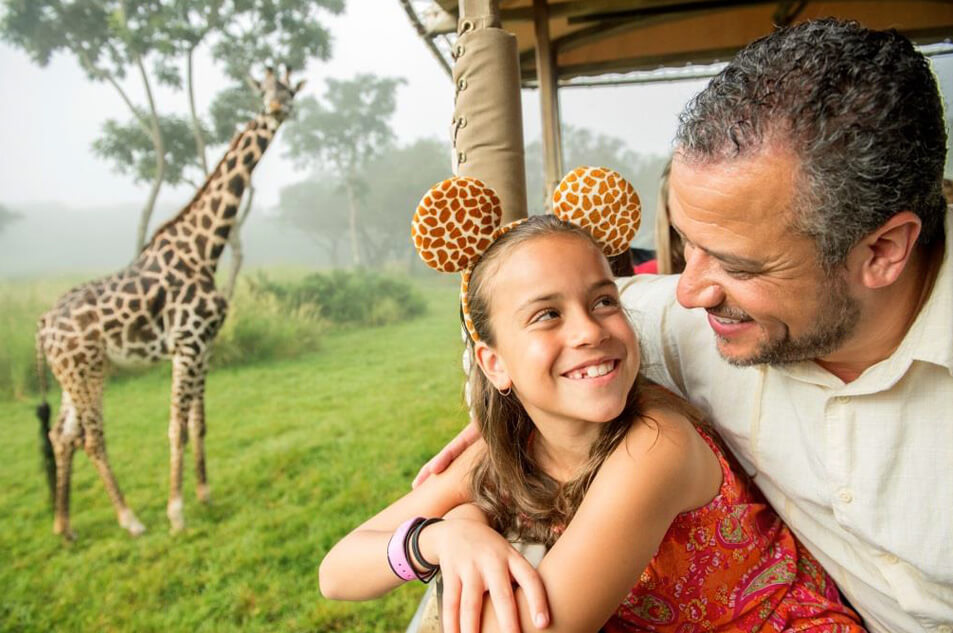 Kilimanjaro Safaris® Expedition
Take an 18-minute expedition into the Harambe Wildlife Preserve and capture thrilling photos and videos of exotic animals in their natural habitats. The trek offers nonstop opportunities for wildlife photography, shady forest landscapes and candid portraits of your family. Try to capture a portrait with animals in the background—you'll forever remember how it felt to be on a real safari adventure.