The assignment to shoot the Z 8 video—which we hope you've just seen—had many elements that were familiar territory to Dixie Dixon: sizable crew, multiple locations, several models, assorted animals and lots of details, outfits and accessories; plus a tight schedule that allowed only five days to plan and prepare, then four days to shoot.
There was one crucial element at the center of it all—the Z 8, which Dixie found familiar in performance and new in its ease of handling—and we mean "handling" quite literally.
"The ergonomics are perfect," she says. "I have tiny hands, and the Z 8 feels like a D850—just the right size for me." Which means the Z 8 will pretty much be her go-to camera going forward. "It's also a lot lighter, and that'll make a difference when I have to bring gear to different shoots or do a lot of climbing."
It will also make a difference indoors, as Dixie is very often tethered to a monitor so commercial- and fashion-shoot clients or their reps can view the images as they're created. "The Z 8 just makes it easier and quicker to move around, to get everything done," she sums up. And that was a key to getting the video shot in just four days.
"We had a cohesive but abstract storyline that involved three different couples—soul mates meeting in different lifetimes, different time periods," Dixie says. The concept led to an old-time train station, complete with its train, and scenes of indoor opulence and outdoor adventure; to horses, camels, a poodle, a Bronco; to time shifts and the clothes and accessories required. The stories are glimpsed in a minute-and-a-half of creative fantasy that's alluringly real, yet elusively just out of reach.
Under Pressure
The fact that the Z 8 fit seamlessly into Dixie's shooting style and production workflow made the assignment practically a field test in the midst of a high-pressure, multi-level production.
The fit was definitely noticed. "You know, we often use gimbals on our shoots," Dixie says. "You can see one in the behind-the-scenes video, and while you can shoot the Z 8 hand-held, on the gimbal it gave us incredible, smooth-as-butter slow motion. We shot almost the whole video in 4k 60p, and the gimbal with slow motion is a great pairing."
There was additional evidence that the Z 8 is a serious video-making machine. "My cinematographers—they've all shot for different clients using the big, high-end cameras, and they fell in love with this camera for its image quality…and the fact that their backs didn't hurt."
The hybrid nature of the Z 8 and its quick switching from video to stills came into play in a big way to handle the demands of the shoot. "For our schedule we had to shoot both stills and video each day, going back and forth a lot," Dixie says, "and the Z 8 handled that seamlessly."
… you don't need a huge crew to create beautiful, cinematic high-end footage with this camera.
Inspiration and Anticipation
Another element associated with the Z 8 and its easy-handling performance has to do with the future, as Dixie looks forward to using the camera strictly for videography. "Rather than switch from video to stills on a shoot, I'm looking forward to having a strictly video day," she says. "Then I could really focus on filming. The Z 8 inspires me to get in there and do a lot of the filming as well as being the director—it's so light and so easy [to handle], I could really get creative with it, and I'm excited to actually do some personal projects. That's really the beauty of it—you don't need a huge crew to create beautiful, cinematic high-end footage with this camera."
In a way, that too is familiar territory: the gear and its technology inspiring creativity.
Dixie's website,
www.dixiedixon.com
, provides galleries of images, both still and video, and behind-the-scenes views of the production process.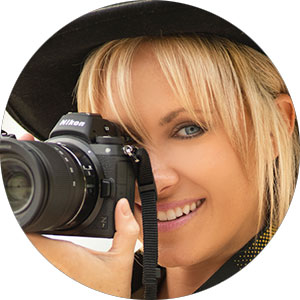 Dixie Dixon is a Texas born and bred commercial fashion photographer. Her passion has led her to shoot internationally in places such as Cannes, Toronto, Vancouver, New York, Miami, Los Angeles, Ibiza and Barcelona for various brands, TV shows, commercial campaigns and editorial projects. Go to her website www.dixiedixon.com and her ambassador page.
More articles by this contributor
This Article Goes Great With These Products