It's said that your first visit to Antarctica is all about the penguins; then you're drawn back for the ice. In fact, it was said to us by Taylor Gray, an outdoor and nature photographer/videographer who traveled to Antarctica prepared for both subjects, with maybe the scale weighted a bit toward the wildlife.
Problem is, Antarctic weather and terrain has a way of putting the pressure on visitors' goals, especially those with a photographic project in mind. After two days photographing in South Georgia Island, Taylor lost a day to weather and had only four "very busy" days on the Antarctic continent instead of the five he'd anticipated.
Fortunately, Taylor had a lot going for him. There's his uncanny ability to create storytelling images that capture the emotion of the moment, whether conveyed in one of his masterfully edited videos or in compelling single frames. He's also a quick, intuitive shooter when the circumstances demand it; a thoughtful, patient one when time permits.
And he had with him on this adventure the extraordinarily capable Z 9, which provided features made for superb video and still images and a rugged build more than up to the challenge of the environment.
Something Completely Different
The scenes and situations in Antarctica were unique to Taylor's experience, even though he's one of those photographers who seems constantly in a state of motion across the globe. "I'd heard Antarctica was the most alien environment you could imagine," he says, "but I didn't understand the scale of it until I was there: thousand-foot mountains rising out of the ocean, whales all around you, and seals, thousands of penguins and sea birds."
He may have arrived short on expectations. In other words, pretty much the way he likes to work. Preserve a sense of wonder and reactions are spontaneous and real—but there's always a purposeful narrative to his work. His basic idea for Antarctica was "to go for kind of a shock-and-awe of how incredible this place is in images of wildlife, landscapes and the raw ruggedness of it all."
The trick is not to be overcome by it. When you're seeing thousands of penguins stretching to the horizon, there's got to be an element of, How do I do this? "Especially since I'd lost a day, there was limited time to have all well-thought-out shots," he says. "There were times when it was very much run-and-gun shooting, but there were also times when I'd come across scenes—especially of wildlife interactions—and it's, Okay, this is special, I'm going to slow down and take some time to really watch this to see how it unfolds."
One of those times was the instance of a skua, a predatory sea bird, threatening gentoo penguin chicks. Taylor captured it in both stills and video. "That was a special experience—one of those moments when you have to slow down, observe it through the viewfinder and get your shots, but at the same time take it in and appreciate what you're watching."
The common factor of Taylor's video and still-image storytelling in Antarctica was quick recognition of situations like the skua attack that are offered in a beautiful, pristine wilderness where it's possible to observe wildlife in its most natural and raw form. "Unlike animals living around human populations, in Antarctica the penguins, seals and sea birds are pretty much fearless," Taylor says. "They go about their business and couldn't care less about your presence. It was really cool to be a quiet observer of how wildlife interact with each other."
There were times I really had to push the weather-sealing on the Z 9 a pretty fair amount, but everything held up beautifully.
Tech Support
The Antarctica project was Taylor's first shoot with the Z 9, but with long-time experience using Nikon professional-level gear, he had confidence in the camera's capabilities, and its toughness. "When you come ashore with anything electronic, you don't want to mess with salt water," he says, "so I was really, really careful. After that, the weather is going to get to you. There was a lot of rain—everything got wet really fast." He had a cover on the camera, but, as he says, "There's only so much they can take. There were times I really had to push the weather-sealing on the Z 9 a pretty fair amount, but everything held up beautifully."
As important as the camera's features and rugged build were to the project, so were the NIKKOR Z lenses he used—the 14-24mm f/2.8, 24-70mm f/2.8 and 100-400mm f/4.5-5.6 VR—and the Z Teleconverter TC-1.4x. "In an environment as large as this, I tended to use the medium focal length to capture wildlife in their environment, but I shot with the long lens most of the time and was able to use its 100mm length to capture a kind of intimate perspective on the wildlife and also include a lot of their environment in the frame."
For Taylor the storytelling aspect of imaging, whether in stills or video is similar save for one challenging difference: with stills he could take any number of images and present them however he liked. With video, he had to convey the scope of what he was seeing in a two-to-three-minute edit. The answer was to go for the graphic emotional moments and slow things down to capture details and highlight drama. "I used a variety of frame rates for slow motion depending on the subject," he says. "Most of the landscape footage—there's not much action to it—was 30 fps, which is kind of the basis of the entire film. But for the scenes of the gentoo penguin defending its nest from the skua, I really took advantage of the Z 9's 4K 120 fps to really slow down the motion."
What increases the drama of that situation is Taylor's editing decision. He shot the penguin's defense in two takes and was able to get different perspectives at different focal lengths. The edit cuts away from the action at certain point, only to return to make the needed emotional connection for the viewer.
Journey of Discovery
"I learned a whole lot down there," Taylor says of the Antarctic project, and maybe the most important thing was to use his skills and experience in a place that's borderline overwhelming. "Initially when I arrive at a particular site, I tend to overshoot," he says. "It's almost as if I don't have time to even think about it." In Antarctica, knowing he was short a day, he had to get over the initial adrenalin rush and take control of the situation. "Once past that phase, I was able to think a little more carefully about how I wanted to capture what I was seeing."
He also learned that the Z 9 will be his workhorse camera going forward. He mentions the ability to switch quickly and easily between still and video shooting, something he could do with his Z 6, but now he'll have "more megapixels to work with for stills and higher frame rates for video."
He also appreciates the ability to shoot at ISO 64—"great for landscape photography"—and with the Z 9's expanded ISO range he can get down to ISO 32 for long exposures. "In Antarctica the Z 9 became my all-in-one tool for any project I need to tackle," he says. "There are no limitations."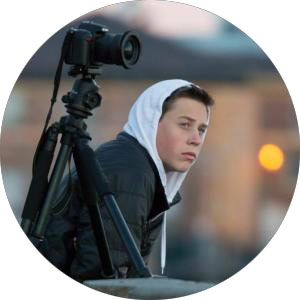 Taylor Gray discovered his talent for photography at age 14 during a two week backpacking trip in the Colorado Rockies. From there, he taught himself photography and started exploring the San Francisco area and beyond. In a few short years, Taylor has had the opportunity to travel to several states and to Europe, beautifully documenting the wide and varied landscapes in each place. After building quite a following on social media, Taylor is frequently asked to sell his prints and license his photos for websites. He is a passionate photographer with the goal of making a career out of it. You can see more of Taylor's work on his website www.taylorgrayvisuals.com.
More articles by this contributor
This Article Goes Great With These Products