It is, in fact a 360-degree world. So many times on location, in my history as a photographer, earnestly pointing my camera in one direction, I wished later that I had looked around behind me. Now, at least on a mission like I was out in the skies of Wyoming, I don't have to.
The Key Mission 360 cameras performed admirably up there in the great blue yonder, yielding "all angle" results that vastly enlarged the scale of my coverage. I have hung many a DSLR and SLR style of camera on many, varied styles of aircraft. The KeyMission adventure, among the other flyboy style coverage I have done, was truly unique.
It certainly was an improvement on my first experience in an open cockpit biplane. I went aloft in a vintage Stearman biplane as a young photog, having no idea what to expect. I had to hustle to grab the opportunity, and did not have the gear, the experience, the time, or the knowledge to hang a camera safely, in a good position, with clamping, rigging and remote wiring, as I should have. I simply went up.
I tried to handhold the camera and fire it backwards towards the pilot. Crazy. When we did 360 loops, I fought g-forces to get the camera out of my lap, only to find opposite forces trying to rip the camera out of my hand as we rotated through space. Needless to say, my pictures reflected my lack of savvy and complete seat of the pants approach.
I have many ideas for pictures and video with the KeyMission 360... It's a whole new way of visualizing a story.
For the biplane adventure with the KeyMission 360, thankfully, I had years of experience with this style of plane and in fact had worked with the tandem of pilot Gene Soucy, and Teresa Stokes, his flying partner and daring wing walker, on another occasion. Seeing them again was like seeing old friends.
Gene's plane is like a flying jungle gym, with lots of metal struts and braces to rig a camera on. Here's where the unbelievably handy, small size of the KeyMission 360 played a big role. I was able to safely place as many as four cameras on the plane for each flight, in addition to giving an action cam to Teresa to perch on a hand held extension arm (selfie stick).
It was a fascinating couple of days. I was with longtime friend and Nikon Sr. Manager; Pro Relations & Marketing Business Development, Mike Corrado, who was coaching me through my first time ever use of a 360-style action camera. I kept (foolishly) saying to Mike, as I placed a camera, "Okay, where can I be so the camera doesn't see me?" Mike's answer, basically, was, "Nowhere."
The camera sees just about everything! This was a dramatic shift in the way I had to think, given the fact I had spent many years working with one point of view, i.e., shooting a camera in one direction. This camera points everywhere, at once. Big adjustment.
I also had to be aware of where one lens stops and the other picks up, in other words, the ever-present "seam" inherent in 360 style shooting. We were able to angle the cameras, and achieve a smooth transition from one to the other, giving the viewer different angles all the time. We had cameras on the horizontal and rear stabilizers to the outer areas of the wings, to directly in front of the pilot.
The beautiful, and to me, being a novice with the camera, unexpected aspect of the KeyMission 360 performance was the absolutely smooth, near perfect transitions the camera made through exposure zones. The plane is a wonderfully dynamic platform, which is great, but it makes it tough for any camera system in terms of adjustments. One minute you are zooming straight at the sun, and then, within seconds you are upside down, flying in deep shadows. The camera handled it all.
Which makes for a terrific, immersive experience for the viewer of the video, especially through a set of VR goggles. You really get the sense of vertigo the plane induces. The camera experience makes the viewer take on the point of view of the wing walker. It really feels like a three dimensional, fast moving roller coaster.
The irrepressible, wing walking Teresa was a wonderful wild card in our coverage plan! Minimally clipped to the plane, dressed in blue suede, high heel boots, smiling at the camera, holding the extension arm (selfie stick) high above her, she spins atop the wings through all sorts of maneuvers. She smiles and waves while doing aerobatic maneuvers that would make the average person quake with fear. The camera records her, laughing in the face of danger, while at the same time showing her point of view—what she actually sees as the plane barrels towards earth at 150 mph, and then abruptly swoops back up into the blue.
It was a wonderful assignment, and a lesson in "relearning" how to see with this new technology. I have many ideas for pictures and video with the KeyMission 360, now that it enables me to see in all directions at once. The exciting thing is, as far as the cameras and software goes, this is just the beginning. It's a whole new way of visualizing a story.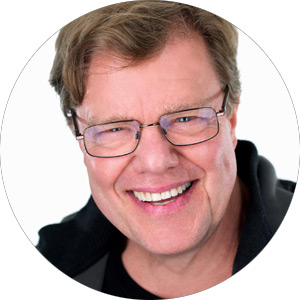 Joe McNally is an internationally acclaimed photographer whose career has spanned 30 years and included assignments in over 50 countries. He has shot cover stories for TIME, Newsweek, Fortune, New York, Entertainment Weekly, The New York Times Sunday Magazine and Men's Journal. Two of Joe's books, The Moment It Clicks and The Hot Shoe Diaries, both cracked Amazon's top ten list of best sellers. Visit his website at www.joemcnally.com and ambassador page.
More articles by this contributor
This Article Goes Great With These Products