Carli Davidson is the photographer and creator of the popular books SHAKE and SHAKE PUPPIES, two separate photo collections of man's best friends caught in the act of just trying to shed a little water. Maybe you've seen some of her mutt mugshots appearing on pet, photography and pop culture blogs. She has clearly mastered the art of mid-shake and midair capture using her Nikon DSLR.
"SHAKE is something that I've been working on since 2011," shares Davidson. The project started out of curiosity and has evolved into two books full of entertaining and playful puppy and adult dog images. Her photographs capture hounds as we've not seen them before—freeze frame shakes with heads, ears, jowls and tongues heading every which way. "I'm always on the lookout for something that grabs me. I like to capture an animal's expression that a human can respond to. One day, while cleaning my own dog's spit off the wall, I had an 'ah ha' moment. My inspiration: how he shakes about his big jowls. I took a few shots to experiment. When I looked at the images I knew that this was going to be a project I'd be proud of."
Head Turning Interest for the Nikon D4
Davidson is energized by all the head turning interest, adding, "I had no idea how amazing the reaction would be. The moment I shared some of the images online they went viral. I get fan letters from people all over the world thanking me for making them smile. The excitement and the positive energy the photos generated eventually led to a book deal."
Imagery for SHAKE has been produced using the Nikon D4. "Capture at 10 frames per second is very fast, and the focus is phenomenal in freezing the pet's movement. I was able to go back through my shots and find the exact moment where the dog looks the most bizarre," she shares. "Super-fast frame rates have been used by sports photographers for many years, but with camera technology continuing to evolve and more affordable options coming online, this camera certainly opens new technique avenues for animal photographers. The camera has allowed me to do something very cool."
All SHAKE dogs are Portland, Oregon, natives. "I used social media to find some pet models and Panda Paws Rescue was a huge help. I photographed nearly 70 percent of the animals in just three weeks. Each dog's owners, plus veterinary technicians, were on set to make sure the pets were comfortable during the photo shoot."
Make your Best Pet Photographs
SHAKE was produced using a studio set-up that incorporated high speed lights. For more casual on-the-go pet photography Davidson taps the Nikon D5300. "I've started using the D5300 when I take my dog Norbert hiking. It's easy to use and I can just throw it in my bag to take anywhere. This camera is light, compact and solidly built. It has a quick focus which makes it ideal for animal photography, and the rapid frame rate easily captures Norbert when he's running or playing. I find the Vari-angle LCD monitor helpful too—I'm always rolling around on the ground. That angled LCD saves me from bending my knees and back all the time. The Wi-Fi® feature is nice also. I can upload images to a smart device and post directly on social media."
"If you're interested in getting better pet photographs, the one thing you absolutely must do is make sure your subject feels comfortable with the camera," asserts Davidson. "A lot of people tell me that their pet is afraid of it, so I advise them to make the camera seem like a reward. Try putting the camera on the ground next to their food. They will start to think that when the camera is there they'll get a treat."
"If they're still nervous, try putting on some classical music. Or create a corner with their toys and some treats to help them relax. I also suggest not approaching the animal—let them come to you. If they are the one making the decision they'll feel more in control. This will likely make things easier overall."
As the photographer, perhaps the most important thing is to keep your patience. "The pet doesn't know what they're doing so you shouldn't get cross. If things start to fizzle-out take a break. Put the camera down and play with your pet. Get out of a photography space and back into a 'I love my dog' mentality," says Davidson.
Eyes are the Prize: Focus on the Pupil
It can be a challenge to nab a great shot of a moving target. Where should you aim? "I try to focus on the animal's eye." Davidson also proffers that setting the f/stop to a lower number (f/4 as opposed to f/9 for example) will give a nice soft background which tends to throw more attention on the subject. This soft, out of focus background is known as bokeh. However, you should know that a lower f/stop yields a more shallow depth of field. When doing test shots check for focus throughout the image. Be aware of how long the animal's face is, as well as how close you are to your subject. "Try some practice shots while they're asleep. This gives you time to work on creating the right depth of field."
Looking for something a little creative? Place a bit of peanut butter or honey on the pet's teeth. "You'll get some amazing expressions when they try to lick it off." Here's a challenge for both photographer and pet—motion and midair shots. "Start by throwing a ball for your pet to catch. Get them in the groove then grab your camera and make some tosses. It might take a few trials till you yourself become adroit with both the throw and the shutter action. Aim for the instant where your pet is jumping in the air."
Last suggestions: "Make sure to have treats as a reward and try not to shoot for more than a few minutes without a break," she notes. "It can be difficult holding a pet's attention for much longer." She also adds it seems animals are more comfortable outdoors—unless of course the breed is utterly an indoor terrain addict.
Taking a Hobby to the Next Level
Experience is essential if you plan to pursue this on a more professional plane asserts Davidson. Photographing all sorts of animals in all sorts of environments is good; including animals that people don't tend to like. "I recently shot a baby skunk which I thought was so sweet and curious. Skunks are negatively perceived as the animal that sprays dogs, where in fact they are highly intelligent. I like being able to give them a voice. I also love reptiles for that same reason—people may be fearful of them, but I get to show these creatures in a way that's beautiful."
Davidson has spent a lot of time with animals, and as a result she's more dialed into their emotions. "I can read them pretty well and normally get an animal to perform the way I wish, eventually." One suggestion for hanging more with photo subjects: "Try volunteering at a local rescue center and get used to working with a range of furry, scaled and slippery beasts, not just your own."
The rewards of pet photography are plentiful. Her work days are completely unpredictable, but this is to her liking. "One day I may be working at the Oregon Zoo in Portland taking photos of a baby elephant, the next day I am in my studio working on a commercial project."
An interest in snapping the shutter has been with her for most of her life, and Davidson adds that animals have been a part of the family for as long as she can recall. "While growing up we lived off the beaten track—we had three dogs, a couple of cats, a few lizards and snakes, a bird, and various intermittent rescues. All became my photo models. I prefer to portray animals in their most positive light. Sometimes I visit the rescue center and photograph dogs that have been abused or who have been born with birth defects. Despite their challenges, they are still enjoying their lives and have so much to offer. It's a privilege to capture their spark and personality."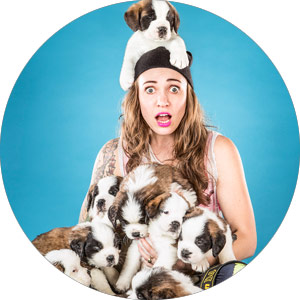 Having spent over seven years of her life working animal care and training at zoos and wildlife centers, Carli is adept at communicating with wildlife. This understanding of behavior allows her to capture unique images of animals. In 2011 her series SHAKE became a worldwide success, followed by a series of disabled pets called invincible, garnering her millions of website hits and putting her firmly on the map as a top animal photographer. Visit Carli's website: www.carlidavidson.com.
More articles by this contributor
This Article Goes Great With These Products