Recall
EN-EL3 Battery Recall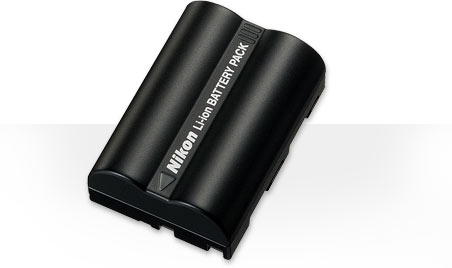 *June 3, 2014 addition*
As announced on November 8, 2005, we implemented a voluntary recall and replacement program for applicable EN-EL3 rechargeable batteries. However, we have not yet collected all of the applicable batteries.

Therefore, we ask that you read the following announcement, and check your EN-EL3 to see if it is one of those affected by the issue indicated. If it is, please use the online EN-EL3 Replacement Request or call the dedicated support line to request a replacement battery.
*Revision 12/6/05*
On November 8, 2005, Nikon Inc. announced a voluntary recall and replacement program for certain Rechargeable Li-ion Batteries EN-EL3. (For complete information see updated notice below) However, it has become clear that some applicable lot numbers that were not distributed in the U.S. market were omitted from that announcement. We take this opportunity to add omitted lot numbers to the list of recalled EN-EL3 batteries. The lot numbers added at this time apply only to EN-EL3 batteries supplied with purchase of the Nikon D50 digital-SLR camera and distributed in Europe, Africa, Asia, Australia, New Zealand, Canada, and Argentina. If you are in possession of one of these batteries now listed in the Recall Lot Number Chart below and you are in the United States please follow the return and replacement instruction posted on this web site. Please accept our apologies for this omission.
*Updated Notice 12/6/05*
Nikon Inc. is asking your cooperation in connection with a voluntary recall of certain lot numbers of its Nikon Model EN-EL3 rechargeable lithium ion battery packs. The battery pack can experience a short circuit causing it to overheat and possibly melt, posing a potential hazard to consumers. There have only been four confirmed reports of incidents of the problem worldwide, and while no injuries have taken place, Nikon Inc. has initiated this recall of the affected lot numbers as a reflection of its commitment to safety and product quality. We are asking that owners of the affected battery packs return them to Nikon Inc. for a free replacement.

The Nikon EN-EL3 battery pack is provided as a supplied accessory with the purchase of Nikon's digital SLR D100, D70, and D50 cameras. It is also sold separately at retail under Nikon's model number 26265. The EN-EL3 battery pack involved in this recall was first distributed by Nikon in May 2004 and is still being sold at retail. EN-EL3 battery packs marked "made in Japan" are not affected by this recall. If your EN-EL3 battery pack does not have a lot number as indicated, please note this is not a genuine Nikon product and should not be used.

This voluntary recall is limited only to those units of the Model EN-EL3 bearing the following lot numbers:


| | |
| --- | --- |
| First 3 digits | Recall Lot Numbers |
| 44A- | 44AC |
| 46A- | 46AC, 46AD, 46AE, 46AF, 46AG, 46AH, 46AI, 46AJ, 46AK, 46AL, 46AM, 46AN, 46AO, 46AP, 46AQ, 46AT, 46AU, 46AV, 46AW, 46AX, 46AY |
| 47A- | 47AA, 47AB, 47AC, 47AD, 47AE, 47AF, 47AG, 47AH, 47AI, 47AJ, 47AK, 47AL, 47AM, 47AN, 47AO, 47AP, 47AQ, 47AR, 47AS, 47AU, 47AV, 47AW, 47AX, 47AY |
| 48A- | 48AA, 48AB, 48AC, 48AD, 48AE, 48AF, 48AG, 48AH, 48AI, 48AJ, 48AK, 48AL |
| 49A- | 49AA, 49AB, 49AC, 49AD, 49AE, 49AF, 49AG, 49AH, 49AI, 49AJ, 49AK, 49AL, 49AM, 49AN, 49AP, 49AQ, 49AR, 49AS, 49AT, 49AU |
| 4AA- | 4AAA, 4AAB, 4AAC, 4AAD, 4AAE, 4AAF, 4AAG, 4AAH, 4AAI, 4AAJ, 4AAK, 4AAL, 4AAM |
| 4BA- | 4BAA, 4BAB, 4BAC, 4BAD, 4BAE, 4BAF, 4BAG, 4BAH, 4BAI, 4BAJ, 4BAK, 4BAL, 4BAN |
| 4CA- | 4CAA, 4CAB, 4CAC, 4CAD, 4CAE, 4CAF, 4CAH, 4CAI, 4CAJ |
| First 3 digits | Additional recall lot numbers (omitted with previous announcement) |
| 51A- | 51AA, 51AB, 51AC, 51AD, 51AE, 51AF, 51AG, 51AH |
| 53A- | 53AA, 53AB |
| 54A- | 54AE, 54AF, 54AH |
What you should do:
First confirm that "EN-EL3" is written on the side of the battery, as shown on the following photo. Then compare the lot number that appears printed in black ink in the recessed area on the side of the battery pack, as shown below, with the list of recalled lot numbers printed above (tilt the battery pack so that light shines directly on the recessed area to see the lot number). If you have an EN-EL3 battery pack with one of the lot numbers listed above, you should immediately stop using it and remove the battery pack from the battery compartment.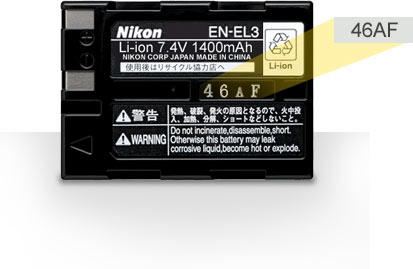 To receive instructions and materials for the return of your EN-EL3 battery pack, postage prepaid, and your free replacement, click here or call toll free 1-800-Nikon US (1-800-645-6687). In both cases, we will send you a prepaid shipping label, packing materials and instructions to safely return your affected EN-EL3 battery pack. Your EN-EL3 battery pack will be replaced free of charge within approximately 7-10 days of our receipt with a new EN-EL3a or EN-EL3e battery pack. The EN-EL3a and the EN-EL3e may be freely substituted for the EN-EL3 in all cases.

If the lot number of your EN-EL3 battery pack is not listed above, or if your battery pack is an EN-EL3a or an EN-EL3e, your battery pack is not subject to this recall. No other Models of Nikon battery packs are involved in the recall. Nikon's digital SLR D100, D70 and D50 cameras are also not subject to the recall.

Nikon is committed to safety and to providing to its customers only the highest quality products. We regret any inconvenience this matter may cause you and appreciate your continued support of Nikon.