Featured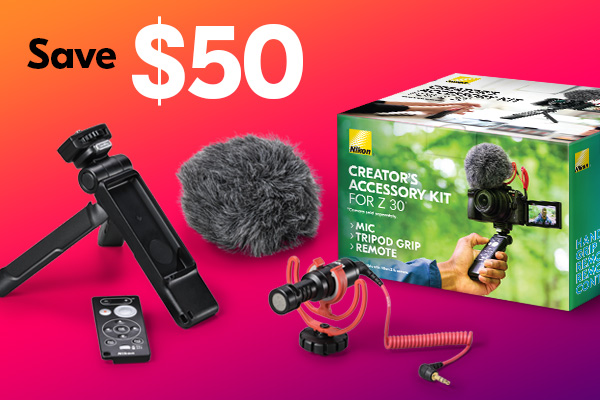 A big deal for creators.
Add our Creator's Accessory Kit to a new Z 30 or Z fc purchase for only $99.95!
Nikon Instant Savings Offers have varying starting and ending dates. For this and other details regarding Nikon's Instant Savings Offers, please visit: nikonusa.com/savings. All Instant Savings product combinations must be purchased at the same time and appear on the same receipt. All Prices are suggested retail price. Actual selling price is determined by each dealer at time of sale. All prices and specifications are subject to change without notice.
All regular price purchases from the Nikon Store are subject to applicable taxes and shipping charges, if any, and are available to Nikon Store retail customers only. Product availability is subject to Nikon Store inventory and may be limited. Nikon Store prices are subject to change at Nikon Store's sole discretion.All purchases from the Nikon Store are subject to all applicable Nikon Store Terms and Conditions of Sale. Void where prohibited by law.
All Nikon products include Nikon Inc. limited warranty. Images are for illustrative purposes only. All Nikon trademarks are trademarks of Nikon Corporation. Nikon Authorized Dealers set their own selling prices, which may vary. Nikon is not responsible for typographical errors.
Nikon's
Early Deals
Black Friday is almost here with unbelievable mirrorless camera deals, lens savings, DSLR sales, and more! You're just a bit early for our amazing Black Friday 2023 deals, but you can be among the first to find out when our holiday specials are available if you sign up today!
Nikon's
Early Deals
You missed our early deals, but you can shop our other Black Friday Deals to save big on the perfect gifts for the photographer in your life.