Your camera's bridge to your world.
Nikon's SnapBridge app for iOS and Android is the fastest, easiest way to get your photos out of your camera® enabled Nikon camera.
and into the world using a compatible smart device. It's also an exciting new way to take pictures with a Bluetooth/Wi-Fi
Send photos from
camera to smartphone
Control your camera
with your smartphone
(Varies by camera model)
Save photos to free
cloud storage on the go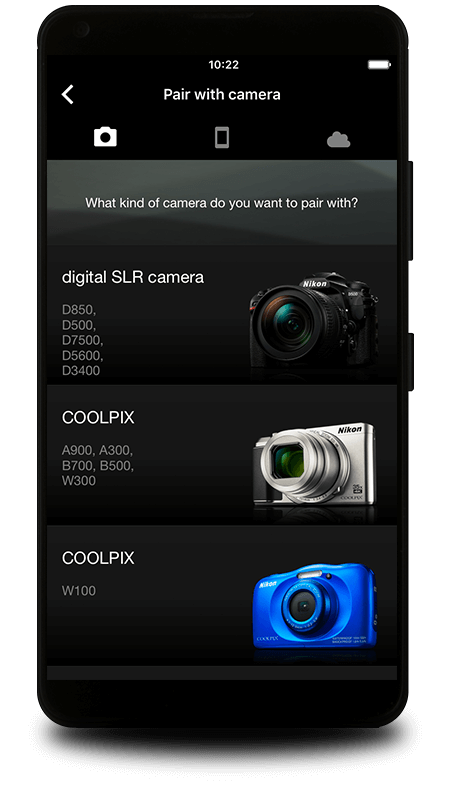 What's new in
version 2.0
Faster automatic image transfers (2 MB versions)

Adjust focus, aperture, shutter speed, white balance and more.

Faster, easier initial pairing process

New

Power-saving mode for increased battery life

New

Location information with selectable accuracy

Improved design makes the app much easier to use
See the App Store/Google Play for the latest information about system requirements.
There is no guarantee that this app will run on all devices.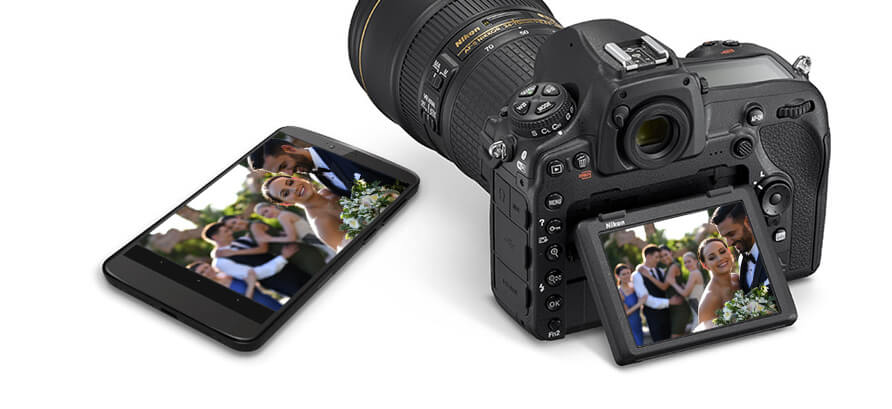 From camera to smartphone, automatically
Take a great shot with your Nikon camera, then pull out your smartphone—a 2 MB web-ready version is
already there, waiting to be shared with the world! Larger JPEGs can be manually transferred.
Automatic transfers
or pick your favorites
Fast transfers of 2 MB
web-ready photos
Low power consumption on camera and smartphone
Free cloud backup to
Nikon Image Space
Control your Nikon
camera with your phone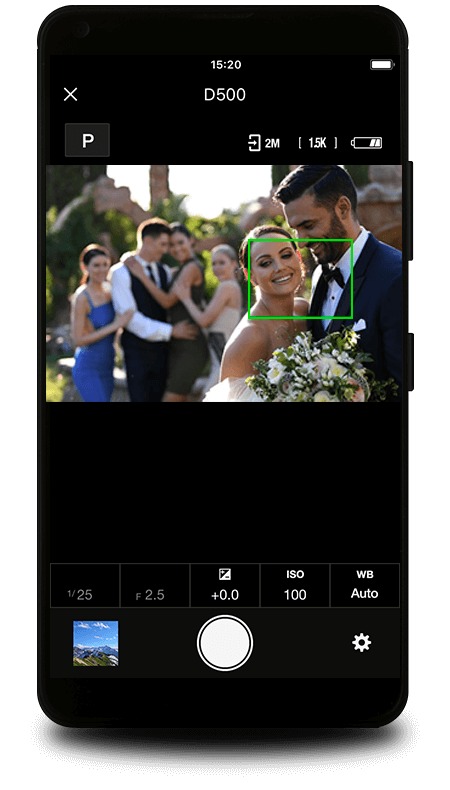 Not available with Nikon D3400.
DSLR Control Features
Access Live View on your smartphone

Take single or continuous shots

New

Change focus by touching

New

Select shooting modes (P/S/A/M)

New

Adjust shutter speed, aperture and ISO

New

Adjust exposure compensation and white balance
Coolpix

Control Features
Use your smartphone as a remote monitor
Ready when
you are
SnapBridge keeps your camera and smartphone connected
whenever they're within range—pair once and forget it! And since the connection is through Bluetooth Low Energy, it won't bog down your smartphone or camera.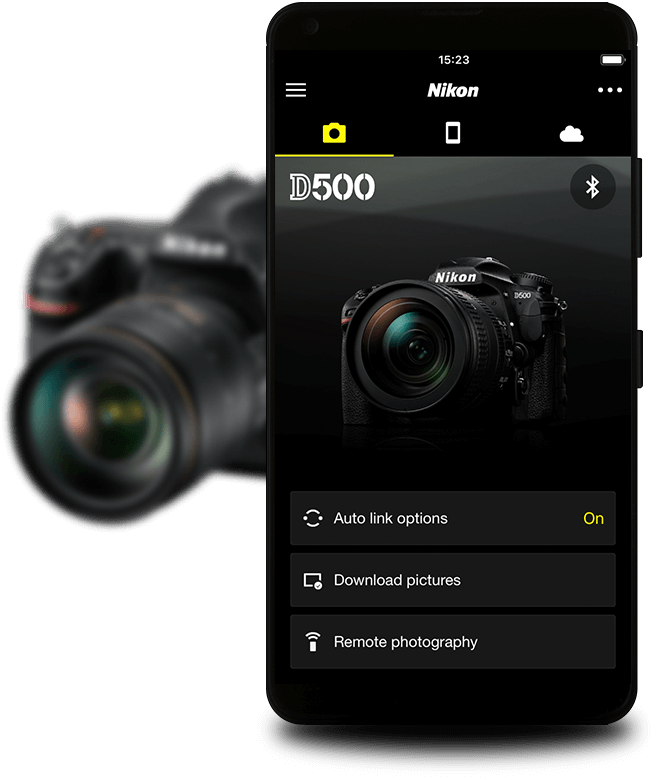 Automatically send images to the cloud
at Nikon Image Space
SnapBridge can automatically upload a web-ready version* of every shot you take to Nikon's free
cloud storage site, Nikon Image Space. Backing up your photos has never been easier.
*Backup images are 2 MB versions of original photos
More about

Nikon Image Space
Add hashtags,
copyright info & more
Easily add hashtags, captions, copyright info and more to your photos right from the app.
Switch between
five cameras
Use SnapBridge to switch between up to five Nikon cameras. Switching in the app is fast and easy.
Track your photo
adventures
SnapBridge uses your smartphone or tablet's GPS and clock to record location and date information.
Keep your camera
up to date
SnapBridge automatically registers your camera with Nikon and alerts you when new firmware is available.
± Wi-Fi Compatibility
This camera's built-in Wi-Fi® capability can only be used with a compatible iPhone®, iPad®, and/or iPod touch® or smart devices running on the Android™ operating system. The Nikon SnapBridge application must be installed on the device before it can be used with this camera.
Using the SnapBridge App
System Requirements:
Android 5.0 or later or 6.0.1 or later, 7.0 and later, 8.0
A device with Bluetooth 4.0 or later (i.e., a device that supports Bluetooth Smart Ready/Low Energy) is required.
Compatible with iOS 9.3 or later, iOS 10.3 (latest versions recommended), iOS 11
Compatible devices are those capable of acquiring location information and those that support BLE (iPhone® 5 and later, iPhone® X, iPad® 4th Generation and later, iPod touch® 5th Generation and later)
SnapBridge 2.0 does not require that camera firmware be updated.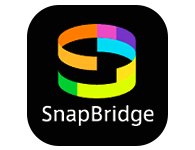 For compatibility and to download the application, please visit:
Compatible cameras:
D500, D7500, D5600, D3400, D850
Coolpix A900, A300, B700, B500, W100, W300
KeyMission 80
NFC Compatibility:
This camera's built in NFC function can only be used with smart devices running on the Android™ operating system version 4.0 or later. The Nikon SnapBridge application must be installed on the device before it can be used with this camera.
The N Mark is a trademark or registered trademark of NFC Forum, Inc. in the United States and in other countries.
Apple, the Apple logo, iPhone, iPad and iPad touch are trademarks of Apple Inc, registered in the U.S. and other countries. App Store is a service mark of Apple Inc. Android and Google Play are trademarks of Google Inc.
Wi-Fi® and the Wi-Fi Certified logo are registered trademarks of the Wi-Fi Alliance.
All Nikon trademarks are trademarks of Nikon Corporation.
The Bluetooth® word mark and logos are registered trademarks owned by Bluetooth SIG, Inc. and any use of such marks by Nikon Corporation and its Affiliates is under license.