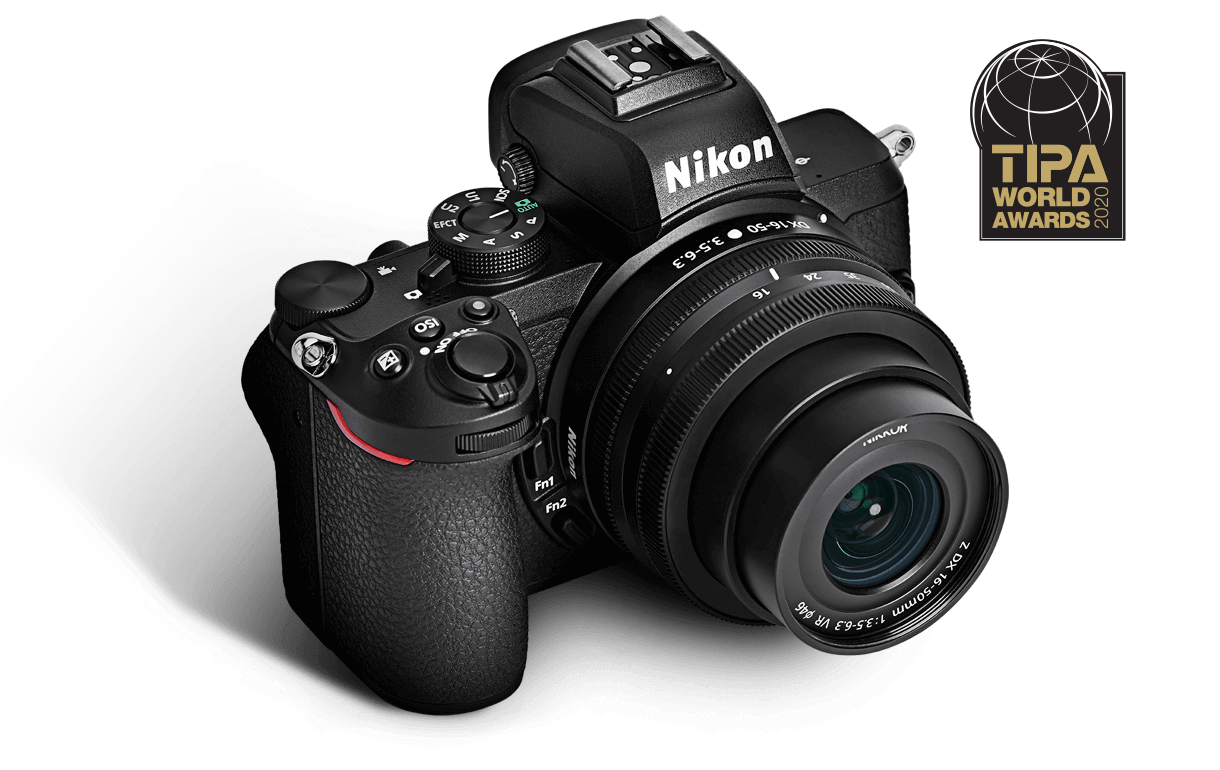 Tiny has never been a bigger deal.
Meet the Z series mirrorless camera for the rest of us. Insanely small. Tough. Dead simple to use. Connected to your phone. Ready to transform you into a pro-caliber creator. Your followers won't know what hit 'em.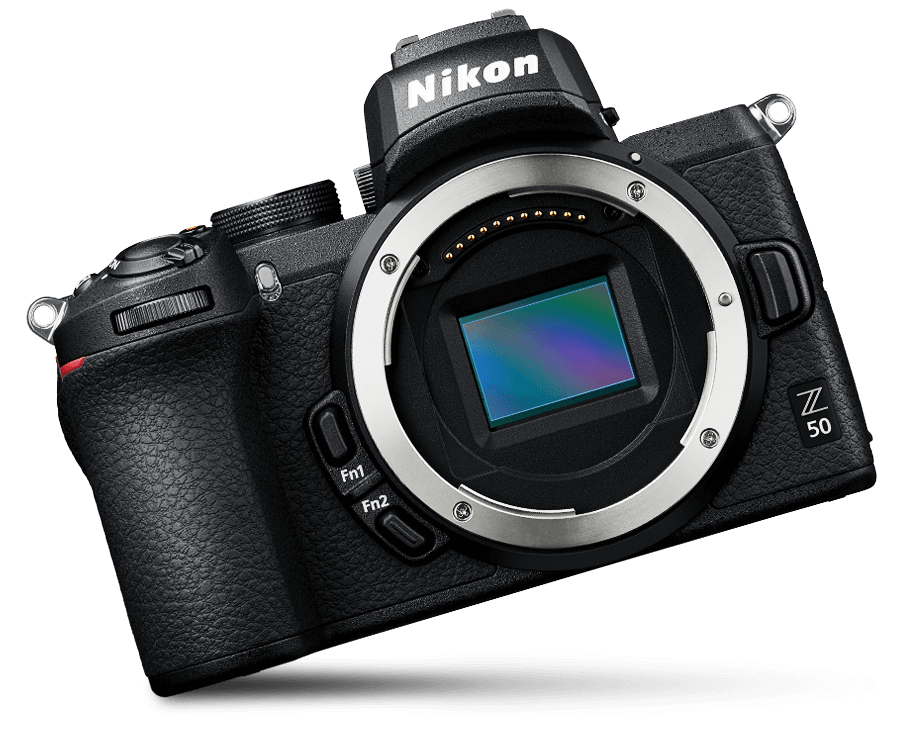 Creativity comes full circle.
A bigger mount. What a bright idea.
Z 50 is designed around Nikon's revolutionary Z mount, the widest lens mount of any comparable camera system. A wider mount means more light, and more light means more of everything good—sharpness, contrast, focusing speed, low light performance and image quality.
It's your story.
Tell it beautifully.
4K Ultra HD and time-lapse, 1080p slow-motion, filters, effects and so much more.
Edit videos on
the fly.
Shoot a clip, trim it right in the camera, send it to your phone and post it without missing a beat.1
Life's more fun in slow motion.
Turn an ordinary moment into an epic 120 FPS slow motion 1080p Full HD video, great for bending time, speed ramping and more.
Little but fierce.
Slim, sleek, rugged design for every adventure.
The power
of Z, only smaller.
Z 50 delivers the award-winning performance of Z series in the smallest interchangeable lens DX-format camera ever.2
Have camera,
will travel.
Z 50's strong, durable magnesium alloy construction makes it tough enough to take just about anywhere without fear. No need to baby this baby.
Your 'gram is going to it.
From camera to your followers in a snap.




Works
with your smartphone.
Built-in Wi-Fi® and Bluetooth make sharing a snap. Install Nikon's SnapBridge app, and your Apple® or Android™-powered phone becomes a powerful accessory for Z 50. Easily transfer photos and videos from the camera to your phone, and even use your phone as a remote monitor to see what Z 50 sees, adjust camera settings, take pictures and record video.
Shines in
low light.
With a 20.9MP DX CMOS sensor, a robust EXPEED 6 engine and the light-gathering advantages of the wider Z mount, photos and videos shot in low light look clean and professional.
See for
your selfie.
Flip down the LCD screen to activate Self Portrait Mode—perfect for taking selfies and for vlogging.
Eye catching in so many ways.
When shooting photos, Z 50's outstanding autofocus system can lock onto your subject's eye and keep focus there, even when they're in motion, for beautifully focused portraits.
Creative filters and effects.
Get creative with unique mood-setting filters and effects. Z 50 includes 20 high quality Creative Picture Controls and 10 Special Effects, all of which can be previewed in real-time and applied to both photos and videos.
Silence is golden.
When you need to be a fly on the wall—capturing intimate moments, candid portraits, wildlife, music and more—turn on Silent Photography Mode and shoot in complete silence.
Chic ergonomic.
Form and function in complete harmony.
Comfortable viewing
Electronic Viewfinder is slightly extended for a more comfortable glare-free fit against your eye.
Smart controls
Extreme attention was paid to the placement of each button and dial for comfortable, efficient handling.
High-end feel
You can feel the quality. Well balanced, deep grip, magnesium alloy construction...sturdy in every way.
Oh, what a view
finder.
Feast your eyes on Z 50's stunning high-resolution Electronic Viewfinder (EVF). It activates when you bring the camera to your eye, and it shows you exactly how your photos and videos will look—preview Creative Picture Modes, filters, effects and camera settings in real time.
A touch of genius.
Swipe through photos and videos, touch to focus, navigate camera menus as easily as using a smartphone with Z 50's large high-resolution touchscreen.
Z mount. One size
fits all.
Your lens collection can grow with your creative aspirations. Z 50 works with all the cutting-edge NIKKOR Z lenses and approx. 360 compatible DSLR lenses (with the optional Mount Adapter FTZ).
Your camera, your style.
Customize your Z 50 to match your one-of-a-kind style with one of four newly designed camera bags.
Shop Travel Kits
20.9 Megapixel DX-Format CMOS Image Sensor
Based on the sensor design from high end DSLRs, this remarkable new Z series camera incorporates the same focal-plane phase-detection AF sensor found in full-frame Z series cameras; capturing staggering detail, even in challenging light.
Built-in Wi-Fi® and Bluetooth
Z 50 has built-in Wi-Fi® and Bluetooth and works seamlessly with a compatible smart device using Nikon's SnapBridge app. Instantly transfer photos and videos right to your smart device, or use it for remote shooting—see what the camera sees, adjust settings and control the shutter or start/stop video recording.
209-Point Hybrid Autofocus
209 focus points and focal-plane phase-detection pixels are incorporated right into the image sensor for extraordinary AF performance during both still and video recording.
Eye Detection Autofocus
Z 50's sophisticated facial recognition algorithm precisely locks focus onto your subjects eye to ensure tack-sharp results, even when your subject is in motion.
Native ISO 100–51,200
Z 50 shines in low light. Shoot stills up to ISO 51,200 with virtually no noise—great for low-light indoor shots or outdoors after dark. Record 4K UHD videos at up to ISO 25,600.
Expeed

6 Image Processing

Like Z 7 and Z 6, Z 50 is powered by Nikon's fast, comprehensive EXPEED 6 image processing system. It's the power behind the camera's stunning photo and video quality, low-light performance, distortion control and more.
Compact, Lightweight, Portable and Ergonomic
Lightweight, durable and sleek, the Z 50 stays true to the Z series design concept of putting the image creator first. Weighing just 14 ounces, the camera body is easy to carry and will feel like an extension of the user. Authentic controls and dials, state-of-the-art touch LCD technology and an ergonomically shaped grip are just some of the features that define the image creation experience. Minute details have even been fine-tuned to improve comfort, operation and style, including the sensation of the pressurized button clicks, the feel of the rugged metallic structure, the finesse of the body design and the ability to take photos in complete silence, so you can enjoy capturing moments without fear of interrupting them.
Revolutionary Z mount
The Z 50 isn't just another compact mirrorless camera: it delivers superb image quality. That's because it uses the same Z mount as its larger siblings, the Nikon Z 7 and Z 6 cameras. This lens mount features a 55mm opening, wider than any competing camera in its class, which invites in a huge amount of light*. The short, 16mm distance from the mount to the image sensor enables more flexible lens design and a smaller camera body. This combination allows engineers to use light more effectively, and develop lenses with outstanding optical performance, providing even higher resolution and more beautiful bokeh. The Z 50 can be used with the dedicated kit lenses, but is also compatible with a growing lineup of superb Nikkor Z lenses and utilizing the Mount Adapter FTZ its also compatible with approx. 360 F-mount lenses.
*As of October 10, 2019.
Flip-Under LCD
Point the camera towards yourself, flip the tilting monitor 180° downward to face you, and Z 50 will immediately turn into a selfie camera. The operation buttons and dials lock, so you won't accidentally press the wrong button. Use Touch AF on the LCD to focus and take shots—great for stills, even better for vlogging.
Organic EL Electronic Viewfinder
Put Z 50 to your eye, and the high-resolution organic EL panel automatically turns on and gives you a brilliant, sharp view without any glare. And it's showing you the shot exactly as it will look—with all camera settings and creative effects applied in real time. It also displays the same settings as the camera's LCD monitor, so you can make changes without taking your eye away.
Photo/Movie Selector
When shooting video, you often want to use different camera settings than those you need for stills. Z 50 lets you separately save the most appropriate settings for each shooting mode and then change smoothly between them with the flick of a lever.
Customizable i-menu
New inspiration often strikes when you're in the middle of shooting. Z 50's convenient i button gives you a powerful shortcut to adjust camera settings on the fly. The i menu is fully customizable, letting you choose your 12 most frequently used settings and arrange the order for convenience. You can view the i menu items on the LCD monitor or the electronic viewfinder (EVF). You can quickly change these while confirming the results in real time — all without taking your eyes off your subject.
Pop-up Flash
In scenes where your subject appears dark and flat—when backlit or in dark shadows, for example—Z 50's pop-up flash can be just the right amount of fill light.
4K Ultra HD Video Recording
Not all 4K is equal. With an outstanding DX-format image sensor, Expeed 6 image processing and the power of the larger Z mount, Z 50 records 4K UHD videos with dazzling cinematic depth and clarity.
11 FPS Full Resolution Stills
Capture 11 frames per second* continuously with full quality or up to a blazing fast 30 FPS with 8-megapixel stills in silent video mode.
* When using a mechanical shutter, in continuous H (extended) release mode and NEF (12-bit RAW) + JPEG image quality.
120 FPS Slow Motion Video
Record 1080p Full HD videos at an ultra-smooth 120 frames per second, making it possible to bend time, speed ramp and more.
4K Ultra HD Time-Lapse
Z 50's time-lapse movie function automatically shoots a series of still images based on your settings and then stitches them together into an astonishing 4K Ultra HD or Full HD video using the entire frame. Gradual changes of light in landscapes, movements of drifting clouds, fast-paced cityscapes—all of these can become jaw-dropping time-lapse sequences.
Multiple Exposure Mode
Easily create unique images that combine multiple shots on top of each other. When capturing multiple exposure shots, you can confirm a semi-transparent view of the overlay image being created on the monitor or the EVF. This makes it easier to frame the next shot, resulting in a finished composition just the way you want.
Special Effects
Get more playful and experimental with your photos and videos. Choose from Night Vision, Super Vivid, Pop, Photo Illustration, Toy Camera Effect, Miniature Camera Effect, Selective Color, Silhouette, High Key and Low Key. With Z 50, you can apply the effects in real time to create your ideal shots.
Silent Shooting
Shoot silently* using all 20.9 megapixels in single-frame release mode—ideal for weddings, events, museums, wildlife or any time you don't want to disturb the moment. You can also shoot 8-megapixel images silently at up to approx. 30 fps in movie-recording mode.
* Aperture and AF drive sound may occur. If a NIKKOR F lens is used with the Mount Adapter FTZ, aperture, VR driving and initial lens driving sounds may occur, for instance when turning on the camera.
Note: Rolling shutter distortion may occur during silent photography.
Creative Picture Controls
Playing with different looks and colors can add different nuances to your images. You can see these by applying different Creative Picture Controls, confirming the appearance you get in real time via the monitor or EVF. It helps you create your ideal image, and the camera even lets you adjust the level within each Creative Picture Control.

± Wi-Fi Compatibility
This camera's built-in Wi-Fi® capability can only be used with a compatible iPhone®, iPad®, and/or iPod touch® or smart devices running on the Android™ operating system. The Nikon SnapBridge application must be installed on the device before it can be used with this camera.
Using the SnapBridge App
System Requirements
Android 6.0, 6.0.1 or later, 7.0 or later, 8.0 or later, 9.0 or later, 10
iOS 11.4+
A device with Bluetooth 4.0 or later (i.e., a device that supports Bluetooth Smart Ready/Low Energy) is required.

Updating to Version 2.7
Images downloaded to the smart device with version 1.x will no longer be displayed in the Gallery after you upgrade to version 2, but can be viewed in the "Photos" app provided with the smart device.

Make sure your camera's firmware is updated to the current.
Compatible cameras:
D6, D500, D7500, D5600, D3500, D3400, D780, D850
Z 7II, Z 6II, Z 5, Z 50, Z 7, Z 6
COOLPIX W150, A1000, A900, A300, B700, B600, B500, P950, P1000, W100, W300
KeyMission 80

Compatible devices are those capable of acquiring location information and those that support BLE (iPhone® 5S and later, iPad® 5th Generation and later, iPhone X or later).
There is no guarantee this app will run on all devices.
For compatibility and to download the application, please visit:
Apple, the Apple logo, iPhone and iPad are trademarks of Apple Inc., registered in the U.S. and other countries. App Store is a service mark of Apple Inc.
Android and Google Play are trademarks of Google Inc.
Wi-Fi® and the Wi-Fi Certified logo are registered trademarks of the Wi-Fi Alliance.
All Nikon trademarks are trademarks of Nikon Corporation.
The Bluetooth® word mark and logos are registered trademarks owned by Bluetooth SIG, Inc. and any use of such marks by Nikon Corporation and its Affiliates is under license.
1Requires the free SnapBridge app downloaded onto a compatible Apple® or Android™-powered smart device.
2As of 10/10/19.
LCD, Video and Photo Gallery images are for illustrative purposes only.