The next generation of
Monarch

.

The name Monarch has always been synonymous with optical excellence. The Monarch M7 10x42 binoculars take that performance to a new level, pushing resolution, brightness and field of view even further. Large 42mm objective lenses with 10x magnification deliver a vast field of view. An incredible Nikon optical system with ED glass and multilayer lens and prism coatings produces outstanding low-light capabilities, lifelike colors and extreme resolution at any distance. Long eye relief with turn-and-slide eyecups for easy adjustments, a locking diopter, a new oil and water repellent lens coating plus a waterproof, fogproof rubber-armored design and more make this next generation worthy of the Monarch name.
10x magnification

.

42mm objective

.

Full-size Monarch M7 10x42 binoculars have large 42mm objectives (front lenses) that gather abundant light and provide an amazingly wide field of view. 10x magnification brings objects ten times closer than they actually are.
Incredibly wide field of view.
At 1,000 yards, Monarch M7 10x42 binoculars deliver a very wide 362-ft. field of view. See more of the scene in greater detail, making it easier to locate your subject when spotting birds and wildlife amid trees and landscapes.

True colors.
Maximum resolution.
The roof prisms on Monarch M7 binoculars have a phase-corrected coating applied to prism surfaces for higher resolutions. This is a view you have to see to believe.

Eco-friendly


multilayer coating.

Applied to all lens and prism surfaces, a dielectric high-reflective multilayer prism coating ensures superior transmittance uniformity across the visible range, resulting in brighter images and more natural colors.

Non-stick

coating
for easy cleaning.

An oil and water repellent coating is applied to both the objective and eyepiece lenses. Simply wipe away moisture, fingerprints and smudges.

ED glass.
The difference is clear.
Used in many premium Nikon optics, from camera lenses to spotting scopes, Nikon's ED (Extra-low) glass virtually eliminates common distortion, chromatic aberrations and color fringing. The result? Clear high-resolution views in nearly any lighting condition.

Close, smooth focusing.
Get as close as 8.2-ft from your subject for striking high-detailed views. The large, smooth-spinning central focus knob makes it easy to precisely adjust focus.
Comfortable, intuitive operation.

Leave your glasses on.
Nikon's comfortable high-eyepoint design leaves sufficient space between your brow and the eyecups for a clear field of view, even when you're wearing glasses.

Turn-and-slide


rubber eyecups.

Convenient turn-and-slide operation makes it easy to get the durable rubber eyecups right where you want them for maximum comfort and field of view.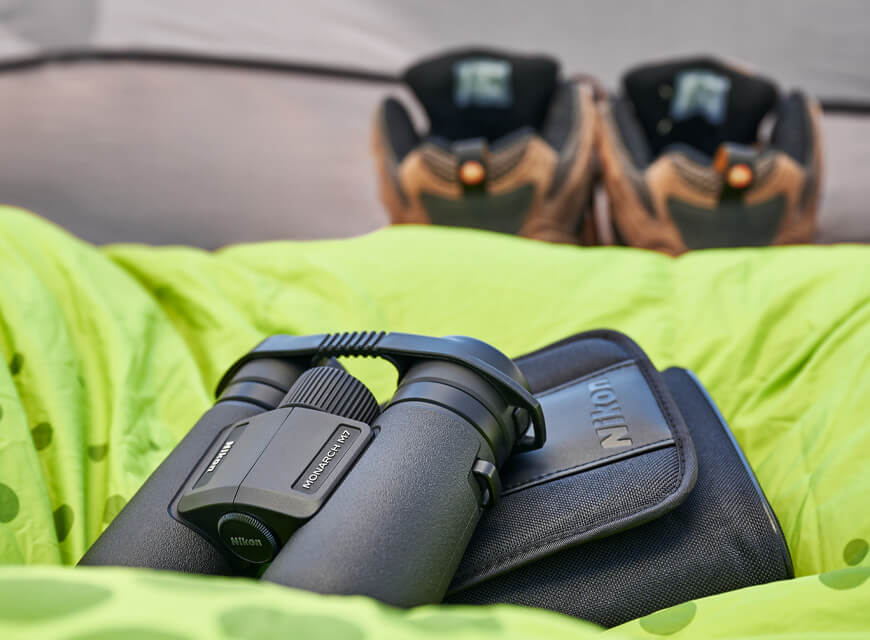 Tough skinned.
An enhanced rubber-armored body provides non-slip grip and protection from bumps and bruises.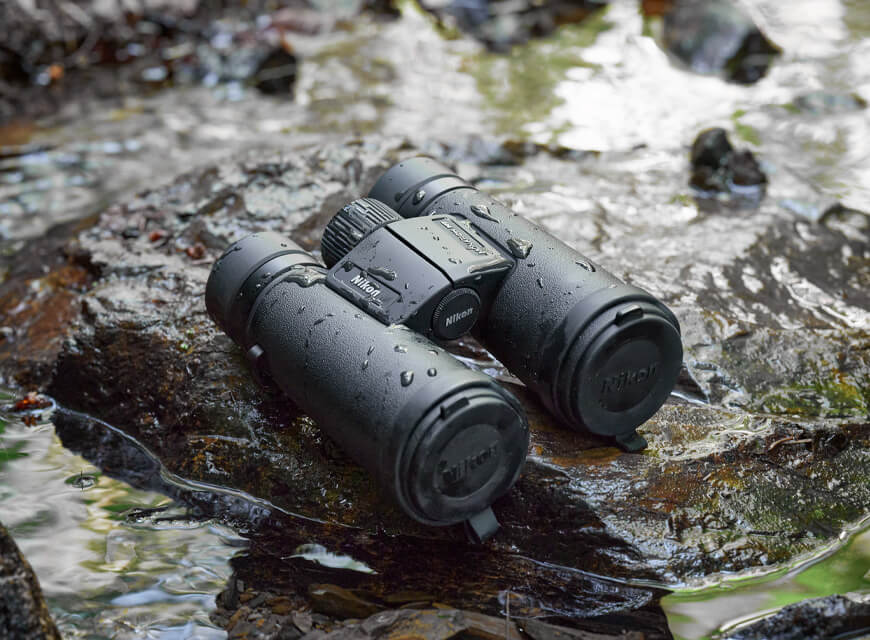 Waterproof
and fogproof.
Nitrogen filled and O-ring sealed for fog-free performance. Keep your optics clear when you need them most.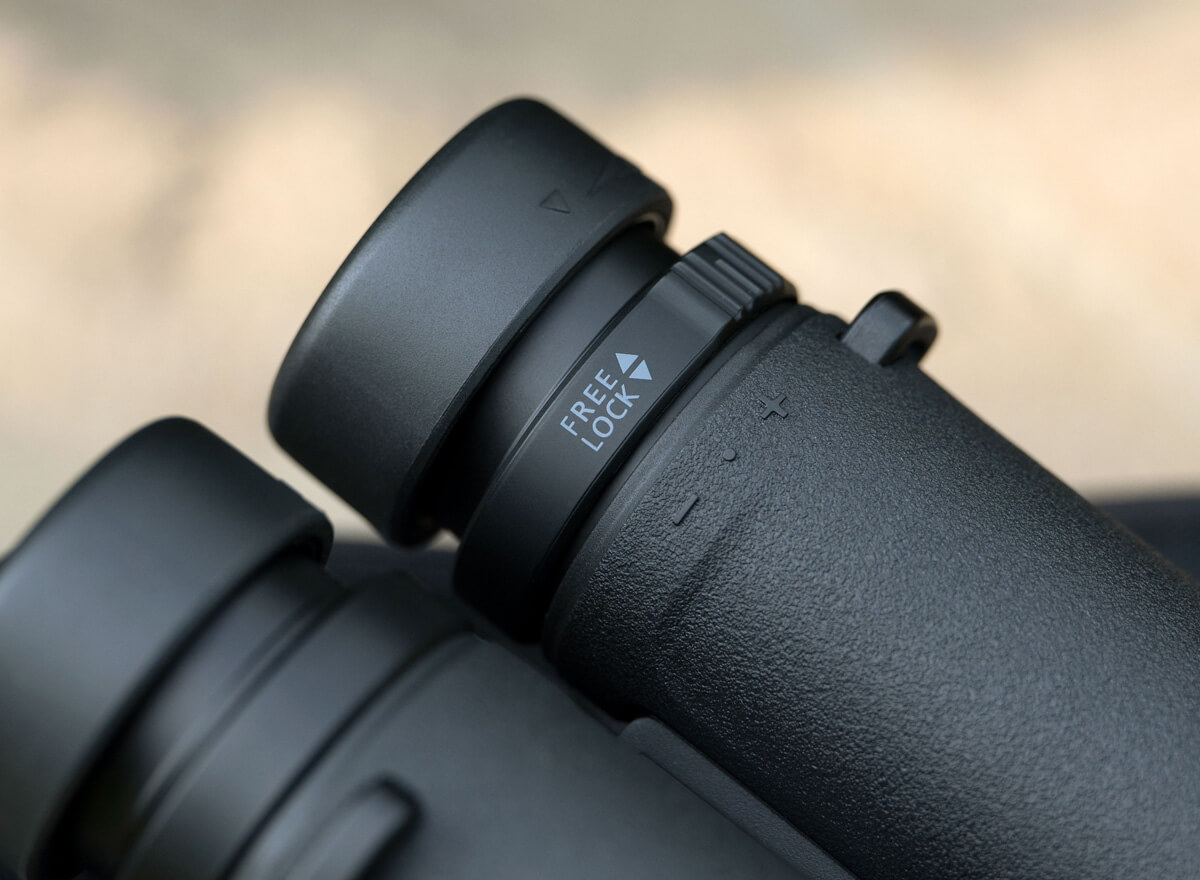 Locking diopter adjustment.
Adjust Monarch M7 binoculars for your vision and then lock in the setting. A locking diopter prevents accidental adjustment.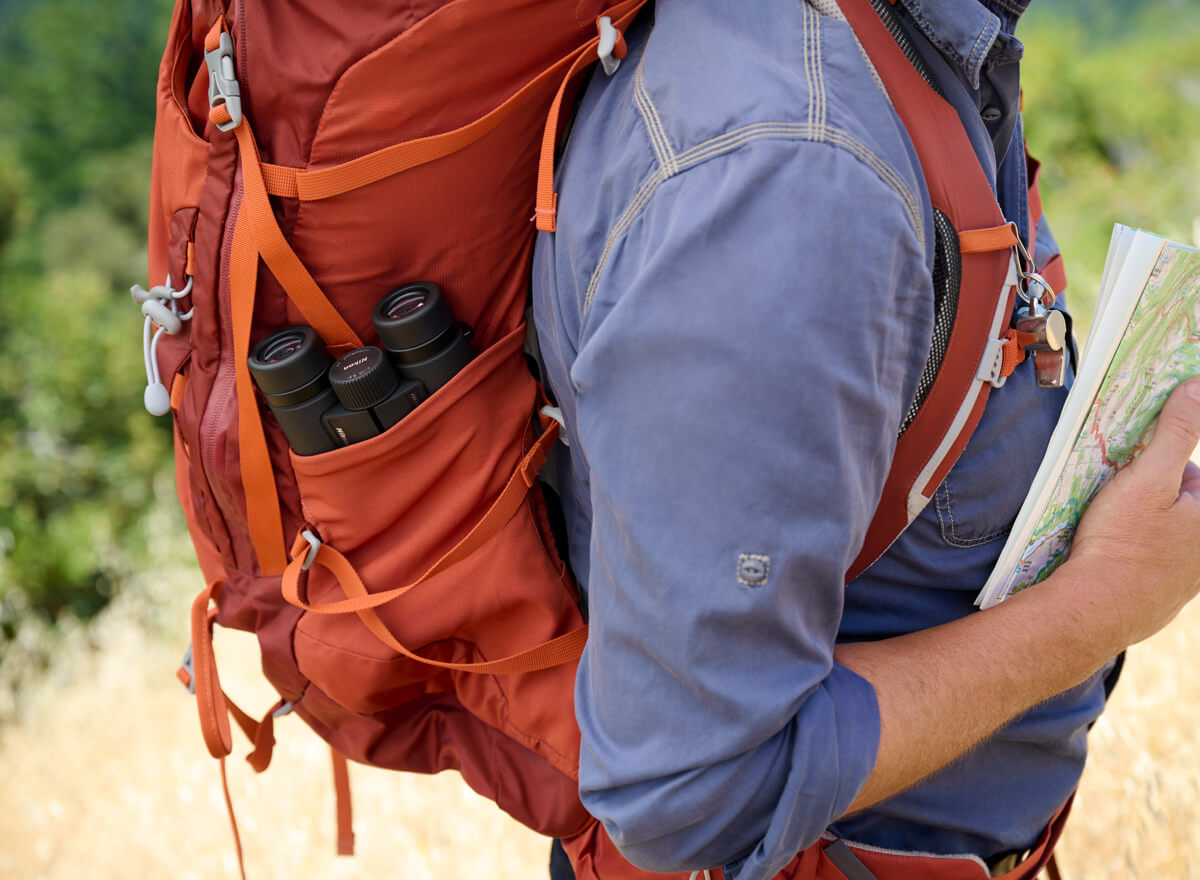 Compact and lightweight.
Monarch M7 10x42 binoculars weigh just 24 ounces. These are compact, lightweight companions for adventures of any kind.
LCD, Video and Photo Gallery images are for illustrative purposes only.