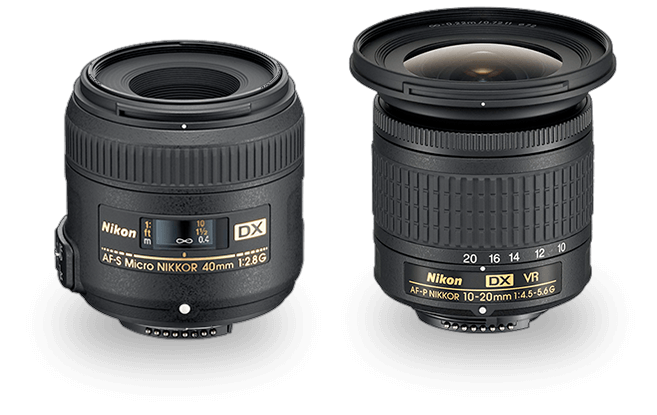 AF-S DX Micro

Nikkor


40mm f/2.8G
AF-P DX

Nikkor


10-20mm f/4.5-5.6G VR
Two "Must-Have" Lenses
If you're the proud owner of a Nikon DSLR camera kit, you already have a great everyday lens. Are you ready to get even more out of your photography? The new Landscape & Macro 2 Lens Kit is the perfect complement to your current gear. It includes an ultra-wide-angle zoom lens that's great for landscapes and a fast macro lens that lets you get lost in the smallest details of life. Expand your creative horizons and discover exciting new images all around you.
---
*Camera Compatibility
The number of cameras compatible with both lenses is limited. (Cameras listed with a † require a firmware update.)
Fully compatible models:
D500, D7500, D5600, D5500, D5300†, D3400, D3300† and later models.
Compatible models with limited functions:
D5, D850, Df, D750, D7200, D7100, D5200, Nikon 1 series with the FT1.
Incompatible models:
D4 series, D3 series, D2 series, D1 series, D800 series, D700, D610, D600, D300 series, D200, D100, D7000, D5100, D5000, D90, D80, D70 series, D3200, D3100, D3000, D60, D50, D40 series, film cameras.