Q: When's a Prime Lens Not Really a Prime Lens?
A: When It's the NIKKOR Z 70-200mm f/2.8 VR S
Charmi Peña is a wedding photographer with a specialty: Indian weddings, in all their textures, colors and details. She is a self-described "35/85 shooter," counting on those prime lens focal lengths—previously in DSLR and now in Z system format—to create for her clients "a carefully curated collection of images."
So how did Charmi, a committed prime shooter, react when the NIKKOR Z 70-200mm f/2.8 VR S was added to the lineup of Z lenses?
After all, 70-200mm is an incredibly popular and versatile focal length zoom for good reasons, and now that it's available in a Z-native version, we imagine every Z series photographer would want to check it out. And she did.
"I'm always looking for new technology and the benefits it might have," she says, and when the 70-200mm became available, her take was, "Let's try it and see what it can do."
What she found out was that the new lens did some things that were new indeed, and, as she says, "very appealing." We thought that the most appealing benefit would be in line with what almost every Z system shooter comments on: the incredible edge-to-edge sharpness of images shot with native Z lenses. Charmi agrees with that—"The sharpness is pretty mind-blowing on its own"—but she had actually zeroed in on another of the 70-200mm zoom's outstanding features: its close-focus capability, which ranges from 1.6 feet at 70mm to 3.28 feet at 200mm.
"The big thing that got me is the sharpness and quality at its minimum focusing distances," she says, "which means I can now use a 70-200mm in small spaces, and that's not something I ever considered before."
The big thing that got me is the sharpness and quality at its minimum focusing distances…
The Composition Angle
We also thought that a zoom lens would give her options for composition that a prime would offer only if she moved into position—in other words, zooming with her feet. But once again, Charmi had her own take on that. "Because I'm a prime shooter I don't think about it that way. "I tend to treat the 70-200mm Z lens as a prime lens. I think of the goal first, then I set my focal length."
So it's not zoom the lens to find the composition; it's previsualize the image and set the zoom's focal length to frame it? "That's right—I know this [composition] is going to be at 85mm, and this one will be 105mm. I've already previsualized how much compression I want, and what I want the frame to be, and that tells me where I need to be and where I need to set the focal length."
The zoom will also give her more options for compression without having to change lenses. "For compression and framing—that's how I'm using it; previsualizing and deciding beforehand what the focal length will be."
Charmi sees the 70-200mm as a "sort of selective prime, where I choose from 70 to 200mm and I know it's going to be sharp whether I use it at 70, 105, 135, 185 or 200mm."
So it seems that adding the 70-200mm Z lens to her lineup of wedding and portrait primes means adding ease, options and opportunities without any sacrifice of image quality.
Not bad for taking some new technology for a test drive.
Charmi's website,
www.charmipena.com
, features examples of her outstanding wedding and portrait photography.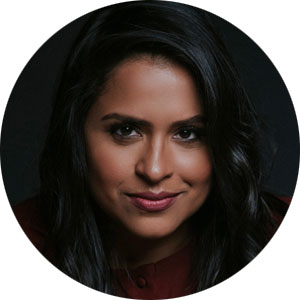 Charmi Peña's success as a wedding photographer specializing in Indian and Southeast Asian weddings stems from her passion for preserving the intimacy of weddings and her desire to honor wedding traditions by capturing them with the respect they deserve. Charmi is also as well known for her advocacy for women's equality and social justice as she is for her skill as a photographer and educator. Visit her Ambassador page and her website.
More articles by this contributor
This Article Goes Great With These Products