"As someone who splits his time between shooting stills and video, I am always looking for a camera that can do it all. It's a tall order; you either have a great still camera that is OK at video, or a capable video camera that takes average stills," remarks global cinematographer David Wright. In the past year, Wright's clients have included the BBC, National Geographic, PBS and the online service Curiosity Stream.
For a recent assignment at Lions Sands Game Reserve in South Africa, Wright carried the Nikon D500, an AF-S DX NIKKOR 16-80mm f/2.8-4E ED VR for video work, plus the new AF-S NIKKOR 200-500mm f/5.6E ED VR. The reserve, located on the edge of Kruger National Park, is famous for its "Big Five" (lions, elephants, rhinos, buffalo and leopards). It is also home to a diverse selection of other species, thereby making it a photographer's paradise.
Going the Distance
Wright describes his job, "A wildlife photographer is busiest at sunrise and sunset since these are the times when animals are most active. I chase after very mobile subjects and often capture in conditions where there's low light. I usually shoot handheld from within a vehicle which is constantly on the move. Versatile gear is a must, that's why the Nikon D500 and the 200-500mm are in my bag."
Designed with wildlife and sports shooters in mind, the 200-500mm proved it's worth right off the bat when Wright captured a lioness at sunset. "The reach on this lens is impressive, yet it is relatively compact and light. At just over 81 ounces and 10.5 inches extended, it makes trekking on foot, and working from within confined spaces, that much easier. This lens definitely eases things when shooting without a tripod too."
Wright next came upon a series of elephants during late afternoon and into twilight. "Lens sharpness is superb—even in images captured while bouncing along the road. The vibration reduction (VR) function, plus resolving abilities of the optics, exceeded my expectations."
Into the Darkness of Night
Sharp images of wildlife come from a camera that delivers super-fast autofocus, quick write speed and a large buffer. Even better is a camera that can capture wildlife in the dark. "After the sun had set (when animals are most active), the D500 allowed me to continue firing frame after frame while my associate reluctantly set down his DSLR," smiles Wright, pointing out that his peer said it was just too dark to even focus.
A most challenging nocturnal subject was the lion. Wright's vehicle would come across a pride on the move or sleeping after a big meal, but catching animals while they feasted on a buffalo was only possible in the cover of darkness. He cranked the ISO to 25,600 and soon came across just what was desired—the pride with a kill. "I prefer to photograph night scenes with the aid of backlight, so it was enormously helpful that one of the vehicles was using on a spotlight to illuminate the road. While the beasts gorged on their meal, I captured long after it was hard to even see details with the naked eye."
Focused and Fast
Another great feature of the Nikon D500 is its joystick, which gives users a quick way to move the focus point. Wright had seconds to catch a zebra. "These animals are often nervous when coming down for a drink, as predators often wait for an ambush. You can see how well the autofocus performs, helping me freeze action at a moment's notice." In another instance, Wright located a Martial eagle devouring its dinner. Shooting from the vehicle, he quickly moved focus point via joystick to catch the moment.
And for shots high overhead, motion was suspended in flight. "I chanced upon this eagle and extended zoom to 420mm." He relied on the camera's continuous focus tracking mode, and basically endless buffer, to take over while waiting for take-off. "The combination of D500 and 200-500mm gives a superb automated focus and metering system that's ideal for fast moving subjects, especially birds."
Future-proofing with 4K Video
Versatility in the field prevailed again with the camera's ability to immediately go from stills to 4K UHD video. "It's challenging to gracefully and quickly acquire footage when swapping out cameras and lenses," he announces. "I was able to quickly and completely build a story using the D500, plus the amazing range on the 200-500mm. The technique of showing focal length variety is as important to a videographer as it is to a photographer."
Wright, who now acquires most of his footage in 4K even if delivery to clients is at regular high definition (1920×1080 Full HD), knows interest is high for the latest format. He recently completed a 20-part series called "Big Picture Earth" for Curiosity Stream. "Broadcasters recognize the advantage of future-proofing to 4K."
4K Workflow
More good news for 4K producers is that the D500 writes to the XQD card. "This streamlines the process—notably so when backing up far larger 4K UHD files. Copying to hard drives takes a fraction of the time," he shares. As for improving capture of stills, he says, "Wow. With that write speed I found myself shooting non-stop at high-speed. No bottlenecks."
The D500 is ideal for wildlife, sports and other high-speed subject matter. "A faster file capture/write speed and an even quicker autofocus system, combined with the longer reach of an APS sensor. The quality of video is superb, and I appreciate Nikon's decision to incorporate a larger viewfinder. It is lightweight, portable and very durable," effuses Wright.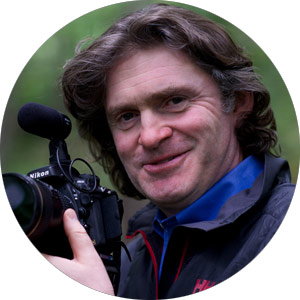 David Wright is an award winning freelance filmmaker and photographer. Originally from the U.K., he has worked in more than 60 countries and now makes his home in the U.S.A. David shoots for clients including National Geographic, the BBC and the Discovery Channel. Throughout his career David has used Nikon photography cameras and NIKKOR lenses, to shoot everything from television productions to commercials and feature films. See more work by David at expeditioncamera.com.
More articles by this contributor
This Article Goes Great With These Products