"I've shot many recipes and used a ton of props. Sometimes these props do not function the way I'd like them to. I remember one afternoon photographing a pizza recipe where I had a white tiled board set as a backdrop. Halfway through shooting the board decided to fall forward onto the table and pretty much destroyed everything. I didn't know what to do, so I just laughed and then started over."
The Importance Of Photos In A Blog
The number one question TheCandidAppetite.com readers ask is: "What kind of camera do you use to shoot your photographs?" This sure seems to be top of mind for readers. I think since cooking and baking is such a visual task, people like knowing a bit more about the photographs themselves; especially in the food blogging world. Whenever they see images that are different than anything else out there, they want to know what camera was used.
I started working with a Nikon camera when I was 16 years old. I begged Santa Claus for a Nikon COOLPIX. It was sleek and compact. I felt like the coolest kid on the block with it in my hands. That camera opened up a hobby and a passion. Little did I know that my interest in a COOLPIX was setting the groundwork for what I do as a profession.
Years later, when faced with the decision to buy a DSLR for work, I knew I wanted to continue with Nikon equipment, so I bought a Nikon D90 and everything changed. My work just kept getting better with every photograph I took. I rely on a Nikon DSLR to shoot all imagery on my blog and for outside assignments. Depending upon the set-up, I swap between an AF NIKKOR 50mm f/1.8 D lens, the AF NIKKOR 24mm f/2.8D and my AF-S DX NIKKOR 18-105mm f/3.5-5.6G ED VR.
One Part Cooking, One Part Photography
I've always had a passion for cooking and baking; as a child I swore up and down that I'd become a chef. Early in my career I worked various jobs in the culinary industry, ranging from decorating cakes at a bakery to catering big events. Needless to say, those experiences made me realize that my vision of the trade wasn't quite all I thought it would be.
A turning point came in college when I opted to enroll in a photography class. I was instantly hooked; even amazed about what I could do with a camera. What other method allowed me to share so much without using words? In my senior year of college I started a food blog; something done mostly as a way to express myself, but I was also able to submit it in order to meet a graduation requirement. Blogging started as a hobby I did occasionally. It quickly turned into a love.
The food photography shown on my site goes beyond just sharing snapshots. Photos help me connect and engage with TheCandidAppetite.com followers. My work is fulfilling in that I know people go online and look up my recipes on a daily basis. Showing a process step-by-step makes it much easier for people to follow along. It also makes food prep a bit more attainable for those who aren't experienced in the kitchen. I love hearing that my images not only give people motivation, but that the photos also teach them.
Eat What You Shoot
Since it's the start of the year we are all thinking about New Year's resolutions. It's sad that many of our promises will be forgotten within a few months. I'm the first to forget about resolutions and dive right into eating doughnuts and potatoes by the second week of January. In my opinion, at least one resolution deserves to stick around: that promise about eating better. And if I can capture how good it looks while it's being prepared, plus the finished product, then I feel like I've done my job right.
I enjoy posting photos of recipes that include chocolate, butter and cheese, but it's just as important to share more healthful creations. Take this salmon pasta with peas and mint recipe. I started thinking about how I didn't have enough seafood meals on the site—salmon in particular—so I began brainstorming. Ultimately it came down to feeding my immediate and intense craving for pasta, then pairing this with the salmon. I researched what flavors go well with that fish, landing on mint and peas. After all, having pasta now and then, especially when tossed with good-for-you ingredients like a healthy protein loaded with omega 3 fatty acids, is fine.
Good imagery is essential to my site. I usually start with a vision of how I want things to look. The background and surface ideas may come even before I have an idea of what I'll prepare. I then think about color, linens, props and textures. Next, I frame the looks in my head. The food decision only comes after I determine what will best fit. Working this way likely comes from my school days where we had to be constantly thinking of framing and setting up a subject before even knowing what it would be.
300 To 500 Photos Per Recipe
I normally produce between 300 and 500 photos per recipe post. I then edit down to 15 to 25 images; it depends on how labor intensive preparation is. Whenever I shoot a new recipe I go through the same motions, starting with a capture of all ingredients. I then proceed to take many work-in-process shots, remembering to capture lots of vertical and horizontal options so imagery will render with today's numerous Internet platforms. For my final images I make sure to take a faraway shot and a super close up shot.
One of my favorite things to use is the Nikon ML-L3 Wireless Remote Control. It makes shooting so much easier. I just configure my camera to a tripod, adjust the camera settings and then use the remote to shoot. This saves me from going back and forth between arranging the photograph and then reaching over to fire the camera. It also helps with taking selfies.
You can over-style a photograph. To avoid this, I first set up my presentation without thinking that it will ultimately become a photograph. I'll add everything to the composition, then finally look through the viewfinder. At this point I begin removing or rearranging props as needed; things can look completely different in real life versus through the viewfinder. At this time I also decide if a shallow depth of field is best to allow items in the background to become less distracting.
On The Grocery List
Change is a good thing, and Jonathan plans to take his skills to the next level—not just for personal reasons, but to help his followers as well, giving them something new and exciting and integrating more multimedia and video.
"It's my hope to continue to inspire and teach more people through my recipes, but most importantly to reach visitors through my photographs. On the business side, a top objective is to expand my site viewership; isn't this always the underlying goal we're all trying to achieve in the food blogging world? This connection is held together by photography, specifically me photographing the recipes I make on a day-to-day basis," he explains.
Salmon, Mint and Pea Pasta Recipe
Recipe courtesy of Jonathan Melendez
Servings: 4 to 6
Ingredients:
1 pound pasta (any cut you like)

2 tablespoons olive oil

1 1/2 pounds salmon

1 1/2 teaspoons salt

1 1/2 teaspoons black pepper

1 shallot, minced

2 garlic cloves, minced

1/2 teaspoon red pepper flakes

1 lemon, zested

2 tablespoons fresh lemon juice

1/4 cup fresh mint leaves, chopped

2 cups frozen peas, thawed
Directions:
Preheat oven to 350 degrees F.

Place the salmon (skin side down) on a baking sheet. Drizzle with 1 tablespoon of olive oil and season with 1/2 teaspoon salt and 1/2 teaspoon black pepper. Roast in the oven for about 12 to 15 minutes, or until somewhat firm to the touch. Remove from the oven and allow to cool down.

Heat a large pot over medium high heat. Add the remaining 1 tablespoon olive oil and heat through. Add in the shallot, garlic, remaining salt, pepper, red pepper flakes and lemon zest. Cook for about 5 minutes, until soft and translucent. Stir often.

Bring a large pot of water to a boil, and season liberally with salt. Cook noodles according to box directions. Reserve about 1 cup of pasta cooking water before draining.

Add the reserved pasta water to the shallot and garlic mixture and stir in the lemon juice. Cook for about 5 minutes longer and allow to reduce by half. Stir in the cooked pasta, peas and mint. Cook until warmed through. Serve and enjoy!
Time Saving Tip: Use up leftover salmon from the night before to make this dish!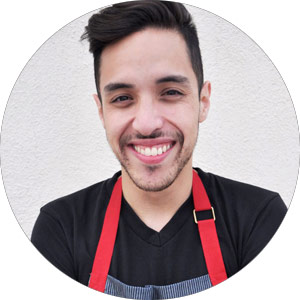 Jonathan Melendez toiled in commercial kitchens cooking, baking and decorating cakes before spinning his passions for food and photography into a career. As founder of TheCandidAppetite.com, he serves up a daily recipe spiced with a dash of tasty imagery. Melendez knows about the power of photos. In fact, you could say that his images have greatly aided the success of his blog and his community building efforts. Writing, developing recipes, telling stories by using his camera, and preparing meals keeps him busy full time.
More articles by this contributor
This Article Goes Great With These Products