For 13 years Carol Freeman ran a successful graphic design business just outside of Chicago. "In our heyday the business had eight employees and brought in sales of more than $600,000 a year. I started the company and loved what I was doing, but after a while more of my time was going to tasks that did not inspire me. I was spending fewer hours being creative and more hours managing. I had very little time off."
To return creativity into her day, plus benefit the environment, Freeman doubled her efforts in seeking out nature-aligned clients. Doing so not only added to the bottom line, but inspired her to strengthen her environmental photography pursuits. Success hit when she landed the Chicago Botanic Garden, The Nature Conservancy of Illinois and Chicago Wilderness magazine. "Those assignments further developed my knowledge and appreciation of the outdoors, plus honed my photography skills." The work also gave her confidence to leap from part time to full time pro.
Making a Smooth Transition to Life as a Professional Photographer
It took nearly four years of planning to transition from Graphic Designer to Professional Photographer. "With nature photography there's a lot of competition for a very small market. At some point everyone needs graphic design; one in one-thousand needs a nature photographer. I wanted to be sure I was ready and financially prepared," she asserts. "Organizations require strong visuals to attract donors, customers and volunteers – my experience as a graphic designer helps me to capture striking images that work for these customers." she references. "I was also fortunate. I got my big break early on by landing two large assignments."
Freeman cites two tasks that she undertook before taking a full time leap. 1) Size up potential streams of revenue: teach, pitch and land magazine work, sell stock photographs, make and sell photo products. 2) Create a solid exit strategy from her graphic design business.
Steps to Take Before You Leap
Pay off debt

Create a savings cushion

Draw a minimal salary and live a simple life

Understand cash flow and how to project income stream

Start locally

Do not work for free. At the least, barter or get something in return

Find a niche and do what you love

Align with like-minded business vendors/partners
Through her unwavering dedication and efforts, Freeman keeps on top of the referral list when it comes to both nature and endangered species photography. "I spend a lot of time in the field. I volunteer on restoration days, meet the conservationists in the area, plus learn about the issues and needs for photography. I take the time to get to know each species, and I inquire why my images will help tell the story. Knowledge about the environment and species not only motivates me but it also gives my photos extra value (besides the aesthetic appeal) because it allows me to create photos that appeal to a larger audience and lets me reach more clients."
Her images have appeared in publications such as National Geographic, Better Homes & Gardens, Nikon World and Birds & Blooms. She has been profiled in The Costco Connection and American Lifestyle. She also provides images to Audubon, Chicago Wilderness, The Plants of Concern and The Nature Conservancy. "It is constant work keeping my name and work in front of prospective clients; for every 10 inquiries I am lucky to get one assignment."
Be Logical: Draw from Experience
Even before selling her business it was only natural that she, a designer, seek commercial outlets for her imagery. A first chance came serendipitously. "I had a printer who made his own marketing calendar. I offered to design a new calendar for them using my photos in exchange for several hundred calendars that I could use as a promotion. This let people know I was now doing photography. The next year, instead of giving them away, I sold a few. We have been creating the calendar together for the past 17 years. It's now my most popular product."
"In most print jobs there's often waste (unused or margin space) on each sheet of paper. I began to think about how I could utilize that wasted space," she says. "The paper is already running though the press. Adding a product into that space requires very little additional ink —bookmarks became the obvious." So here again, Freeman taps design plus printing experience and makes it pay off. Her tip for photographers looking to create products: "Be flexible with your products' dimensions and work with your printer to maximize a printing investment."
Succeeding as a Full Time Nature Photographer
After 20 years as a nature photographer Freeman is well known. "Locally, that is," she smiles. "I have built a loyal following but obviously that did not happen overnight. I do daily posts on my social media page, I have a gallery event coming up next year and am working on a book and a music video. My photo products are sold on my site, plus are featured in local retail shops but I could use more accounts."
She occasionally donates products to fundraisers. "A few words about donating though," she says firmly. "We as photographers should not give away our images. Barter, trade, land additional work, get publicity, find some way to be compensated for your talent and efforts."
"There are perks to being a full time nature photographer. One is that I have the best office in the world. I set my own hours and, since I'm usually up at sunrise, I'm often done with photography before most reach their office. About 10 percent of my time is spent in the field; 90 percent is in the office where I am reviewing images, editing and keeping up with marketing and submissions."
Know How to Go Pro
Freeman's decision to go pro was not only calculated, it was logical. While running her business she took note of what imagery worked and what did not. She listened to clients, all the while improving upon her own talent and artistry. When the time came, she directly transferred business skills, expertise and contacts to her new full time photography career.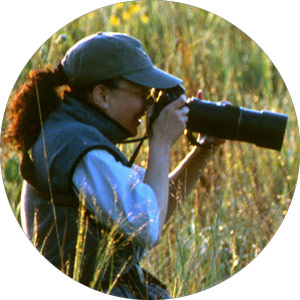 Carol Freeman's work has appeared in publications such as National Geographic, Better Homes & Gardens, Nikon World and Birds & Blooms. She has been profiled in The Costco Connection and American Lifestyle. She provides images to Audubon, Chicago Wilderness, The Plants of Concern and The Nature Conservancy, plus her art is exhibited in galleries, published in school text books and in private collectors. In 2004, she initiated The Endangered Species Photography Project, whereby she will photograph all 483 threatened and endangered species in Illinois.
More articles by this contributor
This Article Goes Great With These Products