You can make the case that time is the key element for making the coolest photos in, and of, Cuba.
Time in the sense of a trip back in time, because much of what you'll see in Cuba will look like it's straight out of the late 1950s. And also in the sense of time you'll want to take, because Cuba offers so many photo opportunities that it's best not to be rushing around on a tight schedule.
But wait a minute. Isn't travel to Cuba from the U.S. forbidden?
Yes and no. Tourist travel isn't permitted, but there are licenses issued for professional research, cultural, educational and religious pursuits, plus other people-to-people, "purposeful travel" small-group visits to the island. If you're interested or intrigued by the possibilities, we suggest Googling "travel to Cuba from US," which will reveal a link to an informative CNN "things to know" page. Then Google "visit Cuba legally" for information about arranged visits...
Nikon Ambassador Vincent Versace, who made his connection to the island through the Palm Beach Photographic Centre, has taken his travel, portrait and fine-art photography skills to Cuba four times, and he plans two more visits in the near future. Among his photographic missions in life, he says, is to "photograph moments of timelessness," and to capture images that seem to place viewers in both the past and the present.
"I took a photo in Cuba of a street full of old cars," Vincent says. "I didn't stage it or have to hunt for it. I just stood on the street corner and it happened. So I've got old cars, and buildings that haven't seen any repairs other than patching, and it was like I was experiencing 1959 in a place where I can go back and experience 1959 again. So I look at it that it's my job to photograph the last page of 1959."
Here's how Vincent does it—and how he suggests you can do it, too.
Person-to-Person
"Stay in the community you want to shoot," he says. Whether it's old Havana or the colorful World Heritage town of Trinidad, get to know the rhythms and the pulse of the streets and the people. "If you're cool with people, they'll be cool with you," he adds, and he makes it a point to talk to everyone he can. "I'll talk about cooking, about rum and about photography, of course." Bring into play whatever you know, whatever you're interested in, whatever will show that you're not just a person there to take few pictures before moving on.
If you're cool with people, they'll be cool with you.
Meeting and talking with people, Vincent noticed right away that "in Cuba, an artist is up there with a doctor and a lawyer," and he learned from the people that their attitude toward the art of photography is embedded in culture and history. "After the country was embargoed, newspapers used only photographs to tell stories," he says, "and it was accepted in society that the reason you photograph is to record the history of the moment so others could see it."
He had no trouble with access to subjects. "It was pretty much okay for me to shoot anything within reason. If I saw a soldier guarding a building or an area, common sense told me to pass by. But otherwise, I photographed wherever I wanted to."
And almost without exception, whoever he wanted to. "The Cuban people are proud of who they are and what they do, and I try to mirror their level of openness, friendliness and confidence."
He is adamant about not paying for photography. "I think it's an insult to offer or give money for photographs, but that doesn't mean I can't make a gesture of gratitude. I photographed a girl who sold flowers, then bought two dozen roses and gave them to her. I carry some Cohiba or Partagás mini cigars, or a pack of cigarettes, so I can make the gesture of offering something. Some people may not smoke, but they can take the cigars for someone who does. The gesture of giving something isn't lost; it matters. And the next time through the community, people will know me and know that I show respect. You're not there long, but you do whatever you can to be a part of the community for the little time you're there. You do the right thing."
Travel Light
"Normally, I don't just travel, I deploy," Vincent says of the amount of photo gear he normally carries on his trips. "Six cameras and 12 lenses—that's routine."
But not in Cuba. It's his conclusion that if you show up with too much photo equipment, someone might misinterpret your purpose. "It's wise to limit the amount of gear," he says. "If you can do one camera, one lens, that's about as innocent as you can look."
He can't quite manage that, though. He doesn't hide that he's a photographer—"I'll even wear a photo vest"—and has been known to carry a D750, a D800, a Nikon 1 V1 and three lenses. "For me, that's paring down the gear, and it has the advantage of focusing my attention and encouraging me to slow down to the speed of life."
Additional gear includes a generous supply of 128-gig memory cards, which he downloads to his laptop and to a portable hard drive. He'll also carry a few "stealth drives"—256-gig waterproof, vibration- and shock-resistant flash drives. "They're little black cylinders that go in your camera bag. They don't look like anything, and nobody thinks about them. I like to have everything backed up to two or more places."
Main Attractions
Even though there's the undeniable attraction of wandering through 1959, there's more to Cuba than just the past.
"There's a visceral feel, an emotion, to these streets and these people," Vincent says. "The Cuban people are warm and welcoming, and almost everyone I've met speaks English—and if not, there's someone nearby who does.
"Then there are things I've never seen before—incredible architecture, huge halls with Italian marble staircases and floors, a ballet conservatory turned into an apartment house and a restaurant, office buildings adapted to apartments. There's regard for tradition and culture, but there's also the pragmatic and the necessary."
And no end to photographic opportunities and possibilities.
Return Visits
If, like Vincent, you are so taken by Cuba that you know you'll be returning, it's a good idea to make connections. "Meet people, make friends, make gestures of friendship, and people will turn you on to what to see, what to photograph and where to eat."
On his first visit, Vincent met a tobacco grower, which on his next visit led to meeting a man "who rolls the best cigars from the first guy's tobacco." On his third visit he talked to the owner of a restaurant who went to elementary school with both of those men. "And he gives me a cigar from the same cigars Castro smokes; I guess one fell off the truck. Then, the fourth time I'm there, he hands me 25 of the cigars as a gift. You're allowed a hundred dollars worth of gifts to take home, so everything was cool. But you've got to follow that rule! You don't want a problem with customs officials back home."
Vincent found the value in talking to people and showing his genuine interest and curiosity, but he didn't find it right away. "The first time I visited Cuba I went with preconceptions, and I wasted time getting over them. I was expecting a totalitarian country, trapped in the '50s, with a lot of hostility. I walked in and none of that was there. It took a while for me to realize I should be photographing not what I expected to see, but what was there to see. I learned to just let the place take me, and I was far more successful, and far happier just being open to everything.
"I didn't have to go looking for the pictures; I let the pictures find me."
Infrared: Seeing the Unseen
One of the cameras Vincent brought to Cuba on a recent trip was a D800 dedicated to Infrared (IR) photography—which means it was converted to shoot only Infrared. The attraction of IR photography is that it allows him to not only see an unseen world, but to get unexpected and often surprising glimpses of that world.
What's Infrared photography? Basically it's taking pictures in light beyond the spectrum visible to us. An Infrared (IR) conversion of a DSLR involves removal of the camera's low pass filter from in front of the sensor and the installation of an IR filter in its place. It also involves changing the point of focus to correspond to the wavelength of IR light.
Vincent had his D800 converted to IR by Life Pixel, but there are a number of companies that do the job—which, by the way, will void the camera's warranty. A Google search of "DSLR Infrared conversion" will get you started.
Vincent's advice if you convert a camera: use a NIKKOR lens that features Nano Crystal Coat, which reduces the effects of reflection. "I use only Nano glass—specifically the AF-S VR Zoom-NIKKOR 24-120mm f/3.5-5.6G IF-ED lens—with my Infrared D800. It simply gives me the best results."
A collection of Vincent's work, which includes additional photographs of Cuba, can be viewed at his website,
versacephotography.com
.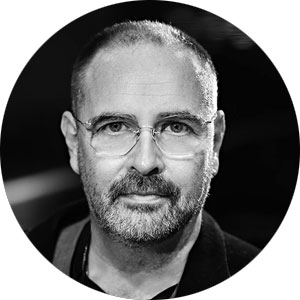 Vincent Versace is an internationally recognized pioneer in the art and science of digital photography. Vincent's photography has been featured in most of the leading photo industry publications. He is the author of best selling books on photography and digital imaging. He teaches regularly in locations around the world. Go to his website www.versacephotography.com and his ambassador page.
More articles by this contributor
This Article Goes Great With These Products