Not long ago, while he was planning a trip to Africa, Ron Magill heard about the COOLPIX P1000's far-reaching 4.3-539mm zoom lens. In the 35mm format that's the equivalent of 24-3000mm, and those numbers got his immediate attention.
"One of the biggest challenges photographing wildlife in Africa—especially birds—is getting close enough, even with my long glass," Ron says. (His long glass, by the way, is the AF-S NIKKOR 500mm f/4G ED VR.) "So when I heard about the P1000 with its unbelievable zoom, I was curious to see how it would work out there."
So he called us and asked if he could borrow a P1000 for the trip.
"Done," we said. He is, after all, Ron Magill—wildlife expert, communications director at Zoo Miami, winner of five Emmy awards for nature documentaries, a frequent go-to guest on radio and television shows and an enthusiastic advocate for wildlife preservation.
And he's a Nikon Ambassador.
And, like Ron, we wanted to see how it would work out.
And maybe there'd even be a story in it—one we could share with you.
Geared Up...and Down
"So how was the trip to Africa?" we asked when he came back.
"I've gotta tell you, it really surprised me," he said. We knew he couldn't mean the visit—Ron's been to Africa countless times; nothing would surprise him. He had to be referring to the P1000. And he was: "I can't believe you can have an optical zoom like that in a camera you can carry around so easily."
Of course he carried his DSLRs—the D500 and D5—in addition to the P1000, and several NIKKORs, including the AF-S NIKKOR 80-400mm f/4.5-5.6G ED VR, the AF-S NIKKOR 14-24mm f/2.8G ED and the aforementioned "long glass," the 500mm f/4G.
Ron makes an annual pilgrimage to Africa. "It's a place I have to go to every year to take pictures and better educate myself about wildlife and conservation efforts," he says. "I work on a variety of conservation programs that I write papers about, and I need the photographs to support the writing. That's how I got into photography in the first place. I'd write papers for magazines, and at first I was calling stock agencies for the photographs to illustrate the stories. I was flabbergasted at how much they'd charge for a photo, so I started taking the pictures myself."
This trip was to South Africa and Botswana, and the plan was to switch back and forth between the pro cameras and the P1000. When Ron wasn't shooting with the COOLPIX, his wife, Rita, was.
"And she got some amazing shots," Ron says.
Because of the camera's long ranger of a zoom lens, the versatility of the P1000 is evident from the moment you pick it up, but as Ron found, there are other impressive features. One of them he discovered on his return. "You can get beautiful prints from the P1000 files," he says, "and when you're shooting at the 3000mm end of the telephoto range, it's almost the equivalent of an image that you crop into to get a section to enlarge. With that kind of reach, it has that 'isolate part of the image' ability." (And since he mentioned reach, we should point out that there's even more to the P1000: a Dynamic Fine zoom setting that's the 35mm equivalent of 6000mm and a Digital Zoom range equivalent to 12,000mm.)
Spreading the Word
"There are a lot of fine photo products out there that I know about," Ron says, "but I'm not the kind of guy who goes around all the time telling his friends, 'You gotta buy this.' But as soon as I shot with the P1000, I thought, I know people who need this camera. Many of them are birders, and five of them now have the camera. Others travel, and they always have one body and maybe a 28-200mm lens and they say, 'That's all I can take, I don't want to carry any more weight.' Now there's a solution: one camera with a 24-3000mm reach. This is the camera that's going to be your hiking buddy if you don't want to load up a backpack with gear. It's a really great for the amateur who wants fantastic versatility without carrying 50 pounds of gear."
Well, now we know how it worked out.
Nikon Ambassador Ron Magill has worked with wildlife for over 30 years and is an internationally recognized zoological authority. He believes that photography is his greatest tool for conveying the importance of conservation, and he hopes his images will help inspire an appreciation for wildlife along with efforts to protect it for generations to come.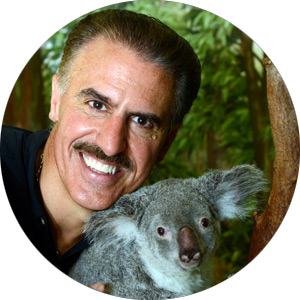 Ron Magill has worked with wildlife for over 30 years. He is an internationally recognized zoological authority who has appeared on a wide variety of local, national, and international programs. Ron is an award-winning photographer and documentary producer whose images have appeared in publications and galleries including the Smithsonian. He hopes his images will help inspire an appreciation for wildlife along with efforts to protect it for generations to come. View his ambassador page.
More articles by this contributor
This Article Goes Great With These Products