At one point in our talk with Jide Alakija about the style and substance of the Nikon Z fc, we got his take on the vlogging and video-making capability of the camera, and how cool it is that the flip-out Vari-angle LCD monitor puts you in command of practically instant sharing of what you've created.
"Kind of makes you a producer/director, doesn't it?" we said, and then added, "And maybe the star of the show, too."
Simply put, the Z fc is likely to get you noticed.
The first thing anyone notices about the camera—the feature they can't fail to notice—is what we call "heritage design" and you'll likely call "retro." Think Nikon FM2 from the early 1980s.
It might be easy to think of retro's appeal as purely nostalgia, but we suspect that its allure is pretty much along the lines of photography itself: communication and expression. You take pictures to communicate and express, and the camera you carry communicates and expresses something about you, in the same way your photos and videos do.
Which made Jide absolutely the right person to talk to about the Z fc. Style is the constant with him, and he brings it, seemingly effortlessly, to his work as he balances commercial, documentary and wedding photography with a passionate pursuit of street photography. There's elegance and imagination in his work, and he intuitively makes the connection between style and substance, art and technology.
The Z fc is first and foremost a superbly capable camera, but it's the retro design—from the serrated dials to the keyring strap lugs to the textured leather-look body panels—that makes it stand out. It is frankly intended to catch the eye of folks with a sense of personal style and an awareness of what effect style can have on substance.
Jide caught on to that immediately.
The first thing anyone notices about the camera—the feature they can't fail to notice—is what we call "heritage design" and you'll likely call "retro."
Streetwise
"It looked like the FM2," he says of the Z fc. "I'd had an FM2, and I'd always wished there'd be a [digital] camera like that because it fits the style and the esthetics of someone trying for the old-school-type approach to travel and street photography."
He could easily think of the camera as a transporter to another time and place and feeling. First, there's a definite tactile sense of connection to the camera's controls. Jide's cameras for weddings and commercial assignments are the Z 7II and the D780, and for those cameras it's tap and touch; for the Z fc, it's press and turn, and those actions serve to emphasize that photography is being done here. Retro is a look and a feeling, and style can influence how you feel when you're photographing. "There's a connection here to video-makers, vloggers, street photographers—people who want all the cutting-edge tech, but in a package that indicates individualism and creativity, and want to carry those feelings with them." For Jide it's a feeling that's familiar and welcome as it suggests a contemplative, thoughtful approach to what's being created and shared. "When I walk the streets with a particular camera, I am very conscious of the look of that camera. I'm in a frame of mind that says, Okay I'm the artist now. I'm the one in control of making these images."
Steps Ahead
While it shares features with the Z 50—including quick communication of Nikon's SnapBridge app to transfer photos and videos to a smartphone or tablet and Eye AF for people and their pets—the Z fc offers its own advances in capability and convenience. A key plus for vloggers and videomakers is the swing-out Vari-angle screen for easy viewing and composing.
The Z fc makes it possible to update the camera's firmware directly through SnapBridge, doing away with computer-to-memory-card-to-camera steps. Which means that when future tech comes along, it's only a quick step to updates and added functionality.
Two lenses were introduced with the Z fc that have particular application for street photography: the NIKKOR Z DX 16-50mm f/3.5-6.3 VR lens, which translates to about 24-75mm* and the NIKKOR Z 28mm f/2.8 (SE), an FX lens that'll provide the equivalent of a 42mm* view. Both lenses are ideal complements to the ideal walking-around nature of the Z fc, especially when you want to communicate not only what you see, but who you are.
When it comes to quality images, Jide found the camera kept pace with ideas and requirements. "What I loved so much about it was the quality of the images at very high ISOs. Shooting at 6400 I was getting images comparable to Z 6 or Z 7. There were times I'd be shooting late at night and catching highlights off the street, and there was never an instance where I'd have to push the [ISO beyond where i was comfortable]. Color reproduction was excellent; dynamic range, too. I'd say it gave me complete control to execute ideas."
"And as far as the look—it's timeless and special. You carry this camera if you want to say something about the kind of person, and photographer, you are. Someone with a viewpoint of your own. Given the choice, why not have your gear reflect your sensibility and style?"
* 35mm equivalent
Jide's wedding photography site, at www.alakija.com, offers image portfolios and quick access to his blog, Instagram and Facebook pages.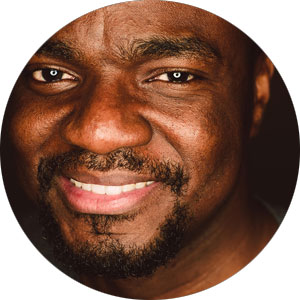 Jide Alakija is an internationally renowned photographer with over 15 years experience in shooting multicultural weddings, documentaries and editorial campaigns. Jide's assignments have taken him across Africa, Europe, the Middle East, Asia and the U.S.
More articles by this contributor
This Article Goes Great With These Products