A lighting artist who regularly worked the weddings circuit, Benny "Migs" Migliorino today calls himself an environmental portraiture entrepreneur. In this role he has license to photograph a client within the most unrelated environment that he can find. Migs likes to say he can pair an offbeat location to any subject as well as the next guy can place peanut butter aside jelly.
He wants to show the planet how to create great environmental/location portraits without the burden of a huge crew or that van full of lighting and gear. He's a road warrior on a photographic mission.
Hat's Off
Or hats on—as it is for Otis James pictured here within his Nashville studio. James crafts custom-measure caps and ties of all sorts. Migs, who has a fascination for toppers himself, stepped inside the hat maker's showroom last summer while on a road trip. Engaging proprietor James in conversation, Migs eventually queried him if he'd pose for a few quick shots; he was offered about fifteen minutes.
"I always have some sort of camera gear with me when I travel. I want to be prepared. You never know what interesting subject you may come across," he notes. "With me was my Nikon D800. I love its high-resolution files, plus the fact that I can shoot video from the same camera body. I always travel with at least one Nikon Speedlight—don't underestimate the work you can do using just one small light if you know how to use it properly!"
Migs took five minutes for prep before James stepped into the frame, then five minutes to shoot. He notes, "For this environmental portrait I wanted to show finished product, fabric scattered about, plus work space. I initially photographed him sporting a white work shirt. That proved to be too stark and cool for the mood, so I asked him to layer on his sweater then add a tape measure round his neck."
The aperture was placed at f/5.6, shutter speed at 1/250 and ISO amped to 800. The AF-S NIKKOR 24-70mm f/2.8G ED was attached to the D800. For lighting, an SB-700 Speedlight was placed to James' right and a softbox to his left. In the final photo, Migs ran a bit of dodging and burning. The result—warm and consistent tones for this American maker portrait.
The Ole Ball and Chain
"It's trendy to pick odd locations for engagement sessions," smiles Migs, who had suggested the Eastern State Penitentiary in Pennsylvania as a destination for a two-hour photo shoot. "When you work light, you can work fast. I was able to take advantage of this large location and get the most bang for the buck in that short amount of time."
Using the AF-S NIKKOR 70-200mm f/2.8G ED VR II and Nikon D700 set to aperture f/2.8, shutter 1/160 and ISO 400, he placed the pair against a line-up of old doors braced aside a wall. He wanted a peep of color in the upper corner, so he positioned the camera such that a bit of one window was visible to the back. "I added a warming filter over my Nikon Speedlight in order to warm up that cold interior light and make the blue in the sky really pop."
With so many textures and backgrounds from which to choose, Migs had ample venues for placing the couple. Commenting on frame-up for this shot, "I feel that negative space to the left adds impact. I could have cropped, but the view as-is almost seems like I am spying on them." Earlier in his career, Migliorino spent many years working with magazine layouts so that influence sometimes seeps into his portrait work.
Softening Two Tomboys
Inspiration for a set can sometimes be found in your own backyard. "Tomboyish with a girly mood." This was his directive for photographing both nieces. Having access to an auto workshop, plus a road bike and two little girls with lots of pink, presented him with yet another stage.
"There was some light coming into the space through a side door, but not enough, so I rigged a Nikon SB-800 Speedlight set on the floor behind the bike. I aimed light direction up so that it would highlight the tools. I wanted texture and detail behind the girls." In order to bring in more even lighting over the entire frame, Migs then placed two more wireless Nikon SB-800s in a soft box to camera left. "When time to capture, I used the Nikon SU-800 Wireless Speedlight Commander to trigger the shutter and all flash units at the same time." Migs usually shoots using the in-camera color temperature Kelvin scale (within the white balance settings). He selected temp 5600°K for this indoor look.
My camera settings were 400 ISO, 1/60 shutter speed and f/5.6. I used the AF-S NIKKOR 70-200mm f/2.8G ED VR II, which is my favorite portrait lens to work with when I have the room for it.
These are just a few photos from his book, Alternative Portraiture: Artistic Lighting and Design for Environmental Portraiture published by Amherst Media. Do you have a flair for creating on-the-fly and a penchant for location photography? Migliorino proves that one man in one van (well, he actually drives a Jeep), a couple durable sacks with quality gear (and a working knowledge of that gear) can power a successful and interesting career.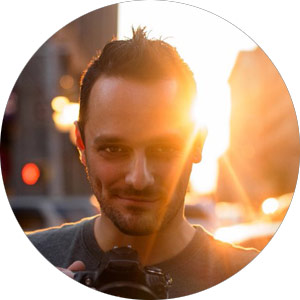 Environmental portrait artist Benny "Migs" Migliorino's goal is to communicate not only the personalities of his subjects, but their emotions as well, and he has the imagination and ability to capture these elements in dramatic images no matter the nature of the surroundings. Benny's stylish, compelling images have graced the pages of many magazines, including Revolver, Alternative Press, American Photo, Popular Photography, Rangefinder, Photoshop User, Shutterbug, Nikon World, Field & Stream and Outdoor Life. Always looking for new ways to communicate his vision and stay on top of his creative game, Benny has recently added the roles of cinematographer, director and director of photography to his repertoire. He is truly a photographer for whom imaging is not a job, but a passion.
More articles by this contributor
This Article Goes Great With These Products