Key Features
The RT-1 is an optional accessory tripod collar ring designed specifically for the AF-S NIKKOR 70-200mm f/4G ED VR lens. When shooting with a D-SLR and the AF-S NIKKOR 70-200mm f/4G ED VR lens, the RT-1 can be used to attach the lens to a tripod instead of attaching the camera's body directly to the tripod. Attaching the lens to the tripod instead of the D-SLR body can be done when additional support is desired, such as when shooting with a teleconverter.
RT-1 Tripod Collar Ring
2
2
This product should be included with the 70-200 f/4 lens...period!
Overpriced!!! Do you really want that much weight on the body. Most quick release systems can't handle it.
April 24, 2013
Eye-watering price.
Asking this much money for what is little more than a simple piece of metal cannot be justified. Nikon makes complete lenses for this price. At the same time it is highly desirable to have. I see a huge opportunity for 3rd-party manufacturers here.
January 24, 2014
Product Q&A
Ask your questions. Share your answers.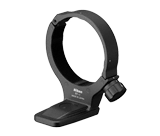 RT-1 Tripod Collar Ring
0
out of
0
found this question helpful.
Was this helpful?
helpful
0
unhelpful
0
http://answers.nikonusa.com/answers/7022-en_us/product/4981/question/845143/undohelpfulness.djs?format=embeddedhtml&sessionparams=__BVSESSIONPARAMS__&return=__RETURN__&innerreturn=http%3A%2F%2Fanswers.nikonusa.com%2Fanswers%2F7022-en_us%2Fproduct%2F4981%2Fquestions.djs%3Fformat%3Dembeddedhtml%26scrolltotop%3Dtrue%26expandquestion%3D845143&user=__USERID__&authsourcetype=__AUTHTYPE__&submissionparams=__BVSUBMISSIONPARAMETERS__&submissionurl=__BVSUBMISSIONURL__
Answers
0
out of
1
found this answer helpful.
Was this helpful?
helpful
0
unhelpful
1
http://answers.nikonusa.com/answers/7022-en_us/product/4981/answer/985871/undohelpfulness.djs?format=embeddedhtml&sessionparams=__BVSESSIONPARAMS__&return=__RETURN__&innerreturn=http%3A%2F%2Fanswers.nikonusa.com%2Fanswers%2F7022-en_us%2Fproduct%2F4981%2Fquestions.djs%3Fformat%3Dembeddedhtml%26scrolltotop%3Dtrue%26expandquestion%3D845143%26expandanswer%3D985871&user=__USERID__&authsourcetype=__AUTHTYPE__&submissionparams=__BVSUBMISSIONPARAMETERS__&submissionurl=__BVSUBMISSIONURL__