Cross-ranged, five-area autofocus system
Focus Tracking with Lock-On™
Built-in AF-Assist Illuminator
Center-Weighted Metering and Spot Metering
Built-in Speedlight: guide number 12/39 (ISO 100, m/ft.); 28mm lens coverage
QD (F80D) and Data Imprint (F80S) versions
Custom settings of 18 functions (19 functions with F80S)
Choice of 1) Dynamic AF, 2) Closest-subject-priority Dynamic AF and 3) Single Area AF
Vari-Brite Focus Area display provides at-a-glance AF-area confirmation
3D Matrix Metering (with D-/G-type Nikkor lens)
Four exposure modes ([P], [S], [A], [M])
3D Multi-Sensor Balanced Fill-Flash capability
On-Demand Grid Lines can be displayed in viewfinder (with Custom setting #4)
Technical Specification

Exposure control: Auto-Multi Program [P] with Flexible Program, Shutter-Priority Auto [S], Aperture-Priority Auto [A] and Manual [M]

Shutter speed: 1/4,000 to 30 s; stepless on [P] or A; in 1/2 EV steps on [S] or [M]; B

Exposure metering: 3D Matrix, Center-Weighted and Spot; EV 0 to 21 at ISO 100 with f/1.4 lens (EV 3 to 21 with Spot Metering)

Power source: Two 3V CR123A or DL123A lithium batteries; Battery Pack MB-16 is also available (for four R6/AA-size alkaline, lithium, NiCd or Ni-MH batteries)

Dimensions (W x H x D): Approx. 141.5 x 98.5 x 71mm (5.6 x 3.9 x 2.8 in.)

Weight (body only without batteries): Approx. 515g (18.2 oz.)
Product Q&A
Ask your questions. Share your answers.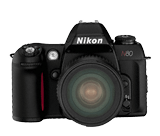 N80
Apr 18, 2014 by
by
hlritter
Maumee, OH, USA
0
out of
0
found this question helpful.
Was this helpful?
helpful
0
unhelpful
0
http://answers.nikonusa.com/answers/7022-en_us/product/1776/question/1228065/undohelpfulness.djs?format=embeddedhtml&sessionparams=__BVSESSIONPARAMS__&return=__RETURN__&innerreturn=http%3A%2F%2Fanswers.nikonusa.com%2Fanswers%2F7022-en_us%2Fproduct%2F1776%2Fquestions.djs%3Fformat%3Dembeddedhtml%26scrolltotop%3Dtrue%26expandquestion%3D1228065&user=__USERID__&authsourcetype=__AUTHTYPE__&submissionparams=__BVSUBMISSIONPARAMETERS__&submissionurl=__BVSUBMISSIONURL__
After sitting unused for 9 years after I started buying Nikon DSLRs, my N80 wouldn't turn on after I put new batteries in it today. But after 5 or 10 minutes, it began to regain first its display and then its shutter and autofocus capabilities and appeared to be working normally. I turned it off and went to work. After I arrived home about 8 hours later, with the camera off, the LCD panel showed the [E] indicating no film loaded, as normal, but the whole thing went dead when I turned the camera on. I removed and reinstalled the batteries, and the camera again worked normally and continues to do so a couple of hours later. What's going on? Did an internal battery or capacitor have to recharge? An electrolytic re-form? Is repair advisable?
2 days ago
by
hlritter
Maumee, OH, USA
Location : 
Maumee, OH, USA
Experience: 
More than 10 years
Role: 
Serious passion, hobbyist