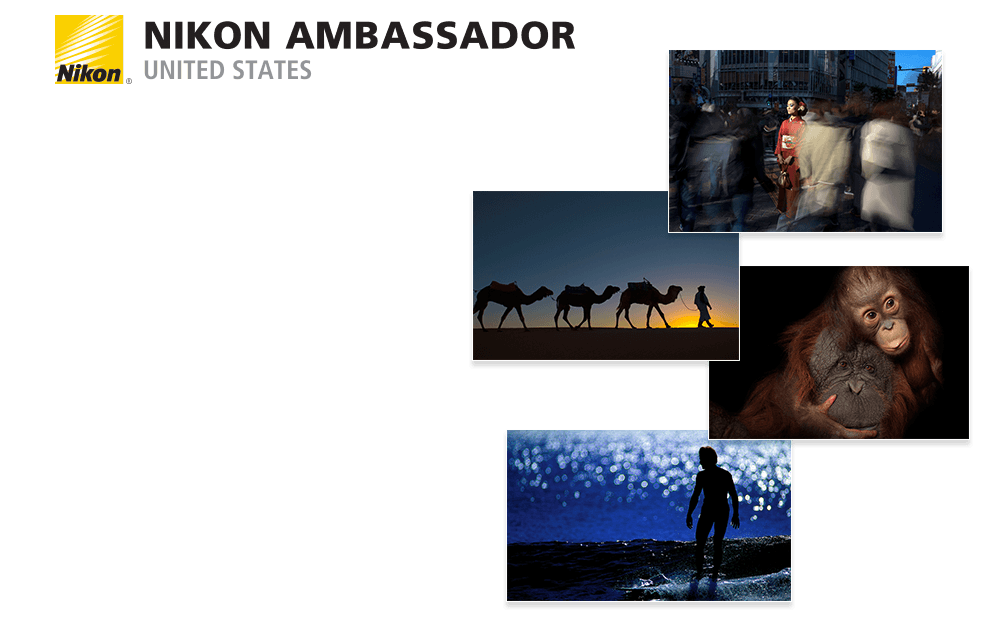 Meet the Nikon Ambassadors!
Twenty-one celebrated contemporary photographers
Nikon Ambassadors are some of the most talented and influential visual artists working in the business today. These gifted, spirited storytellers go above and beyond most, and are admired for their passion, energy and commitment to their craft. Their investment in, and trust, of the Nikon brand are cornerstones to their image making abilities.
As a loyal Nikon partner, Nikon Ambassadors' commitment and contributions to the photographic industry throughout their careers have influenced and inspired photographers around the world; while their desire to educate and empower other image makers around them has become a part of their daily business. From workshops to trade show platforms, online learning and social media; Nikon Ambassadors represent the most versatile and ambitious photographers today. These visual artists are respected around the globe for their vision and accomplishments.
The dedication to advancing the art of visual storytelling while embracing and mastering the latest technologies and trends in the field are paramount to these photographers being selected as Nikon Ambassadors.
As the top photography artists and visual storytellers of this era, these contemporary photographers' advanced techniques, unprecedented creativity and tenacious approach to imaging solutions is demonstrated assignment after assignment, each and every time they pick up a Nikon camera.
Learn & Explore Tip of the Day
April 19, 2015
Try shooting a group photo with a longer zoom lens, instead of just a wide-angle. By standing back 20 more feet or so, you can lessen the impact of the background and focus on the people in the shot. You may have to yell your instructions to the group, but your shot will be dramatically different.
April 18, 2015
Posing a bride and groom for photos is sometimes difficult. Concentrate on close shots of just the two of them, with clean backgrounds. Then create a fun group shot having them in the center, with others gathered around them. Just make sure no one gets in front of them. After all, it's their day.
April 17, 2015
Its easy to set your white balance when shooting video with Nikon DSLRs. Turn on Live View and scroll through the various white balance options while looking at the LCD. You'll be able to see exactly how the scene looks with each white balance setting, making it easy to set an accurate or creative white balance for the scene you're shooting.
April 16, 2015
When making group pictures, shoot, shoot, shoot. Put your camera on continuous and fire away. Often the fourth or fifth picture is the best one because everyone has settled down with eyes open and mouths shut.
April 15, 2015
Whenever possible, get it right in the camera. Crop the shot, set your white balance, have your ISO and exposure set properly before you shoot. This will save you time later at the computer.
April 14, 2015
Try shooting panoramas if you're at a sport stadium, beach or park, for more interesting images. Some Nikon Digital Cameras have an Easy Panorama mode or a Panorama Assist mode, which make these photos easy to shoot.
April 13, 2015
If you're doing a lot of macro photography using a D-SLR and Micro-NIKKOR lens, you can set the lens' FULL/LIMIT selector to LIMIT. This will restrict focusing between the distances of 1:2.3 and 1:1 (life size).
April 12, 2015
Need some inspiration? Take out your camera's manual and read about a shooting mode or setting that you don't normally use. Spend a day practicing how to use it.
April 11, 2015
Check the weather before an outdoor event. Protecting your camera and lens is critical. Consider buying a rain hood for your camera. It will protect your camera and allow you to keep shooting. If you don't have one, use a gallon-size plastic bag or trash bag with rubber bands to protect your gear.
April 10, 2015
When capturing audio for your videos, you should always do a test to check the audio levels while Live View is activated and adjust if necessary.