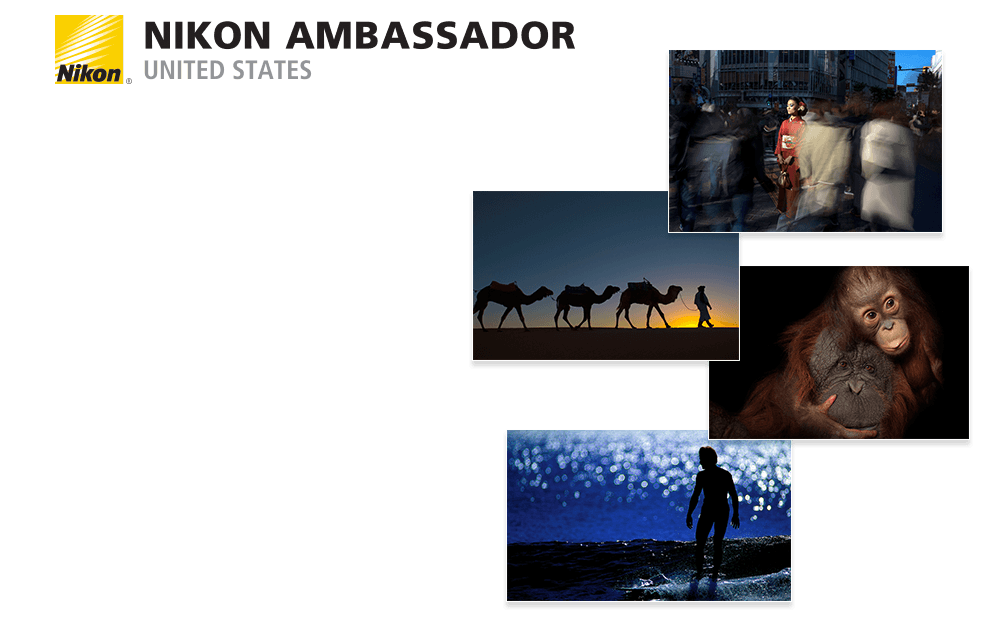 Meet the Nikon Ambassadors!
Twenty-one celebrated contemporary photographers
Nikon Ambassadors are some of the most talented and influential visual artists working in the business today. These gifted, spirited storytellers go above and beyond most, and are admired for their passion, energy and commitment to their craft. Their investment in, and trust, of the Nikon brand are cornerstones to their image making abilities.
As a loyal Nikon partner, Nikon Ambassadors' commitment and contributions to the photographic industry throughout their careers have influenced and inspired photographers around the world; while their desire to educate and empower other image makers around them has become a part of their daily business. From workshops to trade show platforms, online learning and social media; Nikon Ambassadors represent the most versatile and ambitious photographers today. These visual artists are respected around the globe for their vision and accomplishments.
The dedication to advancing the art of visual storytelling while embracing and mastering the latest technologies and trends in the field are paramount to these photographers being selected as Nikon Ambassadors.
As the top photography artists and visual storytellers of this era, these contemporary photographers' advanced techniques, unprecedented creativity and tenacious approach to imaging solutions is demonstrated assignment after assignment, each and every time they pick up a Nikon camera.
Learn & Explore Tip of the Day
July 4, 2015
When shooting nighttime landscapes, use a low ISO (400 or below if possible) while working from a tripod. Open your aperture to F/4 or F/5.6. This will allow you to have a shot full of detail and of good quality. Remember that night shots need a subject, just like day shots.
July 3, 2015
Aviation photography is so accessible. There are air shows everywhere, and you really need only one camera and a few lenses to capture some stunning images, even from the ground.
July 2, 2015
When photographing the July 4th fireworks, use a tripod and slow shutter speed. This way you can get shots that show the full burst of the fireworks in the sky.
July 1, 2015
Can't figure out how to set your camera for a particular feature? Check out the User's Manual that came with the camera. Its filled with a wealth of information on how to use each feature of the camera. In addition to the printed manual, most Nikon cameras' User's Manuals are also available digitally as a PDF file. Go to the product page on the Nikon website, under the support tab and download the one for your camera. Nikon even makes a Manual app for iOS and Android™ devices that lets you download your camera's manual so its always available.
June 30, 2015
Do you enjoy snorkeling or swimming in lakes, rivers or the ocean? Mix two of your passions! Nikon makes a number of cameras designed for underwater use, from COOLPIX models to Nikon 1.
June 29, 2015
Today is National Camera Day, so get out and celebrate by taking lots of photographs with your favorite Nikon COOLPIX, Nikon 1 or D-SLR camera!
June 28, 2015
When shooting into glass windows, use a polarizer filter to reduce glare. It will increase the contrast of the overall image, making colors seem deeper and more vivid.
June 27, 2015
Ask people to write down their e-mail address on a piece of paper and take a photo of that paper along with their photos. That way you'll always have their e-mail address on file. Send them a copy of the photo as a thank-you for their time.
June 26, 2015
Get yourself in the picture. Nothing is worse than a vacation with no shots of the family photographer. Get in the picture by using a tripod (or a steady surface such as a wall or a car hood) and the camera's self-timer to make sure you're included in the family memories.
June 25, 2015
You can try a few different techniques to freeze motion: panning (which blurs the background while freezing your subject in motion), using a flash, or zooming out to a wider-angle view.