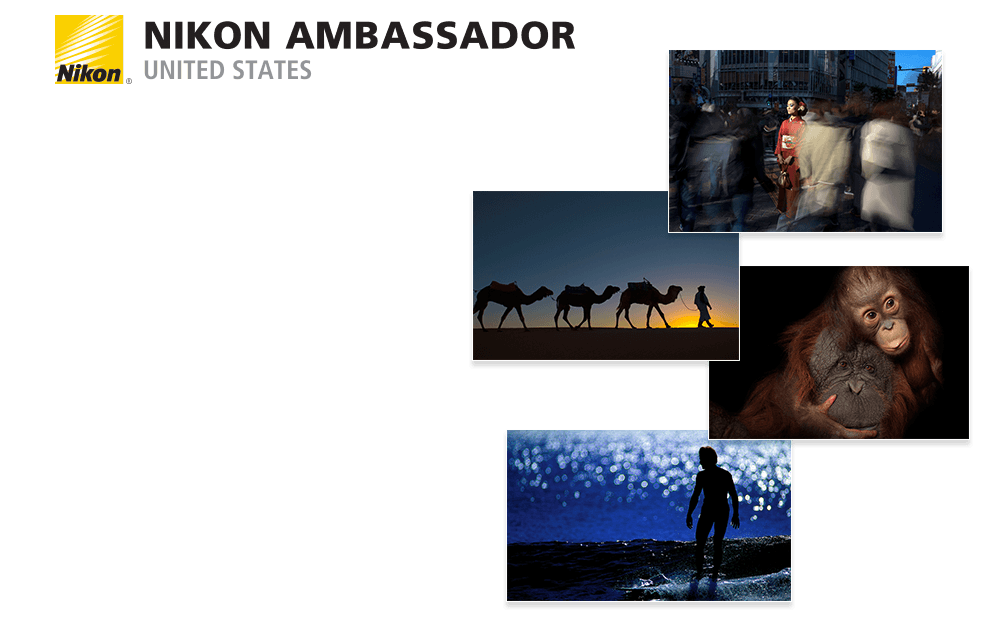 Meet the Nikon Ambassadors!
Nineteen celebrated contemporary photographers
Nikon Ambassadors are some of the most talented and influential visual artists working in the business today. These gifted, spirited storytellers go above and beyond most, and are admired for their passion, energy and commitment to their craft. Their investment in, and trust, of the Nikon brand are cornerstones to their image making abilities.
As a loyal Nikon partner, Nikon Ambassadors' commitment and contributions to the photographic industry throughout their careers have influenced and inspired photographers around the world; while their desire to educate and empower other image makers around them has become a part of their daily business. From workshops to trade show platforms, online learning and social media; Nikon Ambassadors represent the most versatile and ambitious photographers today. These visual artists are respected around the globe for their vision and accomplishments.
The dedication to advancing the art of visual storytelling while embracing and mastering the latest technologies and trends in the field are paramount to these photographers being selected as Nikon Ambassadors.
As the top photography artists and visual storytellers of this era, these contemporary photographers' advanced techniques, unprecedented creativity and tenacious approach to imaging solutions is demonstrated assignment after assignment, each and every time they pick up a Nikon camera.
Learn & Explore Tip of the Day
July 27, 2014
To take a sharp slow-speed shot without a tripod, hold the camera steady and take a deep breath—and hold it—before you press the shutter release. By holding your breath you'll stop a lot of your body's movement.
July 26, 2014
Creating a pan of a moving subject is useful for creating images when the subject is in focus but the background is blurry. To do a smooth pan, place the focus point of your camera on something you can easily track (like the driver's window on a car, head of a runner) and follow along with the subject well before you press the shutter release button.
July 25, 2014
On photo sharing sites like Flickr you can often view the details of a photograph and take a look at the shutter speed, aperture, ISO and other settings. While this won't teach you how to create a photo from scratch it will show you what technical choices photographers made to capture their images.
July 24, 2014
If you're taking pictures to sell something on an auction site like eBay, find a way to isolate the object from the background. Lay out a solid colored sheet or blanket, bring over some lights and try to make it into a still life by focusing on the details of the item.
July 23, 2014
Give yourself a photographic assignment—a photo topic if you will—and spend a day or a weekend working on it. Shoot old cars or street signs. By focusing your creative mind on a single topic you'll be forced to think of different ways to capture that subject.
July 22, 2014
Take a step back. No, farther back. See what the scene looks like from far away to get perspective. Walk around it, to see it from different angles. There's a tendency to rush up to something and take a photo, but if you look at it from different angles you're more likely to find something you would otherwise have missed.
July 21, 2014
When shooting macros or close-ups of flowers, try setting your lens to as wide open an f/stop as possible to blur the background. Because flowers clump together they often create distracting backgrounds if everything is in focus.
July 20, 2014
Most cameras with built-in flashes have a red-eye reduction setting that fire several quick pre-flashes before the main burst of light. Turn this off if you're not photographing people because it drains the battery and doesn't help light up your scene.
July 19, 2014
Buy a shutter release cable or remote (depending on your camera). This will enable you to take long exposure shots without moving or shaking your camera. A long enough shutter-release or a remote will also let you make self-portraits easily.
July 18, 2014
There's no rule that says you have to take a photo. That doesn't sound like a great tip, but it's actually very freeing. If you don't feel compelled to take a photo of everything, you can take your time to pick and choose your compositions.