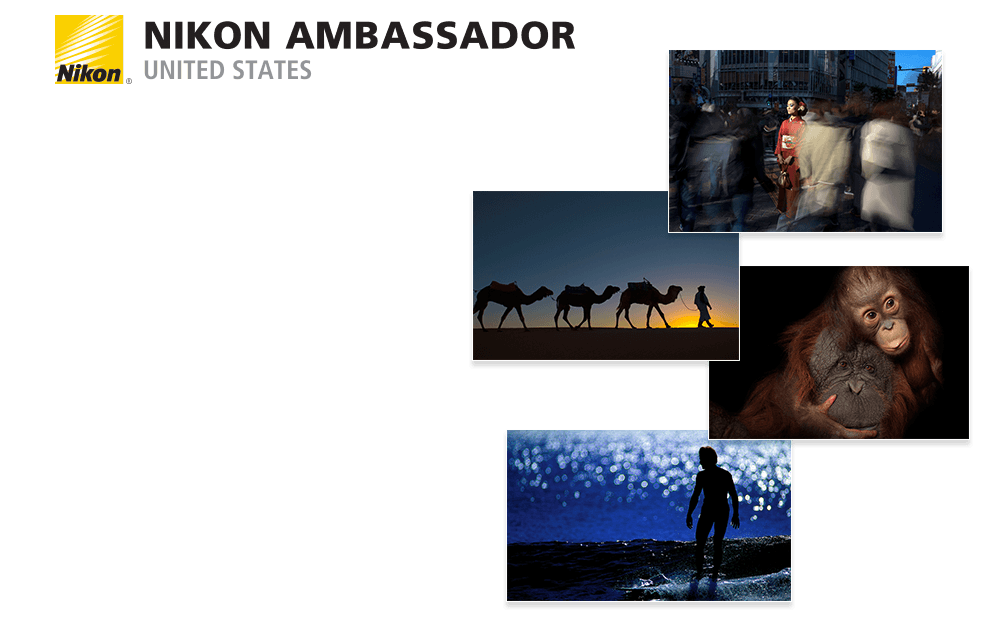 Meet the Nikon Ambassadors!
Nineteen celebrated contemporary photographers
Nikon Ambassadors are some of the most talented and influential visual artists working in the business today. These gifted, spirited storytellers go above and beyond most, and are admired for their passion, energy and commitment to their craft. Their investment in, and trust, of the Nikon brand are cornerstones to their image making abilities.
As a loyal Nikon partner, Nikon Ambassadors' commitment and contributions to the photographic industry throughout their careers have influenced and inspired photographers around the world; while their desire to educate and empower other image makers around them has become a part of their daily business. From workshops to trade show platforms, online learning and social media; Nikon Ambassadors represent the most versatile and ambitious photographers today. These visual artists are respected around the globe for their vision and accomplishments.
The dedication to advancing the art of visual storytelling while embracing and mastering the latest technologies and trends in the field are paramount to these photographers being selected as Nikon Ambassadors.
As the top photography artists and visual storytellers of this era, these contemporary photographers' advanced techniques, unprecedented creativity and tenacious approach to imaging solutions is demonstrated assignment after assignment, each and every time they pick up a Nikon camera.
Learn & Explore Tip of the Day
November 24, 2014
At your next family get together, designate one of the kids as photographer for the day. You might just be surprised at the unique viewpoint the images have.
November 23, 2014
Most of the time professional photographers work hard to make sure there is no glare in their images, but sometimes glare from the sun can be an interesting addition to a shot. Try it and see if you like what you see.
November 22, 2014
Whenever possible, get it right in the camera. Crop your shot, set your white balance, have your ISO and exposure set properly before you shoot. This will save you time later, by not having to waste your evening sitting at the computer trying to fix problems.
November 21, 2014
Some models of Nikon COOLPIX compact digital cameras can help you get rid of the cat and dog version of red-eye, which is seen as yellow or green glowing eyes in your pets. Check your camera's User's Manual for more details.
November 20, 2014
When shooting in low-light, use a lens with a fast or wide aperture. Such lenses will have an aperture of f/1.4 or f/2.8 for example.
November 19, 2014
Here's another cool photo project to try: see if you can find objects that are in the shapes of the numbers one through nine. Don't look for numbers on a sign but subjects that are in the shape of a number. We'll start you off with the first one—a straight lamppost can look like the number one.
November 18, 2014
Here's a cool photographic project to try: see if you can find all of the letters of the alphabet as subjects. You want to find objects to photograph that are in the shapes of the letters, not letters on a sign or billboard themselves (that's too easy).
November 17, 2014
If your Nikon camera has built-in Wi-Fi or can use a wireless mobile adapter such as the WU-1a or WU-1b, you'll be able to remotely fire the camera from a compatible smartphone or tablet—and download your photos to your device for sharing with friends and family.
November 16, 2014
Don't have a tripod but you still need to steady the camera? Rest the camera on a fence, railing, ledge or table. Just be sure to keep a firm grip on the camera so it doesn't fall.
November 15, 2014
Experiment with different ways you can modify the light around you. Using a large white board to reflect light onto your subject can soften shadows. You can also wrap aluminum foil on the board for more of a reflective surface.