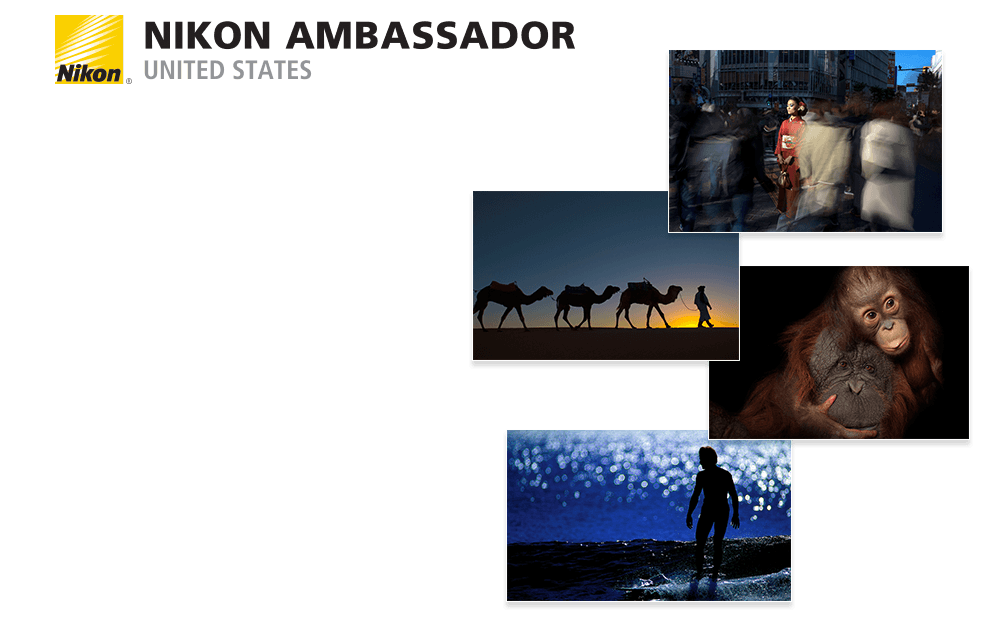 Meet the Nikon Ambassadors!
Twenty-one celebrated contemporary photographers
Nikon Ambassadors are some of the most talented and influential visual artists working in the business today. These gifted, spirited storytellers go above and beyond most, and are admired for their passion, energy and commitment to their craft. Their investment in, and trust, of the Nikon brand are cornerstones to their image making abilities.
As a loyal Nikon partner, Nikon Ambassadors' commitment and contributions to the photographic industry throughout their careers have influenced and inspired photographers around the world; while their desire to educate and empower other image makers around them has become a part of their daily business. From workshops to trade show platforms, online learning and social media; Nikon Ambassadors represent the most versatile and ambitious photographers today. These visual artists are respected around the globe for their vision and accomplishments.
The dedication to advancing the art of visual storytelling while embracing and mastering the latest technologies and trends in the field are paramount to these photographers being selected as Nikon Ambassadors.
As the top photography artists and visual storytellers of this era, these contemporary photographers' advanced techniques, unprecedented creativity and tenacious approach to imaging solutions is demonstrated assignment after assignment, each and every time they pick up a Nikon camera.
Learn & Explore Tip of the Day
May 27, 2015
When photographing a landscape scene, include a point of interest. An item that stands out, like a tree or a cliff edge, will give the viewer's eye somewhere to rest. It will also provide a sense of scale.
May 26, 2015
Try photographing flowers early in the morning when dew is on the petals. If there's no dew, make your own. Take a small sprayer and fill it with glycerin and water and spray the flowers for those natural looking dewdrops. You can also use just water.
May 25, 2015
Bring your camera when you go to your local Memorial Day Parade. You can make great pictures of your children as they get ready, as well as while they're marching on the parade route.
May 24, 2015
Do you have a Nikon D-SLR or Nikon 1 camera and are unsure of all the features and settings. Check out our Digitutors. You can find them on most of the camera's product pages on our website or in the Learn & Explore section of the site, under the tab called Product Tutorials. The Digitutors will show you where to find various menus, options and settings.
May 23, 2015
Carry more than one memory card with you when you go out to shoot pictures. More than just running out of space, the extra card(s) serves as insurance in case of a card malfunction. It can happen to anyone, at any time, so be ready.
May 22, 2015
When shooting groups of five or more people, make sure you stagger them. Put tall folks in the back and the shortest ones in front. It may seem simple, but blocking out just one face can ruin a group portrait. Always tell them, "If you don't have a clear view of me, the camera can't see you."
May 21, 2015
Don't forget to bring your camera to holiday barbeques so you can capture all of the fun. Take pictures of the food being grilled, games being played, as well as groupings of friends and family.
May 20, 2015
Sometimes the sky is nondescript and just plain. Try reducing the amount of sky in the frame, by getting up higher and looking down more. Or getting down low and make your subject large in the frame with just a bit of sky above it. This will emphasize your subject and de-emphasize the boring sky.
May 19, 2015
With external flashes (Speedlights) you can create a more pleasing look to the light by changing the angle of the flash. You can do this by aiming it at the ceiling or at a wall to the side, creating what's called "bounce" light. This adds light more evenly to the entire scene and makes your shot look more natural.
May 18, 2015
If you're shooting into the sun and are getting lens flare, a quick way to get rid of it is to ask a friend to place their hand above the camera, to block the flare from reaching the lens. You will be able to see if it is working. Just make sure you don't see their hand in the frame when you take the photo.