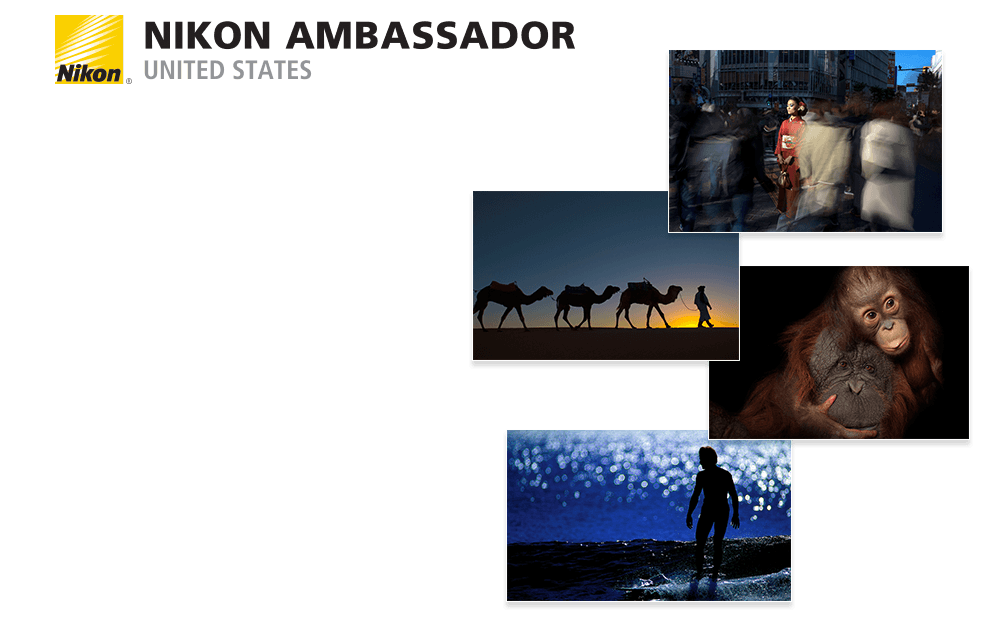 Meet the Nikon Ambassadors!
Nineteen celebrated contemporary photographers
Nikon Ambassadors are some of the most talented and influential visual artists working in the business today. These gifted, spirited storytellers go above and beyond most, and are admired for their passion, energy and commitment to their craft. Their investment in, and trust, of the Nikon brand are cornerstones to their image making abilities.
As a loyal Nikon partner, Nikon Ambassadors' commitment and contributions to the photographic industry throughout their careers have influenced and inspired photographers around the world; while their desire to educate and empower other image makers around them has become a part of their daily business. From workshops to trade show platforms, online learning and social media; Nikon Ambassadors represent the most versatile and ambitious photographers today. These visual artists are respected around the globe for their vision and accomplishments.
The dedication to advancing the art of visual storytelling while embracing and mastering the latest technologies and trends in the field are paramount to these photographers being selected as Nikon Ambassadors.
As the top photography artists and visual storytellers of this era, these contemporary photographers' advanced techniques, unprecedented creativity and tenacious approach to imaging solutions is demonstrated assignment after assignment, each and every time they pick up a Nikon camera.
Learn & Explore Tip of the Day
October 24, 2014
Expand your photographic horizons by renting a lens you don't own and normally don't have access to, such as an ultra-wide-angle, fisheye, super telephoto or fast lens. Try photographing cityscapes with the wide-angle or use the super-telephoto at a nature preserve; and a fast lens can be used for practically any subject.
October 23, 2014
Look for subjects that have leading lines, which draw the viewer into the photograph. Some examples are railroad tracks, highways, buildings or fences. Making them the focus of your composition will create a more dramatic image.
October 22, 2014
Placing a person into a scene will almost always add interest, and can also provide scale.
October 21, 2014
Having someone assist you when photographing kids is helpful. This way you can stay with the camera while your helper runs after the kids and gets them back onto the "set".
October 20, 2014
When taking photos of the animals at the zoo, by zooming in and focusing on the animal in the cage, the bars will blur and become almost invisible.
October 19, 2014
With digital you can change white balance on the fly, but when there are multiple light sources it's hard to pick which one is the right setting. Take a few pictures with each one set at a different white balance setting and see which one looks the best.
October 18, 2014
Use your camera's scene modes to help teach yourself the basics instead of just setting the dial to "Automatic." Watch the aperture and shutter speed settings, and check out what ISO the camera sets. Then try to figure out the correct exposure on your own. It's like having an instructor show you the basics.
October 17, 2014
Photograph all the belongings in your house. It's important for your homeowner or renter's insurance to have a record of the items you own. It will also let you practice taking "product" shots.
October 16, 2014
If you're photographing someone and you want to remember to send him or her a copy of the photo, take a picture of his or her business card. This will jog your memory and give you the contact info you need. You can even write notes with special instructions or reminders on a piece of paper and take a photo of it too.
October 15, 2014
If you're taking a trek to a "pick-your-own" Pumpkin Farm, bring your camera with you. A pumpkin patch is a great place to get photos of your kids as they pick out the perfect pumpkin. Many such farms also have rides and games for the kids, which also make for great picture taking opportunities.