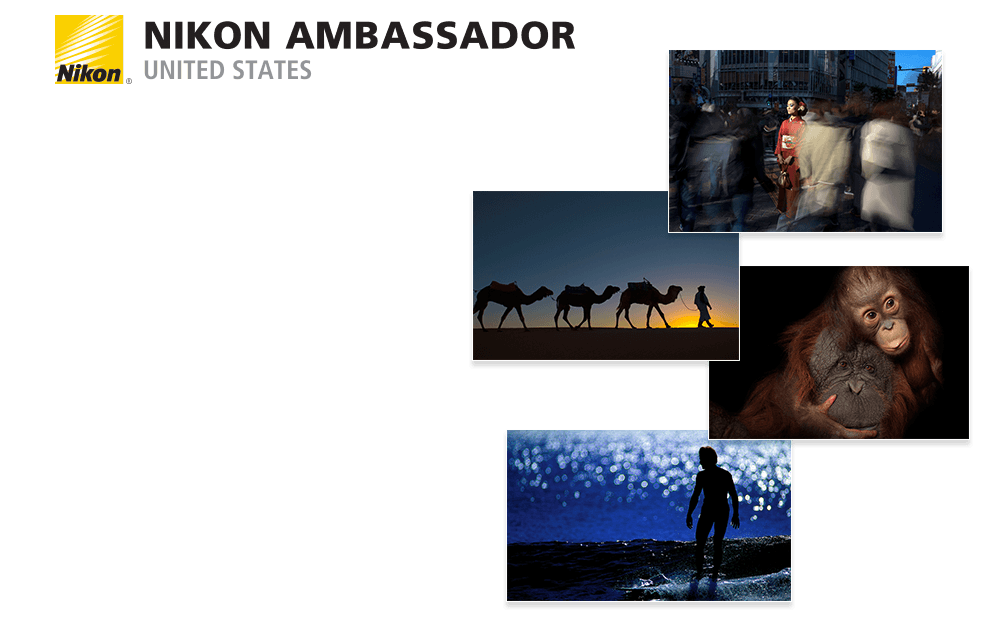 Meet the Nikon Ambassadors!
Nineteen celebrated contemporary photographers
Nikon Ambassadors are some of the most talented and influential visual artists working in the business today. These gifted, spirited storytellers go above and beyond most, and are admired for their passion, energy and commitment to their craft. Their investment in, and trust, of the Nikon brand are cornerstones to their image making abilities.
As a loyal Nikon partner, Nikon Ambassadors' commitment and contributions to the photographic industry throughout their careers have influenced and inspired photographers around the world; while their desire to educate and empower other image makers around them has become a part of their daily business. From workshops to trade show platforms, online learning and social media; Nikon Ambassadors represent the most versatile and ambitious photographers today. These visual artists are respected around the globe for their vision and accomplishments.
The dedication to advancing the art of visual storytelling while embracing and mastering the latest technologies and trends in the field are paramount to these photographers being selected as Nikon Ambassadors.
As the top photography artists and visual storytellers of this era, these contemporary photographers' advanced techniques, unprecedented creativity and tenacious approach to imaging solutions is demonstrated assignment after assignment, each and every time they pick up a Nikon camera.
Learn & Explore Tip of the Day
August 22, 2014
Use a long exposure to soften streams and waterfalls. Place your camera on a tripod and use a small aperture (f/11 or f/22) to drive down your shutter speed to 2 seconds or longer. This will give flowing water the milky look you want. Make sure the camera is steady, and then shoot a lot.
August 21, 2014
Use depth of field in nature photography to get everything in focus. If you are placing an object in the foreground to create depth, use a maximum (high number) f/stop. This will get more of the scene in focus, front to back. If using a COOLPIX camera, set the camera's scene mode to landscape.
August 20, 2014
Err on the side of shooting more pictures. Take lots of photos, as this will increase your chances of getting that perfect frame. When shooting digital you can just delete the photos that don't work out. It's always better to shoot too many than not enough.
August 19, 2014
To learn how to be resourceful, go out shooting and only take one lens with you. This will challenge you to re-think the way you take photos.
August 18, 2014
Turn off the flash when shooting baby photos. That burst of light can sometimes frighten the baby and ruin your photo. If you really need the extra light, use an accessory Speedlight and bounce it at the ceiling to create a nice soft fill light.
August 17, 2014
Spend a day focusing on composing photographs.
August 16, 2014
To freeze motion, choose a fast shutter speed, (1/500 of a second or faster). If you are using a COOLPIX camera, set the shooting mode to "sports" which tells the camera you want to freeze fast action.
August 15, 2014
Use an online community like Nikon Image Space or Flickr to improve your work or get feedback from others about your photography. Post images and ask for criticism or look for weekly photo themes to help pick subjects.
August 14, 2014
Try not to shoot portraits from below because most people look unflattering in this position.
August 13, 2014
Backlighting is shooting when the light is coming from in front of you and is behind your subject. This is challenging because it's easy to end up with a silhouette of your subject or an overexposed background, but if you frame your subject tightly you can make great shots. Expose for the subject and not the light behind it.