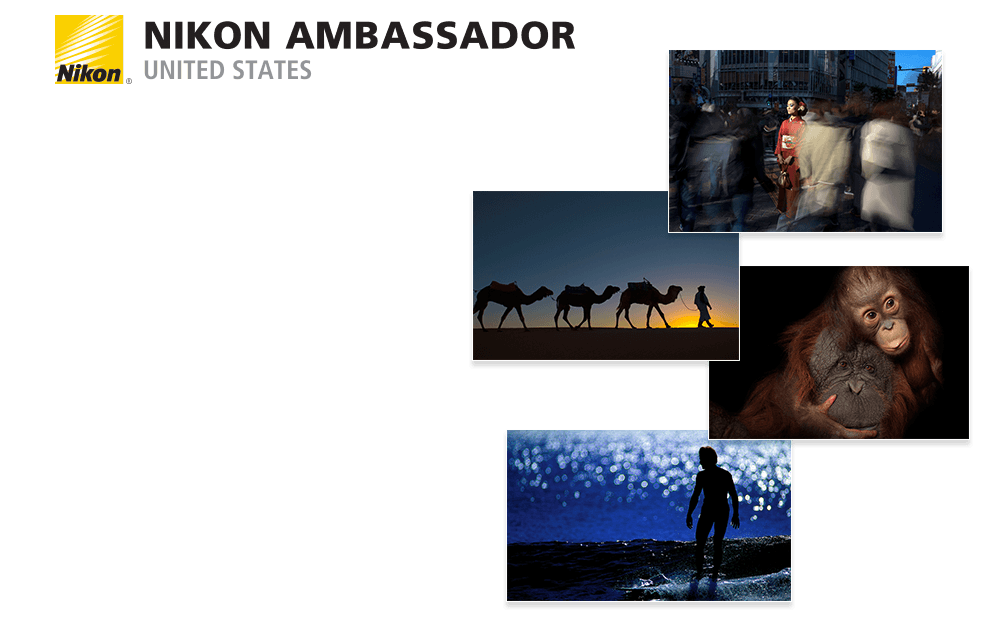 Meet the Nikon Ambassadors!
Nineteen celebrated contemporary photographers
Nikon Ambassadors are some of the most talented and influential visual artists working in the business today. These gifted, spirited storytellers go above and beyond most, and are admired for their passion, energy and commitment to their craft. Their investment in, and trust, of the Nikon brand are cornerstones to their image making abilities.
As a loyal Nikon partner, Nikon Ambassadors' commitment and contributions to the photographic industry throughout their careers have influenced and inspired photographers around the world; while their desire to educate and empower other image makers around them has become a part of their daily business. From workshops to trade show platforms, online learning and social media; Nikon Ambassadors represent the most versatile and ambitious photographers today. These visual artists are respected around the globe for their vision and accomplishments.
The dedication to advancing the art of visual storytelling while embracing and mastering the latest technologies and trends in the field are paramount to these photographers being selected as Nikon Ambassadors.
As the top photography artists and visual storytellers of this era, these contemporary photographers' advanced techniques, unprecedented creativity and tenacious approach to imaging solutions is demonstrated assignment after assignment, each and every time they pick up a Nikon camera.
Learn & Explore Tip of the Day
September 18, 2014
Full sun can be unflattering for portraits because it can create harsh shadows and bright areas of sunlight on your subject. Find an area of open shade to place your subject in and shoot in the softer light instead.
September 17, 2014
Ever see movie directors "frame" a scene by holding their hands up and making a rectangle with their fingers? It really does help to figure out what's worth keeping in the frame. If your view improves when your hands are covering something, make sure to leave it out of your photo.
September 16, 2014
When taking a portrait of someone, you don't always have to photograph his or her face or full body. Instead focus on details, such as a baby's tiny feet or the calloused hands of a carpenter.
September 15, 2014
Look for subjects that have lines disappearing into the distance (walls, railroad tracks, buildings, etc.) and make them a part of your photographic composition.
September 14, 2014
When shooting a subject standing near glass or a mirror, be sure you're not perpendicular to the reflective surface, but shooting on an angle. This will help prevent a reflection of the flash from ending up in your photo.
September 13, 2014
One of the most important settings on a camera is Exposure Compensation. It looks like a +/- sign. Here's the quick rule of thumb: Adjust it towards the + setting when you want your photo to be lighter and the - setting when you want it darker. (The settings are in fractions of an f/stop so moving + .3 is a third-of-a-stop lighter.)
September 12, 2014
Because a roll of 35mm film was limited to, at most, 36 shots, good photographers had to be frugal in choosing when to shoot. Digital photographers often shoot frames indiscriminately. Give yourself an assignment and a fixed number of frames as an exercise. It will force you to think more about what images are truly worth shooting.
September 11, 2014
The difference between a snapshot and a great photograph is that snapshots capture events while photographs capture feelings. Make sure your photo tells a story by thinking about what you're trying to say before you take the photo.
September 10, 2014
Babies love to see themselves on the camera's LCD. Make a game of "peek-a-boo" out of picture taking and they'll always be smiling when you bring your camera out.
September 9, 2014
A good vantage point is critical in photography, but it isn't always at eye level.