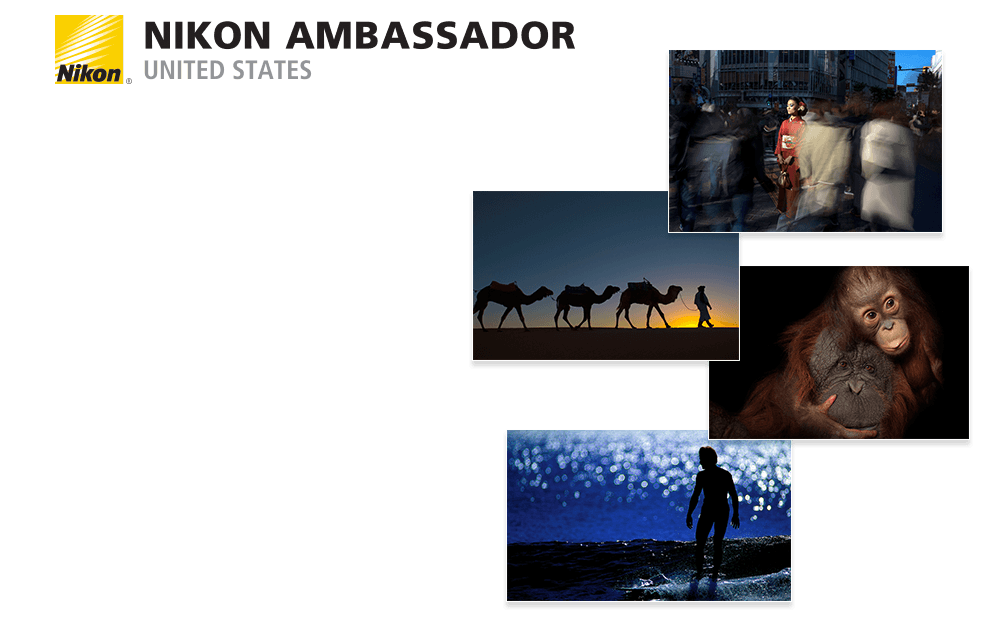 Meet the Nikon Ambassadors!
Twenty-one celebrated contemporary photographers
Nikon Ambassadors are some of the most talented and influential visual artists working in the business today. These gifted, spirited storytellers go above and beyond most, and are admired for their passion, energy and commitment to their craft. Their investment in, and trust, of the Nikon brand are cornerstones to their image making abilities.
As a loyal Nikon partner, Nikon Ambassadors' commitment and contributions to the photographic industry throughout their careers have influenced and inspired photographers around the world; while their desire to educate and empower other image makers around them has become a part of their daily business. From workshops to trade show platforms, online learning and social media; Nikon Ambassadors represent the most versatile and ambitious photographers today. These visual artists are respected around the globe for their vision and accomplishments.
The dedication to advancing the art of visual storytelling while embracing and mastering the latest technologies and trends in the field are paramount to these photographers being selected as Nikon Ambassadors.
As the top photography artists and visual storytellers of this era, these contemporary photographers' advanced techniques, unprecedented creativity and tenacious approach to imaging solutions is demonstrated assignment after assignment, each and every time they pick up a Nikon camera.
Learn & Explore Tip of the Day
July 30, 2015
On photo sharing sites like Flickr you can often view the details of a photograph and take a look at the shutter speed, aperture, ISO and other settings. While this won't teach you how to create a photo from scratch it will show you what technical choices photographers made to capture their images.
July 29, 2015
If your COOLPIX camera or NIKKOR lens has image stabilization (Nikon calls it Vibration Reduction), know when to use it and when to turn it off. If you don't know how your stabilization system works, turn it off when you're shooting with a tripod. If it doesn't sense that the camera is solidly mounted, it can add movement while trying to reduce blur.
July 28, 2015
Always use your lens hood (if you have one) or buy a lens hood (if you don't). The lens hood isn't just good for preventing flare. It can keep you from losing the contrast of your images as well as protect your front lens element from raindrops too.
July 27, 2015
When shooting a portrait of an athlete, use fill flash (or flash turned on even in daylight) to light up the shadow areas under a hat or helmet. This will balance the light from the entire scene and light up the face. On a compact camera, the setting to choose is "Flash On."
July 26, 2015
Look around you when you're shooting at sunset. The objects that look boring during the day magically come to life when the rays of the sun hit them. Buildings, cars and anything reflective take on a special quality at sunset.
July 25, 2015
If your camera can capture images in both RAW and JPEG format, do so even if you don't work with RAW images now. These RAW files have the highest image quality possible, so you can edit them years from now and be sure you're getting the best looking image possible.
July 24, 2015
Shooting a lightning storm can be exciting. Use a tripod and set you camera to record a long exposure. With DSLRs, 15 seconds is a good start, but you may have to use up to 30 seconds, or bulb setting (where the shutter stays open as long as you hold down the shutter button). Because you never know when the lightning will occur, keep shooting for best results. Remember to always keep a safe distance, and don't forget the tripod to avoid blurry photos!
July 23, 2015
Take a self-portrait each day for a week or month (or a year). It's harder than you think to take an attractive photo of yourself, and if you do it for long enough you'll have an interesting series that shows how you've changed over time.
July 22, 2015
Look on photo sharing sites for inspiration for your next photo shoot. Pick a subject you want to photograph or a location and search for photos of that. You'll see a wide array of different techniques and styles that will inspire you.
July 21, 2015
Patience is a virtue. But it's a necessity when taking pictures of children and pets. Slow down, watch and keep shooting. A healthy dose of patience can really pay off in much better pictures.