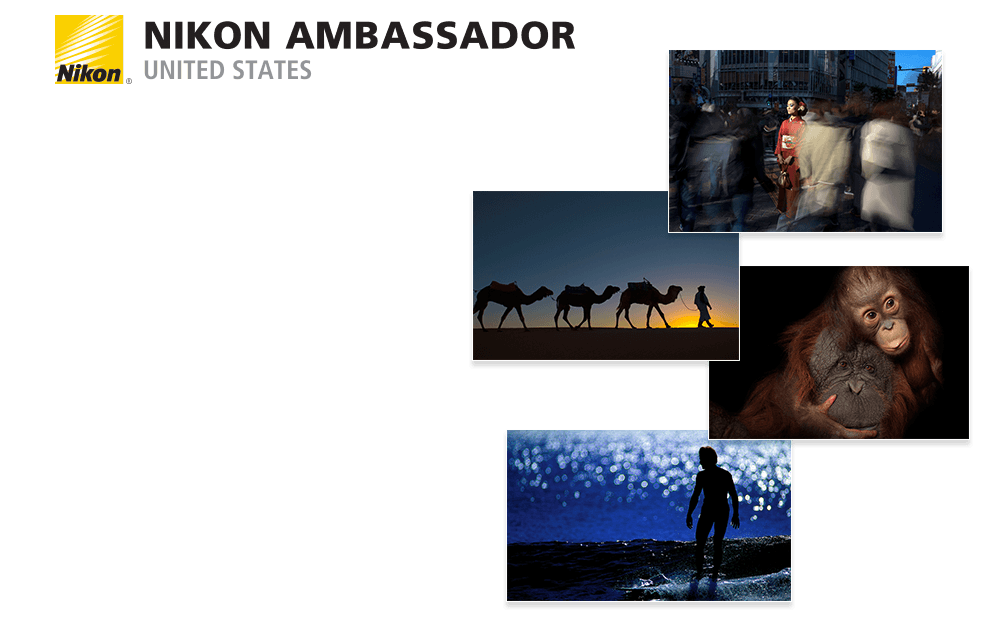 Meet the Nikon Ambassadors!
Nineteen celebrated contemporary photographers
Nikon Ambassadors are some of the most talented and influential visual artists working in the business today. These gifted, spirited storytellers go above and beyond most, and are admired for their passion, energy and commitment to their craft. Their investment in, and trust, of the Nikon brand are cornerstones to their image making abilities.
As a loyal Nikon partner, Nikon Ambassadors' commitment and contributions to the photographic industry throughout their careers have influenced and inspired photographers around the world; while their desire to educate and empower other image makers around them has become a part of their daily business. From workshops to trade show platforms, online learning and social media; Nikon Ambassadors represent the most versatile and ambitious photographers today. These visual artists are respected around the globe for their vision and accomplishments.
The dedication to advancing the art of visual storytelling while embracing and mastering the latest technologies and trends in the field are paramount to these photographers being selected as Nikon Ambassadors.
As the top photography artists and visual storytellers of this era, these contemporary photographers' advanced techniques, unprecedented creativity and tenacious approach to imaging solutions is demonstrated assignment after assignment, each and every time they pick up a Nikon camera.
Learn & Explore Tip of the Day
March 27, 2015
Don't let telephone poles or trees sprout out of your subject's head. Check the background carefully. Look over your subject's shoulder to see whether any poles, trees or even cars are in the background. Sometimes simply moving a step to the left or right a few feet can make your picture much better.
March 26, 2015
Did you know that the Nikon 1 line of cameras bodies can use many of your f/mount DSLR lenses? Using the FT-1 Mount Adapter, you can use many of your legacy lenses on a Nikon 1. This is great if you have a favorite macro lens or super telephoto.
March 25, 2015
Shooting vertically can really change the way you see. Fill the frame with what's important.
March 24, 2015
Don't pose every picture. Candids are the best way to capture real life, and the photos will look more natural.
March 23, 2015
Photographing cats or dogs with a flash can cause green/yellow eyes, which are similar to the red-eye seen in humans. To avoid this, use some of the same techniques you use to avoid red-eye, such as bouncing a Speedlight or increasing the light in the room you're shooting in.
March 22, 2015
Always bring out your camera when family or friends gather together. Even if it is not a big holiday celebration. You never know when the kids will do something cute that you'll want to capture and if you're busy searching for the camera you may miss the moment.
March 21, 2015
A great way to remember your trips or special events is by making a photo book. There are many websites that allow you to upload your images and easily design a photo book, complete with captions, as well as photo labs, and at the photo department of larger stores. It's a fun way to share your photographic experiences with friends.
March 20, 2015
Celebrate the first day of spring by taking photographs of the changing seasons.
March 19, 2015
Want to learn more about using Nikon DSLRs to shoot video? Check out the cinema.nikonusa.com website and blog—its full of articles and tutorials for video and filmmaking.
March 18, 2015
If you're going out with the intention of photographing a specific type of animal, do a little quick research before you head out. Knowing their habits can give you an edge when it comes to getting great photographs.