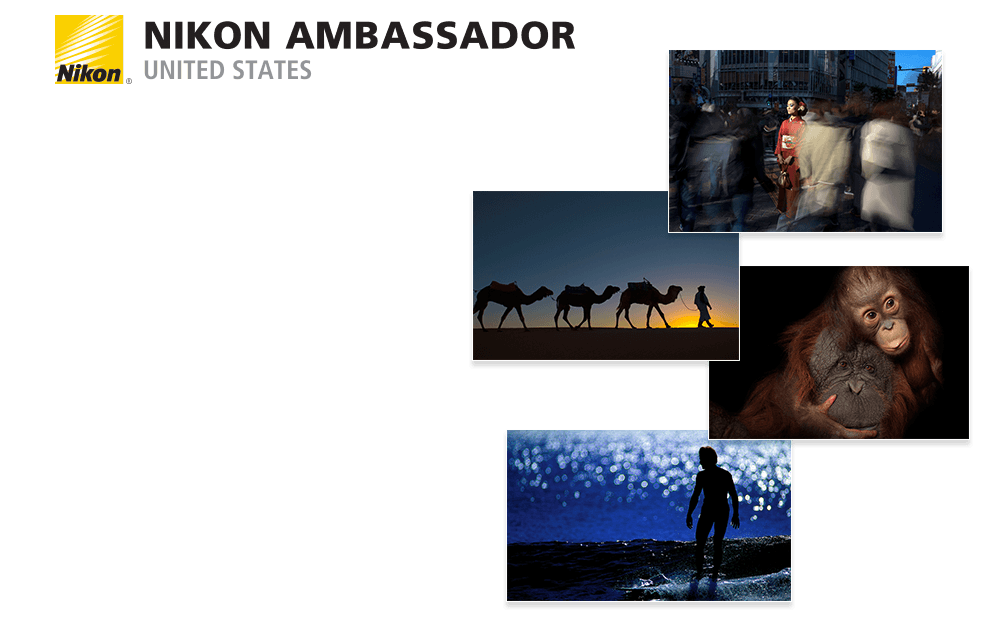 Meet the Nikon Ambassadors!
Nineteen celebrated contemporary photographers
Nikon Ambassadors are some of the most talented and influential visual artists working in the business today. These gifted, spirited storytellers go above and beyond most, and are admired for their passion, energy and commitment to their craft. Their investment in, and trust, of the Nikon brand are cornerstones to their image making abilities.
As a loyal Nikon partner, Nikon Ambassadors' commitment and contributions to the photographic industry throughout their careers have influenced and inspired photographers around the world; while their desire to educate and empower other image makers around them has become a part of their daily business. From workshops to trade show platforms, online learning and social media; Nikon Ambassadors represent the most versatile and ambitious photographers today. These visual artists are respected around the globe for their vision and accomplishments.
The dedication to advancing the art of visual storytelling while embracing and mastering the latest technologies and trends in the field are paramount to these photographers being selected as Nikon Ambassadors.
As the top photography artists and visual storytellers of this era, these contemporary photographers' advanced techniques, unprecedented creativity and tenacious approach to imaging solutions is demonstrated assignment after assignment, each and every time they pick up a Nikon camera.
Learn & Explore Tip of the Day
August 31, 2014
Try using fill-flash in backlit situations (where the strongest light is behind your subject). Sometimes you just need the shot looking toward the sun, such as when there's a beautiful sunset. Turn your flash on, or use a Speedlight to provide light for your subject.
August 30, 2014
Be patient and let the sports action come to you. If you run around and chase the action, you will most likely find yourself in spot "A" when the action is in spot "B" and vice versa. Find a spot where the action will most likely be and the background is good.
August 29, 2014
Bad weather shots can be stunning. Get out and shoot in the rain, but keep your equipment dry. Cover your camera with a gallon-size plastic bag. Then cut a small hole in the bag for the lens and tape it down. Put your hand in the open side. You're ready to shoot.
August 28, 2014
Always take along an extra battery (or batteries) when you go out in the cold to shoot. Keep the battery inside your jacket, close to your body for warmth. If the first battery dies, replace it with the warm one and put the cold one inside your jacket to warm up. Nothing ruins a great shot more than a dead camera.
August 27, 2014
Look for backgrounds that will contrast against your pet. For instance, a black dog will look better against a lighter background, and a white cat will stand out more against a dark background.
August 26, 2014
Having an assistant when photographing little kids can really help. Get an older sibling or have their parents talk to the child, out of sight of the camera (behind or to the side of you). The little distractions will provide more possibilities for you to make better pictures.
August 25, 2014
When traveling, plan when to shoot the most important icons. Shoot early in the day or late in the afternoon when shadows and light make wonderful lines and bring out the details and textures.
August 24, 2014
Use scene modes when you can, especially in snow or at the beach when there's bright light. Those modes are designed to help in those intensely lit situations, by keeping the surrounding scene looking bright while allowing your subject to be seen.
August 23, 2014
Find out when the tourists gather at a monument, and avoid those times, to get a clean postcard-like shot. Early morning works well for this, and the light can be nice at that time, too. Include people if you want to give your image a sense of scale.
August 22, 2014
Use a long exposure to soften streams and waterfalls. Place your camera on a tripod and use a small aperture (f/11 or f/22) to drive down your shutter speed to 2 seconds or longer. This will give flowing water the milky look you want. Make sure the camera is steady, and then shoot a lot.