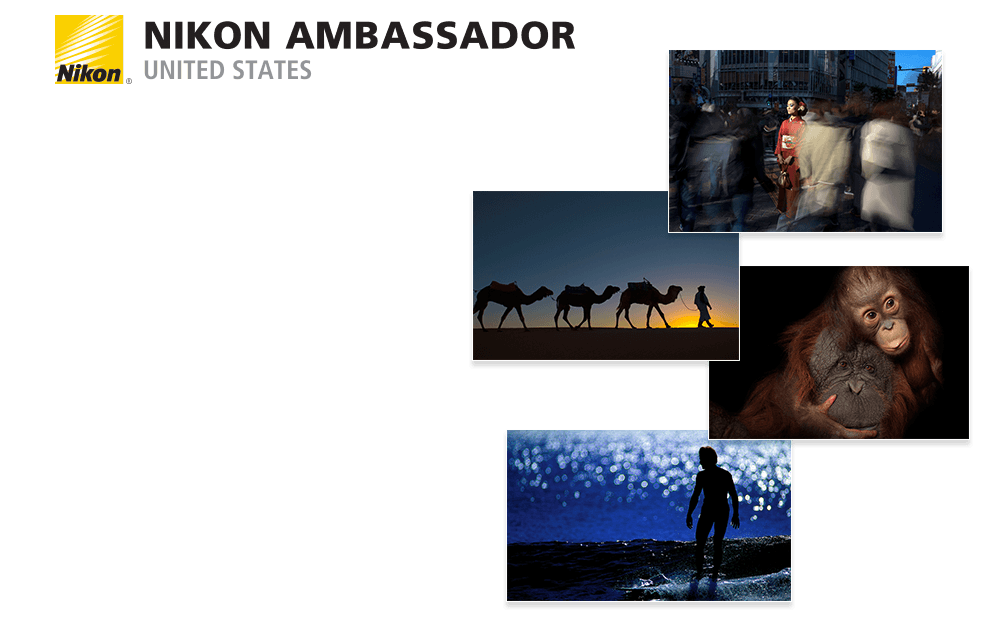 Meet the Nikon Ambassadors!
Nineteen celebrated contemporary photographers
Nikon Ambassadors are some of the most talented and influential visual artists working in the business today. These gifted, spirited storytellers go above and beyond most, and are admired for their passion, energy and commitment to their craft. Their investment in, and trust, of the Nikon brand are cornerstones to their image making abilities.
As a loyal Nikon partner, Nikon Ambassadors' commitment and contributions to the photographic industry throughout their careers have influenced and inspired photographers around the world; while their desire to educate and empower other image makers around them has become a part of their daily business. From workshops to trade show platforms, online learning and social media; Nikon Ambassadors represent the most versatile and ambitious photographers today. These visual artists are respected around the globe for their vision and accomplishments.
The dedication to advancing the art of visual storytelling while embracing and mastering the latest technologies and trends in the field are paramount to these photographers being selected as Nikon Ambassadors.
As the top photography artists and visual storytellers of this era, these contemporary photographers' advanced techniques, unprecedented creativity and tenacious approach to imaging solutions is demonstrated assignment after assignment, each and every time they pick up a Nikon camera.
Learn & Explore Tip of the Day
September 29, 2014
When inside a building, raise your ISO (sensitivity) to 800 or 1600 and brace yourself against a wall or table to avoid getting blurred images. If your lens has VR (Vibration Reduction), make sure it's turned on. Shoot multiple shots to make sure you get at least one good one.
September 28, 2014
The best way to show off your photos is with a great photo slideshow, so think about the way your photos will look together when you're shooting.
September 27, 2014
Placing your horizon line near the top third or bottom third of the frame instead of right in the middle makes for a more interesting image.
September 26, 2014
When shooting far away from your subjects, such as players on the basketball court and you're shooting from the bleachers in a gym, for example, turn off your flash. It's likely that it won't be reaching the subject and it will drain your battery.
September 25, 2014
Look for items with stark contrast—the difference between the lightest and darkest part of the image. Try to capture photos in which some element in the photograph really stands out against the rest of the frame. A rose against an early snowfall, or a seagull in a blue sky. Such juxtapositions can be very striking.
September 24, 2014
Even professional photographers have to practice their timing to capture sports at the beginning of a season, so bring your camera to all of your kid's soccer games and photograph her regularly. By the end of the season you'll be capturing better action shots.
September 23, 2014
The first day of autumn is a wonderful time for making photographs of the changing of the seasons.
September 22, 2014
Change your scale for interesting photos. A lone figure in the open desert makes a statement about the vastness of the location.
September 21, 2014
Sometimes rules are meant to be broken. You can place the horizon line in the center of an image when photographing a subject and its reflection, such as a boat or sea life.
September 20, 2014
Spend some time shooting textures; for example the look of cut grass, leaves on a tree against a deep blue sky, or pebbles on a beach. Your photographs don't always have to have a person in them to be striking. Repeating patterns, both man-made and natural, are compelling and beautiful.