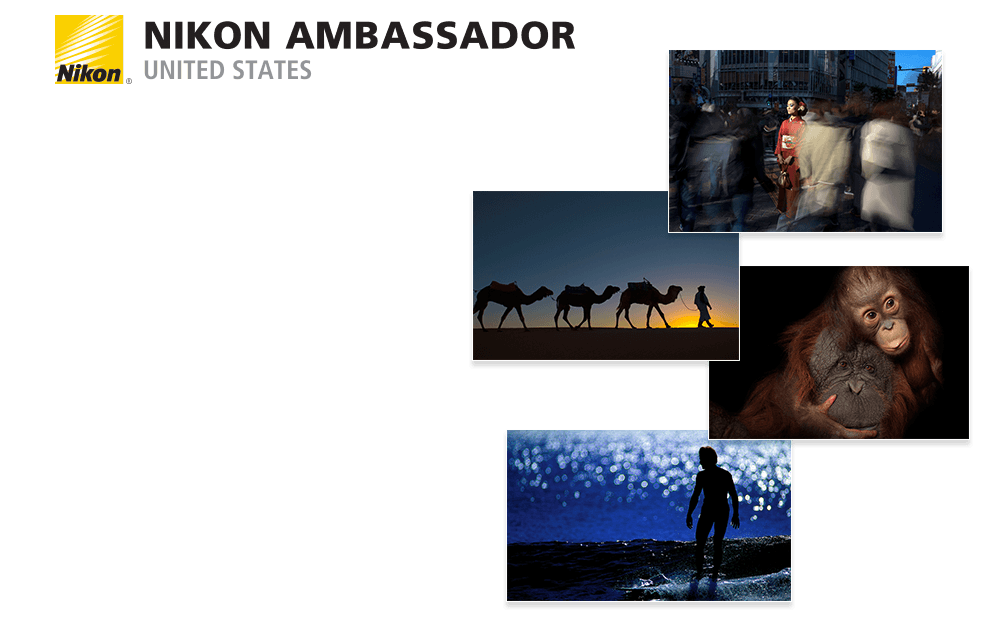 Meet the Nikon Ambassadors!
Nineteen celebrated contemporary photographers
Nikon Ambassadors are some of the most talented and influential visual artists working in the business today. These gifted, spirited storytellers go above and beyond most, and are admired for their passion, energy and commitment to their craft. Their investment in, and trust, of the Nikon brand are cornerstones to their image making abilities.
As a loyal Nikon partner, Nikon Ambassadors' commitment and contributions to the photographic industry throughout their careers have influenced and inspired photographers around the world; while their desire to educate and empower other image makers around them has become a part of their daily business. From workshops to trade show platforms, online learning and social media; Nikon Ambassadors represent the most versatile and ambitious photographers today. These visual artists are respected around the globe for their vision and accomplishments.
The dedication to advancing the art of visual storytelling while embracing and mastering the latest technologies and trends in the field are paramount to these photographers being selected as Nikon Ambassadors.
As the top photography artists and visual storytellers of this era, these contemporary photographers' advanced techniques, unprecedented creativity and tenacious approach to imaging solutions is demonstrated assignment after assignment, each and every time they pick up a Nikon camera.
Learn & Explore Tip of the Day
March 6, 2015
Want to get a new lens for your Nikon DSLR, but aren't sure which one? Do you shoot a lot of sports or wildlife? Then a telephoto zoom might be just the lens for you.
March 5, 2015
When shooting in bright sand or snow, experiment with the exposure compensation settings (the +/- button) on your camera. Set it for +1 to make the image brighter, which often will make sand or snow look better.
March 4, 2015
Silhouettes make for great photos and they're easy to shoot. When photographing a silhouette of a person, position them in profile for a better image.
March 3, 2015
March is National Scrapbooking Month! Celebrate by taking photos every day and writing down your thoughts about each one—or go all-out and create a scrapbook of the month's photographs.
March 2, 2015
Change your white balance during a sunrise or sunset. Take your camera off auto white balance and switch to Cloudy or Shady white balance. This will add more strength to the reds, oranges and yellows. Auto White Balance tries to keep colors neutral.
March 1, 2015
Looking for inspiration for your photography? Look no further than Learn & Explore, the area on the Nikonusa website that is packed full of educational articles, how-to tutorials and inspirational pieces on all sorts of photography topics.
February 28, 2015
Carry your camera manual, especially if your camera is new. When traveling you'll probably have a chance to try some new shots. It can also be the time you're likely to forget the function of a particular button. Or you may just want to explore all the cool things today's cameras offer.
February 27, 2015
Experiment with the white balance settings outside. White balance on your camera will alter the color temperature and appearance you get in your picture. For instance, a CLOUDY setting will give your pictures a warmer cast. The FLUORESCENT setting will make your photographs cooler, skewing to a purple cast.
February 26, 2015
Get creative and add a border to a photo using software on your computer. It will add a different look to the shot.
February 25, 2015
When traveling abroad, check the power setting and type of plugs. Most modern chargers do both 110 volts (USA) and 220 volts (most of the rest of the world). Check yours, and then pick the right adapter for the plug. Be careful to not use a 110-volt power strip in higher-voltage countries.