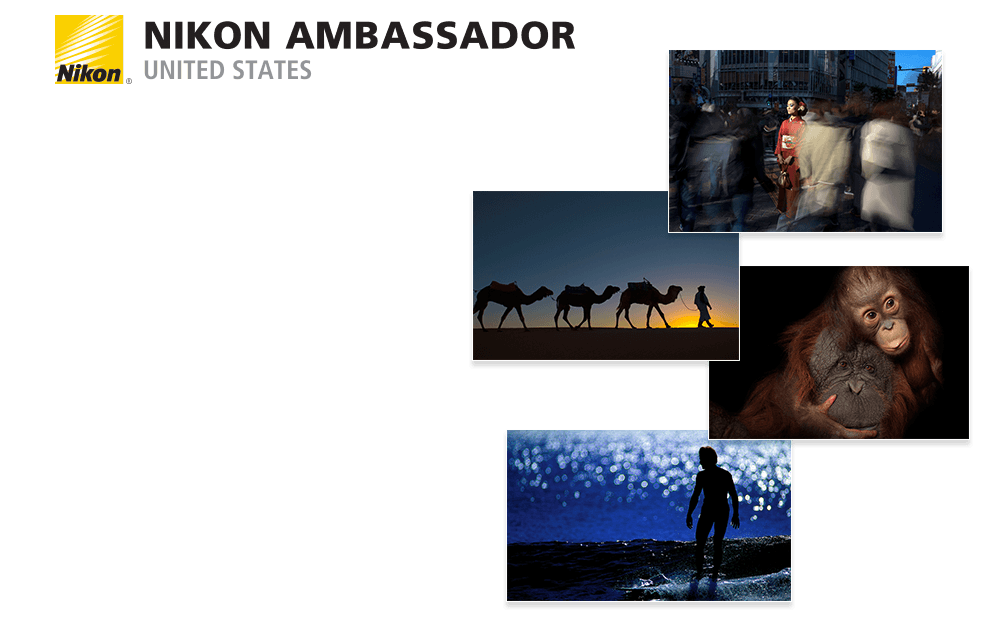 Meet the Nikon Ambassadors!
Nineteen celebrated contemporary photographers
Nikon Ambassadors are some of the most talented and influential visual artists working in the business today. These gifted, spirited storytellers go above and beyond most, and are admired for their passion, energy and commitment to their craft. Their investment in, and trust, of the Nikon brand are cornerstones to their image making abilities.
As a loyal Nikon partner, Nikon Ambassadors' commitment and contributions to the photographic industry throughout their careers have influenced and inspired photographers around the world; while their desire to educate and empower other image makers around them has become a part of their daily business. From workshops to trade show platforms, online learning and social media; Nikon Ambassadors represent the most versatile and ambitious photographers today. These visual artists are respected around the globe for their vision and accomplishments.
The dedication to advancing the art of visual storytelling while embracing and mastering the latest technologies and trends in the field are paramount to these photographers being selected as Nikon Ambassadors.
As the top photography artists and visual storytellers of this era, these contemporary photographers' advanced techniques, unprecedented creativity and tenacious approach to imaging solutions is demonstrated assignment after assignment, each and every time they pick up a Nikon camera.
Learn & Explore Tip of the Day
January 27, 2015
To photograph shiny objects, make a light tent around the object using diffused/sheer fabric; placing your Speedlights outside of the light tent. Shadows and reflections will be reduced.
January 26, 2015
Use a Micro-NIKKOR lens when photographing small objects such as jewelry. Macro photography can let you take pictures of objects up to life size (depending upon which lens you're using.)
January 25, 2015
Like the look of HDR (High Dynamic Range) photography but not sure you'd be able to pull off the technique? A number of Nikon cameras have a built-in HDR mode where the camera does the hard work for you. Check your manual to see if your specific camera offers this feature.
January 24, 2015
Add drama to an image by shooting when the shadows are long and deep. Try to photograph just a person or object's shadow for a unique image.
January 23, 2015
Take a moment to look at the photo framed in the viewfinder or LCD before you snap it. Make sure you can see over the tops of your subject's heads, and all the way to their feet if you're taking a full-length portrait. It is easy to cut off part of a person if you're in a rush to snap a picture.
January 22, 2015
If you want to influence color using white balance—even setting a "custom" Kelvin temperature (a feature available on select Nikon DSLRs)—you can preview the results by making the setting in Live View.
January 21, 2015
Photograph pets at their eye level—then try photographing them from way up high or down low for a really unique image.
January 20, 2015
When you want to tell a story with your photographs, take multiple pictures—close-ups, wide-angle views, different perspectives. A photo essay can include as few as three photos or as many as it takes to fully document a subject, and will often tell a better story than just one image.
January 19, 2015
Try the various special effects modes or Picture Controls that can be found in most Nikon digital cameras.
January 18, 2015
Sometimes you just need to throw out the rules. Tilt the camera for different angles and unique compositions. An old filmmaking term is called "Dutch Tilt" (made famous by Alfred Hitchcock). As long as something is recognizable, it will work.