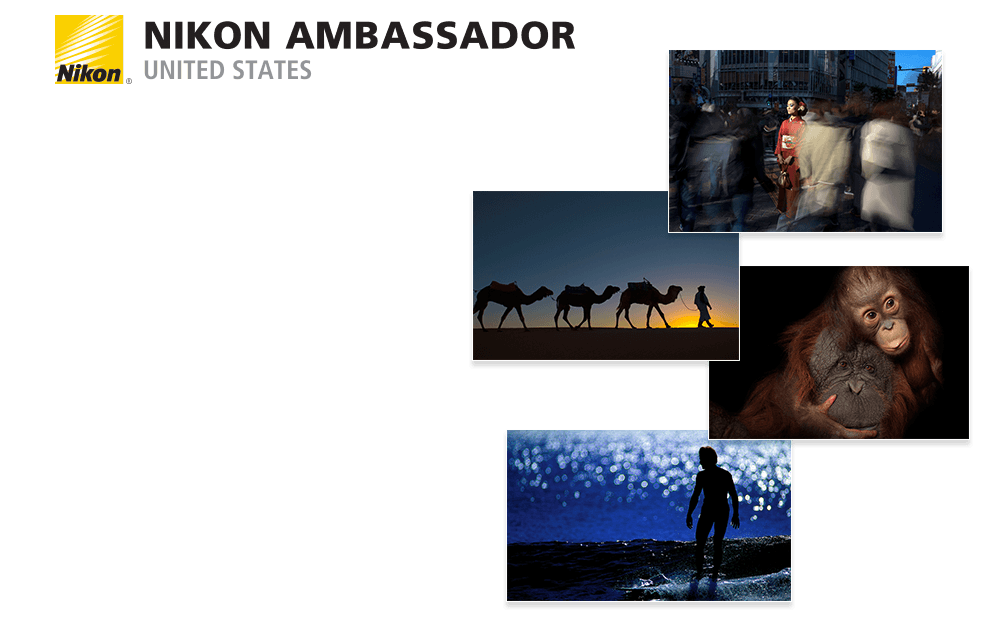 Meet the Nikon Ambassadors!
Twenty-one celebrated contemporary photographers
Nikon Ambassadors are some of the most talented and influential visual artists working in the business today. These gifted, spirited storytellers go above and beyond most, and are admired for their passion, energy and commitment to their craft. Their investment in, and trust, of the Nikon brand are cornerstones to their image making abilities.
As a loyal Nikon partner, Nikon Ambassadors' commitment and contributions to the photographic industry throughout their careers have influenced and inspired photographers around the world; while their desire to educate and empower other image makers around them has become a part of their daily business. From workshops to trade show platforms, online learning and social media; Nikon Ambassadors represent the most versatile and ambitious photographers today. These visual artists are respected around the globe for their vision and accomplishments.
The dedication to advancing the art of visual storytelling while embracing and mastering the latest technologies and trends in the field are paramount to these photographers being selected as Nikon Ambassadors.
As the top photography artists and visual storytellers of this era, these contemporary photographers' advanced techniques, unprecedented creativity and tenacious approach to imaging solutions is demonstrated assignment after assignment, each and every time they pick up a Nikon camera.
Learn & Explore Tip of the Day
August 30, 2015
When photographing a landscape, make sure you have a point of interest. This could be an old tree, an animal grazing in a field or a silhouette of a person. It will provide scale and context, and something for the viewer's eyes to return to as they explore the photo.
August 29, 2015
Knowing your subject maximizes your chance of success. If you want to photograph bees, learn their habits. Same thing goes for flowers. Some bloom only in sunlight, others every two weeks. Find out when plants and animals show their full potential and your pictures will reflect your research.
August 28, 2015
If you want the Bokeh or blurry background look of a fast f/2.8 or wider lens but don't have one, use the widest aperture that your lens does have, and decrease the distance between you and the subject, while you increase the distance between the subject and the background. The closer you are to your subject, especially when using a telephoto, the more the background will be out of focus.
August 27, 2015
Look for reflections off water. Elements of water can greatly enhance your landscape photographs. Early mornings tend to have the most tranquil, and thus more reflective, water. Try framing your shot with equal elements of water and sky.
August 26, 2015
If your lens hood doesn't do enough to reduce the glare from the sun, have someone hold a piece of cardboard or something else just above and over your lens (making sure you don't see it in the viewfinder).
August 25, 2015
Experiment with different ways to moderate the light around you. Hang a bed sheet over a window to diffuse the sunlight. Try using a large sheet of cardboard with aluminum foil taped to it to create a reflector to bounce light into shady areas.
August 24, 2015
Photograph the same subject over time. Pick something that changes with the seasons but doesn't move too much, like a mountain or a stand of trees. Look for the best light possible and show how it changes as time and the seasons pass.
August 23, 2015
If you're looking for a great day to shoot a portrait, wait until it's overcast. The clouds diffuse the sun and create a beautiful natural light that falls over your subject. Have your subject face the brightest part of the sky to get the strongest light on her.
August 22, 2015
When shooting macros or close-ups of flowers, try setting your lens to as wide open an f/stop as possible to blur the background. Because flowers clump together they often create distracting backgrounds if everything is in focus.
August 21, 2015
Shooting video but not sure what type of microphone you need. Here's an easy analogy to remember how to distinguish the different types of mics. Think of the Nikon ME-1 Stereo Mic as a wide-angle of mics because it captures audio from a wide pattern in front of the camera; the shotgun mic is the telephoto of mics, recording audio from in front of the mic; and the lavaliere mic as the close-up or macro of mics, because they are designed to be clipped to a person's shirt near their neck to capture the audio from a position close to their mouth.