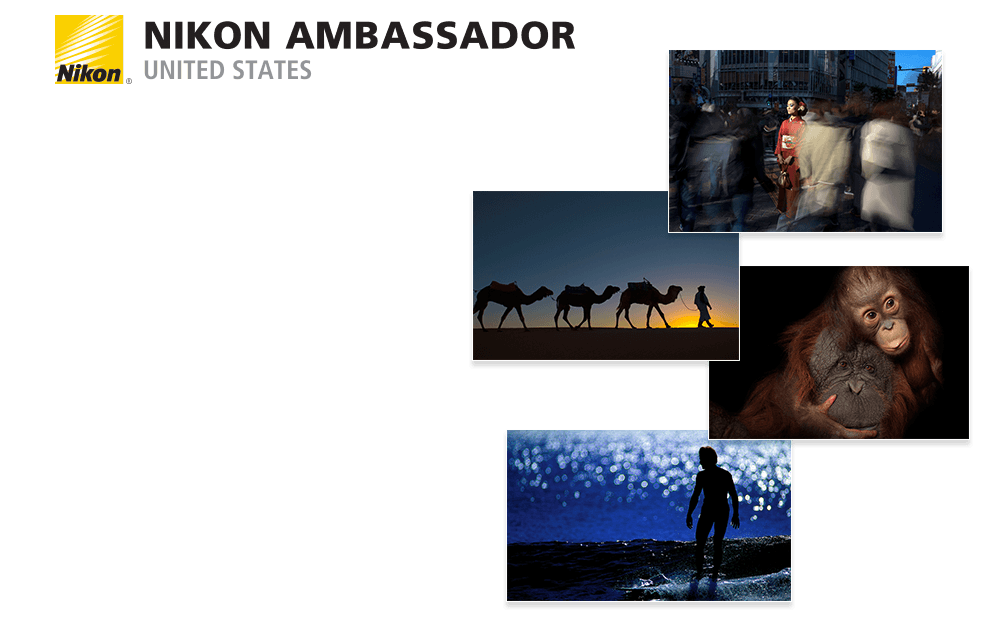 Meet the Nikon Ambassadors!
Sixteen celebrated contemporary photographers
Nikon Ambassadors are some of the most talented and influential visual artists working in the business today. These gifted, spirited storytellers go above and beyond most, and are admired for their passion, energy and commitment to their craft. Their investment in, and trust, of the Nikon brand are cornerstones to their image making abilities.
As a loyal Nikon partner, Nikon Ambassadors' commitment and contributions to the photographic industry throughout their careers have influenced and inspired photographers around the world; while their desire to educate and empower other image makers around them has become a part of their daily business. From workshops to trade show platforms, online learning and social media; Nikon Ambassadors represent the most versatile and ambitious photographers today. These visual artists are respected around the globe for their vision and accomplishments.
The dedication to advancing the art of visual storytelling while embracing and mastering the latest technologies and trends in the field are paramount to these photographers being selected as Nikon Ambassadors.
As the top photography artists and visual storytellers of this era, these contemporary photographers' advanced techniques, unprecedented creativity and tenacious approach to imaging solutions is demonstrated assignment after assignment, each and every time they pick up a Nikon camera.
Learn & Explore Tip of the Day
March 11, 2014
Photograph pets at their eye level—then try photographing them from way up high or down low for a really unique image.
March 10, 2014
Think outside of the box! Shooting the back of a flower can be just as interesting as shooting it head-on.
March 9, 2014
To get the starburst effect you often see in photos, use the smallest aperture possible on your camera (this is usually f/16 or f/22) and shoot towards the sun. Shooting towards the sun will cause you to see flare in an image sometimes but this can add interest to your image. Shoot a bunch of frames—capturing the starburst with and without flare.
March 8, 2014
Add drama to an image by shooting when the shadows are long and deep. Try to photograph just a person or object's shadow for a unique image.
March 7, 2014
When you want to tell a story with your photographs, take multiple pictures—close-ups, wide-angle views, different perspectives. A photo essay can include as few as three photos or as many as it takes to fully document a subject, and will often tell a better story than just one image.
March 6, 2014
Adding objects—man-made or natural—to a landscape will add interest and scale.
March 5, 2014
When shooting video of an event, add interviews for a unique viewpoint. Shooting a birthday party—talk to the birthday boy or girl; shooting your kids sport—interview them or the coach—at a wedding—ask the bride and groom to comment.
March 4, 2014
When shooting food, the shallower the depth of field the better. This helps to further separate the subject (the dish) from the background.
March 3, 2014
March is National Scrapbooking Month! Celebrate by taking photos every day and writing down your thoughts about each one—or go all-out and create a scrapbook of the month's photographs.
March 2, 2014
When shooting an image that has a subject looking off to one side, compose your photograph so there is more space where the subject is looking. This will give your photograph more of a natural feeling.