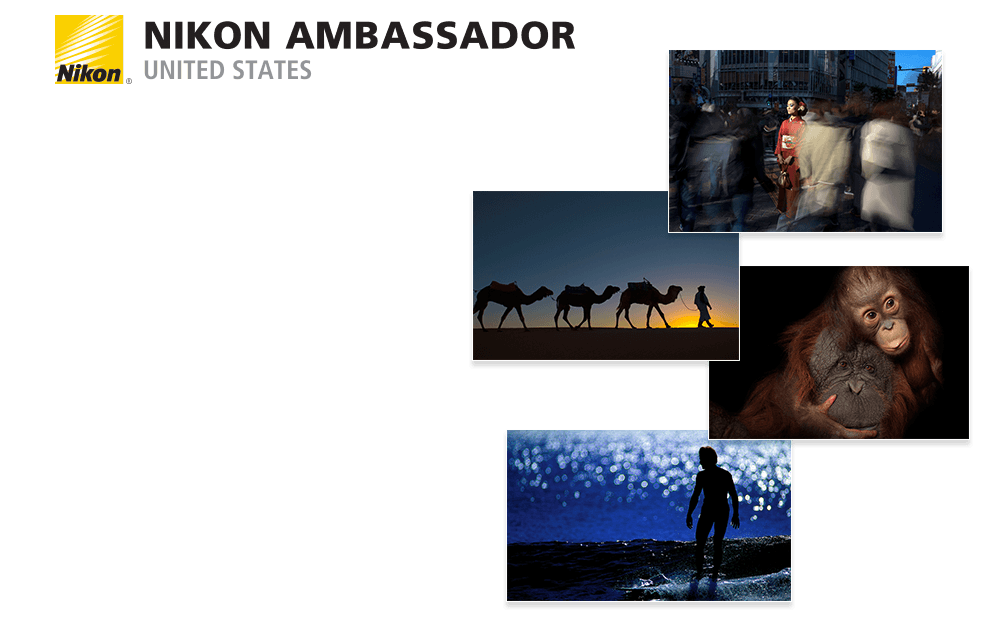 Meet the Nikon Ambassadors!
Sixteen celebrated contemporary photographers
Nikon Ambassadors are some of the most talented and influential visual artists working in the business today. These gifted, spirited storytellers go above and beyond most, and are admired for their passion, energy and commitment to their craft. Their investment in, and trust, of the Nikon brand are cornerstones to their image making abilities.
As a loyal Nikon partner, Nikon Ambassadors' commitment and contributions to the photographic industry throughout their careers have influenced and inspired photographers around the world; while their desire to educate and empower other image makers around them has become a part of their daily business. From workshops to trade show platforms, online learning and social media; Nikon Ambassadors represent the most versatile and ambitious photographers today. These visual artists are respected around the globe for their vision and accomplishments.
The dedication to advancing the art of visual storytelling while embracing and mastering the latest technologies and trends in the field are paramount to these photographers being selected as Nikon Ambassadors.
As the top photography artists and visual storytellers of this era, these contemporary photographers' advanced techniques, unprecedented creativity and tenacious approach to imaging solutions is demonstrated assignment after assignment, each and every time they pick up a Nikon camera.
Learn & Explore Tip of the Day
December 12, 2013
Spend a day shooting nothing but color. Try to find a subject that is made up of only one color, and fill the frame with it.
December 11, 2013
When shooting video, remember to capture plenty of B-roll or supporting footage that you can use to edit throughout the scenes of your main story.
December 10, 2013
When photographing people, watch their expressions and capture the emotion.
December 9, 2013
You can set your Nikon D-SLR's AE-L/AF-L button to work in different ways depending on your shooting needs. Check your manual to see how to set the AE-L/AF-L button on your specific camera.
December 8, 2013
Most NIKKOR lenses with Vibration Reduction have two settings, Normal and Active. Normal should be used when your subject is moving but you are not. Active should be used when your subject is moving and you are moving as well (on a boat, car, or train).
December 7, 2013
To keep a fast moving subject in focus when shooting sports, use the Continuous AF mode.
December 6, 2013
Always have a camera with you, so you'll never miss a photo taking opportunity.
December 5, 2013
You don't always need to use software on a computer to add creative touches to your photos. Many Nikon digital cameras have special effects and creative modes. Some can be found in the retouch menu, others in Special Effects menus. Check your camera's manual for specific details.
December 4, 2013
If you enjoy sharing your images online, check out the Nikon cameras with built-in Wi-Fi or those models that use the WU-1a or WU-1b Wireless Mobile Adapters. You'll be able to get great photos using a Nikon camera and easily post the photos online.
December 3, 2013
Most Nikon D-SLRs have a diopter that can be adjusted, allowing you to fine tune the focus of the camera's viewfinder. If you normally wear glasses, you may be able to adjust the diopter to use the camera without your glasses.