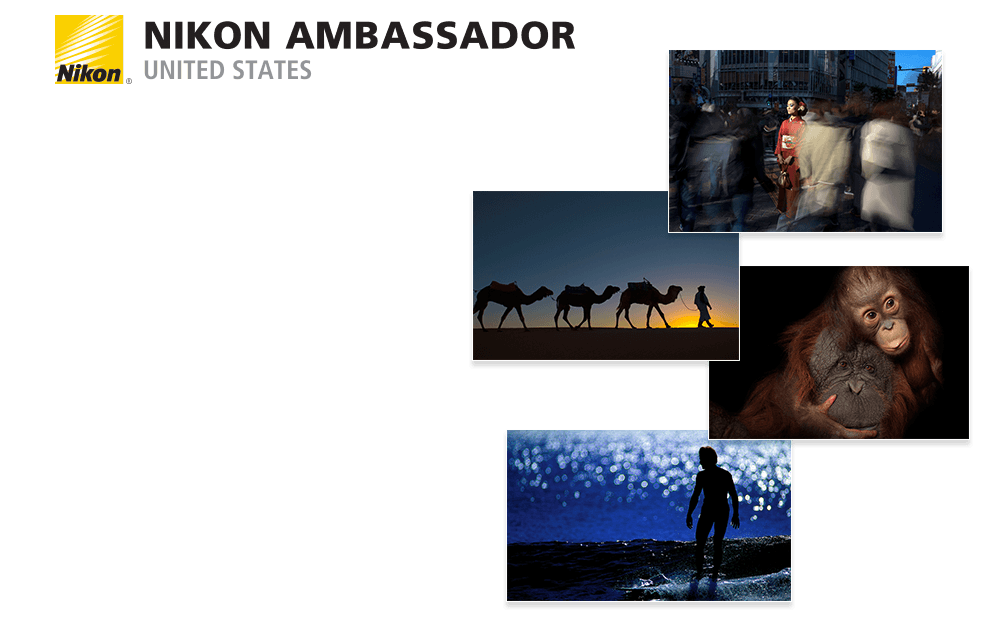 Meet the Nikon Ambassadors!
Nineteen celebrated contemporary photographers
Nikon Ambassadors are some of the most talented and influential visual artists working in the business today. These gifted, spirited storytellers go above and beyond most, and are admired for their passion, energy and commitment to their craft. Their investment in, and trust, of the Nikon brand are cornerstones to their image making abilities.
As a loyal Nikon partner, Nikon Ambassadors' commitment and contributions to the photographic industry throughout their careers have influenced and inspired photographers around the world; while their desire to educate and empower other image makers around them has become a part of their daily business. From workshops to trade show platforms, online learning and social media; Nikon Ambassadors represent the most versatile and ambitious photographers today. These visual artists are respected around the globe for their vision and accomplishments.
The dedication to advancing the art of visual storytelling while embracing and mastering the latest technologies and trends in the field are paramount to these photographers being selected as Nikon Ambassadors.
As the top photography artists and visual storytellers of this era, these contemporary photographers' advanced techniques, unprecedented creativity and tenacious approach to imaging solutions is demonstrated assignment after assignment, each and every time they pick up a Nikon camera.
Learn & Explore Tip of the Day
December 20, 2014
Try photographing everyday objects in a unique way. You can do this by using a macro lens or close-up mode, or even put the objects in a location or situation that it's not normally seen in.
December 19, 2014
Fill-flash isn't just for portraits. Sometimes a subject can benefit from a little touch of flash to enhance an image. Most Nikon cameras with a built-in flash have a fill-flash option. If you've got an accessory Speedlight, try setting it at minus an f/stop to add just a hint of light.
December 18, 2014
When you're shooting in low light, at night or indoors, increasing your ISO will help you get an exposure that is correct and is not too slow for handholding the camera.
December 17, 2014
For reflections, the best results occur when the reflection pool is shaded and the reflected object is bathed in early or late horizontal light.
December 16, 2014
Celebrate Hanukah by taking photographs to remember all of the fun your family has during the holiday.
December 15, 2014
Have a cat or dog that lets you dress them up for the holidays? Pull out your camera and get great photos and videos of them romping around the house while making a pet fashion statement.
December 14, 2014
Sometimes the clouds can be more interesting than the landscape below, so in this case, compose your image to capture more of the sky, with only a small amount of land in the frame.
December 13, 2014
If you normally use one lens for everyday shooting, leaving your others at home, plan a day to use only your second lens. It may force you to look at your subjects with a new perspective and could lead to wonderful images.
December 12, 2014
Not sure which type of microphone to use with your DSLR when capturing video? Here's an easy analogy to remember: Stereo microphones such as Nikon's ME-1 are like the wide-angle of mics, the shotgun type of microphone is like the telephoto of mics, and the lavaliere microphone is like the close-up or macro type of mic.
December 11, 2014
Join our photographic community—My Nikon World—on our Facebook page at www.facebook.com/nikonusa