Shooting Wirelessly with Nikon Digital Cameras and Wi-Fi Adapters
Enjoy wireless transfer of images with Wi-Fi compatible Nikon cameras
Wi-Fi, photojournalism and Nikon
Wi-Fi is available for Nikon's pro digital cameras (D4, D3 series, D800, D700 and D300s) as photojournalists and other pros need a way to get their images from the camera to their picture editor or wire service so they can be posted online shortly after being captured.
Nowadays, high quality Nikon D-SLR images at world events such as presidential inaugurations and other newsworthy happenings, the Olympics and other big sporting events are posted online by news organizations mere minutes after photographers are taking photographs.
Although your smartphone likely has the capability to shoot stills or video, the quality is nowhere near the high quality of a Nikon digital SLR. Digital SLR cameras utilize a much larger image sensor than do smartphones and tablets. The D-SLR sensor is designed to give you a higher resolution, wider dynamic range, the ability to shoot in low light and use high ISOs—all which generate high quality image files.
Your Nikon D-SLR is also compatible with over 65 current high quality NIKKOR lenses, from fisheye and ultra-wide-angle to super-telephoto zoom ranges, Micro-NIKKOR and perspective control lenses as well as teleconverters which extend the focal length range even more.
In addition to lenses, your D-SLR is also compatible with a range of Nikon Speedlights—accessory flashes that will allow you to better illuminate your subjects, both on or off the camera. These flash units are also compatible with a range of accessories such as color correction filters and light modifiers, which will allow you to get as creative as you want in lighting your subjects.
Wi-Fi for the rest of us
The D3200 and D5200 D-SLRs and the optional accessory WU-1a Wi-Fi adapter; along with the D600 D-SLR and Nikon 1 V2, S1 and J3 models with the optional accessory WU-1b Wi-Fi adapter allows you to take photos with these high quality Nikon digital cameras, NIKKOR lenses and Speedlights, and upload them via an Android™ or iOS powered smartphone or tablet to your computer, to the web or into an email. The app. also lets you access the photos (and videos) on the media card in the respective cameras using your smart device. [See the video below—Editor]
Remote Control
You can even use your Android™- or iOS-powered phone/tablet as a remote to shoot photos with—allowing you to get into the shot along with your other subjects, or even place the camera in a location to capture wildlife while you snap the shutter from a remote spot far from the wild animals. What's really fun is that you actually see the same image the camera sees on your smartphone or tablet's LCD screen—allowing you to shoot at precisely the right moment that you want.
It's easy to share still images and Full HD video with your friends and family using the D3200/D5200 and optional WU-1a accessory Wi-Fi adapter or the D600/Nikon 1 V2/Nikon 1 S1/Nikon 1 J3 and the WU-1b.
Nikon's Wireless Mobile Adapter Utility
Step-by-step set-up
1. In order to use the WU-1a or WU-1b Wi-Fi adapter, you'll need to download the free "Wireless Mobile Adapter Utility" app. For folks using Android-powered devices, download the app from the Google Play service and install it on your Android™-powered smart device (phone [2.3 or later] or tablet [3.x or later])**. For folks using an iPhone® or iPad®: iOS version 6.0, download the app from the iTunes Online Store®. Once the app is installed, follow steps 2 - 6 every time you want to shoot with your camera and upload images using the WU-1a/WU-1b Wi-Fi adapter.
2. Insert the WU-1a or WU-1b into the port on the respective camera body and turn the camera on.
3. On your smart device (phone/tablet) open the Wi-Fi settings and select "WPS button connection."
4. Press the WPS button on the WU-1a/WU-1b, holding it down for about 5 seconds, until the LED on the adapter flashes red and green.
5. Once the connection is established, the LED will glow green, and the main dialog box for the utility app will display on the smart device.
6. You can now access the camera from the utility. Upon selecting the Take Pictures Remotely option in the app, Live View is started automatically, allowing you to now see what the camera sees.
Your imaging needs and smart device will likely determine the file size/type that you shoot images with that are going to be transferred from the camera via the Wi-Fi adapter. The D3200, D5200 and the D600 are a 24-megapixel HD-SLR cameras, however you probably won't want to shoot using the maximum resolution of the camera if you're planning on sending images to a smart device using the Wi-Fi adapter. This is because the larger the file size, the longer it will take to travel from the camera to the device, so it is suggested that you use JPG rather than NEF. JPG fine/large will also give you larger files than choosing JPG Basic/medium or small. For a balance of high image quality and fast image transfer, we recommend jpg/fine/medium.
When you are done shooting, turn the camera off and disconnect the WU-1a/WU-1b adapter. If, while shooting, you turn the camera off to conserve battery power, the Wi-Fi adapter will also be powered off, however when you turn the camera back on, the Wi-FI adapter will turn back on and should reestablish the Wi-Fi connection automatically. (If the connection is not automatically reestablished, simply select the Wu-1a/WU-1b device from the device menu in your smart phone or tablet.
Once the files are on your smartphone or tablet, that device's Wi-Fi or cellular service is used to send the files on to websites or attached to emails.
Sharing images anytime. Anywhere.

Welcome to the NEW
Nikon Learn & Explore
We've redesigned the site to make it easier to find stories you care about, get tips and advice from pros, learn new shooting techniques, discover classes and workshops—in short, help you find new inspiration every time you visit. (And we hope you visit often.)

Access all the photography techniques, advice and inspiration of Nikon's Learn & Explore anytime, anywhere with the free app for iPhone, iPod Touch and iPad.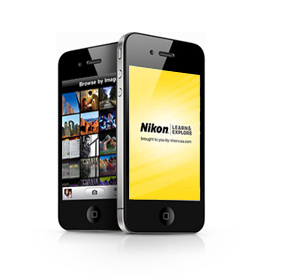 Take Today's Poll
Along with the new look of Learn & Explore, we've added polls. Make your opinion count and check back often to participate in new polls.
Take your photographic knowledge to the next level; get a working understanding of your camera's features; learn how to create HD-SLR videos; discover how to edit your images using Capture NX2 software and more.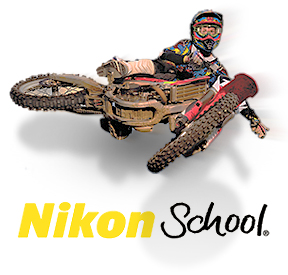 Learn more about the Nikon D-SLR or Nikon 1 camera you own by watching an interactive product tutorial!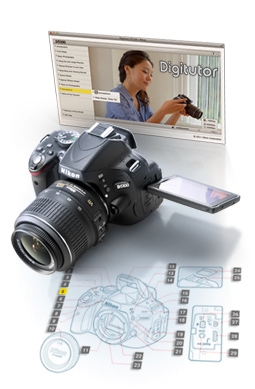 And get great tips and techniques to try next time you go shooting!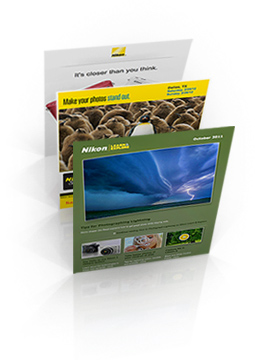 Expand Your Photographic Horizons