After being a professional photographer for 45 years, I still don't have an easy answer when people ask me what I like to shoot. For me the pleasure is just to be out shooting and dealing with the challenge of finding the strongest composition—regardless of subject. That's when I get to bring a bit of order to a chaotic visual world—at least within a defined frame—with a strong graphic design, or as a narrative arrangement of elements in the scene.
I started in photojournalism and have done both commercial and corporate work as well as event photography. I also spent 14 years as a Nikon technical representative. Through most of those years I did some photo instruction, but today that is the bulk of my work. In addition to teaching a majority of Nikon Schools (my 17th year with Nikon School) I also lead various photo trips and workshops for public and private groups and do private classes with individual clients. I am one of the Mentors in Popular Photography/American Photo's Mentor Series Workshops and recently had the opportunity to do something I find particularly interesting. I took a group of people into an environment alien to their own where the differences and challenges—and maybe some risks—might engage them in ways other than just photographically. Most trekkers come away with some nice photographs, a little more insight into themselves and great memories.
This recent trip was a Mentor Trek to Costa Rica. During these trips I try to share as much as I can about making better photos, both technically and aesthetically. This happens individually and in groups; it happens in the field when we're shooting, in classrooms, during image review and critique, even on the bus in transit between locations.
Most instruction is big topic stuff—good exposure, depth of field, flash techniques, etc. It's not enough to simply point the camera at something interesting. You have to see how it may be random and chaotic to the camera. By making sure you have a dominant, obvious subject you inform the scene better, and the chaos can be background, supporting content that extends the narrative. (See images 4 and 5.)

You need to fill the frame, use all the image space, by getting closer—optically, physically or both.
When you have an interesting scene, the "design" of the jungle pathway here, wait for a person to add life to it and maybe a splash of color for contrast.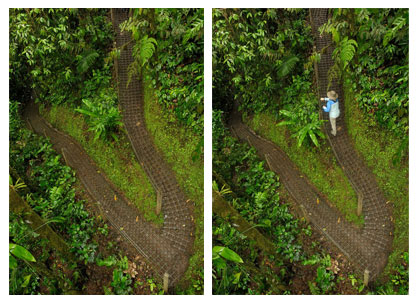 As students become more comfortable with these techniques I try to help them realize that learning is never over; we just use the things we've learned in more and more subtle ways. The most underutilized accessory for most photographers is their feet—you need to move around the subject and try different backgrounds. But sometimes the necessary movements are pretty small; "micro movements" is the phrase coined by one trekker.
In this shot we had just finished touring a coffee plantation and were visiting the gift shop.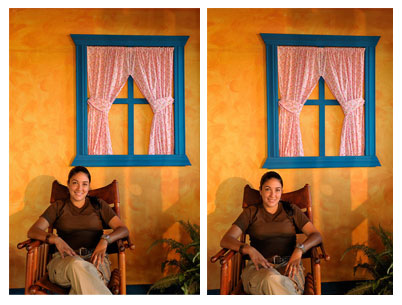 This chair and "window" made up a set display just inside the doorway. The other mentor, David Tejada, stepped outside with an SB-900 Speedlight with an orange gel, creating the warm light and shadow pattern on our guide who posed for me. What I noticed as we shot was the merger happening between her head and the blue window frame. I needed to make a small adjustment to get a little separation between them.
You need to really work a subject.

After the trekkers left I was walking around San Jose and found this wonderful yellow and blue building, but it needed something else. Over about 30 minutes I tried shooting all sorts of passing vehicles (mostly red for the bright color contrast) and people, but just as I was about to move on, the street vendor and boy with balloon walked into the shot simultaneously. Sometimes, if you work hard enough, you will be given the gift of serendipity.
To see more of Bill's work, visit his website.
To learn more about the Mentor Series Worldwide Photo Treks click here.
| | |
| --- | --- |
| | Bill Durrence has been an NPS member since 1988. |