Push your creativity further
When a shot calls for a unique point of view, fisheye, perspective control and manual focus lenses can help take your compositions to incredible new places. Whether you want to bend a scene or straighten it, these lenses offer creative ways to personalize and control the world around you.
Personalized Recommendations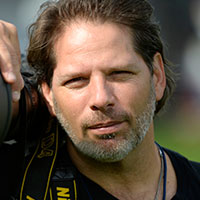 Fisheye

Nikkor

lenses deliver incredible color sharpness and contrast, allowing me to capture powerful, dynamic images of ultra wide-angle scenes and subjects from wildly unique perspectives.
– Mike Corrado, Sr. Manager, Pro Relations & Marketing Business Development
About Perspective Control Lenses
Nikon's high performance perspective control lenses let you quickly adjust the focal plane of the lens—independent of your camera position—to bring an entire landscape into sharp focus, to alter the natural depth-of-field of a scene, to selectively focus on certain subjects, to offset perspective anomalies in architectural shooting and more.