The evolution of high resolution.

One look at the jaw-dropping image quality possible with the D810 and you'll never look at image quality the same way. The level of detail and sharpness, the wide dynamic range and rich tonality in nearly any light is simply staggering—almost unimaginable until now. For still and multimedia photographers including landscape, studio, wedding and portrait pros, the D810 will ignite your creativity and help you capture images that astound. For cinematographers and camera operators, the D810 will become one of the most versatile and important tools in your arsenal. With meticulous autofocus, fast frame rates and image processing, smaller file formats, excellent energy efficiency and exciting new capabilities for all manners of shooting, the D810 expands your vision and lets you rethink what's possible.
One look changes everything
The bar has been raised
The D810 truly raises the bar for image quality and dynamic range. An all-new FX-format full-frame image sensor design—36.3-megapixels with no optical low-pass filter—is paired with Nikon's innovative EXPEED 4 image processing for flawless detail retention from snow white to pitch black, beautiful noise-free images from ISO 64 to ISO 12,800, an extremely wide dynamic range, flattering well-saturated skin tones and much more. The combination reveals the true optical precision of NIKKOR lenses, which provide flawless rendering even at these pixel counts. For those seeking the ultimate in DSLR image quality, the D810 delivers.
Take productions to the next level
Outstanding on TV, video and film sets
The D810 is the full-frame D-SLR that cinematographers, camera operators and multimedia photographers have been waiting for. Bring the camera's remarkable image quality and dynamic range to 1080p videos recorded at 60/50/30/25/24p uncompressed to an external device, compressed to an internal CF/SD card or both simultaneously. Move between dark and light scenes without any iris or frame-rate adjustments thanks to ISO Auto Adjust. Smoothly change a shot's depth of field with power iris control. Shoot in a flat picture style that enhances dynamic range and streamlines post-production work. Even enjoy broadcast-caliber audio control right in the camera. Let the D810 and the vast collection of NIKKOR lenses take your production to the next level.
Command performance
Where speed and accuracy converge
The D810 performs with astounding speed and precision. Capture 5 fps at full resolution and in 5:4 crop mode, 6 fps in 1:2 crop mode and 7 fps in DX-crop mode*. Enjoy tack-sharp focus—crucial in high-resolution images—thanks to an Advanced Multi-CAM 3500FX AF sensor that uses 51 focus points, including 15 cross-type sensors, 11 of which work all the way to f/8, plus a new Group Area AF. Internal vibration has been nearly eliminated with a newly designed sequencer mechanism and Electronic Front Curtain Shutter system. You can even quickly spot-check your focus by zooming in 46x on the large 3.2-inch 1,229k-dot display with RGBW alignment and monitor highlights during video capture with zebra striping right in the display. The D810 is as nimble as it is precise.

*When using optional MB-D12 battery pack (for up to 100 jpeg shots)
Liberating versatility
Thrilling new capabilities and inspiration
The D810 is a versatile camera for versatile shooters. Produce stunning star-trail images with unlimited continuous shooting—capture images for as long as your battery or memory card will allow. Create smooth, even time-lapse sequences thanks to new Exposure Smoothing. Preserve details in both the shadowy and bright areas of stage performances and other spot-lit situations with Highlight-weighted Metering. Use the D810's pop-up flash as a Commander for Nikon's Creative Light System—a major convenience for location photographers. Save your files in a new 12-bit uncompressed RAW size S* format that's half the size of RAW size L. Wherever your passion and inspiration takes you, the D810 will follow.

*In-camera RAW processing or some retouch options, such as image overlay, cannot be applied.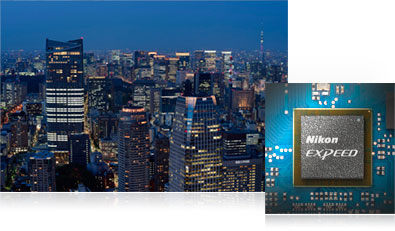 The most advanced EXPEED yet
Nikon's EXPEED image processing concept enables superior performance in Nikon cameras. The new EXPEED 4 design takes that performance even further—30% faster than its predecessor, 25% faster frame rates (5 fps), a wider ISO range of 64-12,800 with low noise throughout, smooth gradations, a wide dynamic range, optimizations for 1080 60p video, greater energy efficiency and more.
Outstanding handling
A deeper grip ensures stable handling, even for small hands. A brighter viewfinder offers ~100% frame coverage, 0.7x magnification and high contrast organic EL information display for easier visibility. The scratch- and shock-resistant TFT LCD display has wide viewing angles and enhanced visibility in sunlight. Its color can be calibrated to match an external monitor, and a new split-screen feature lets you monitor two different points of a scene side-by-side to ensure proper leveling or focus.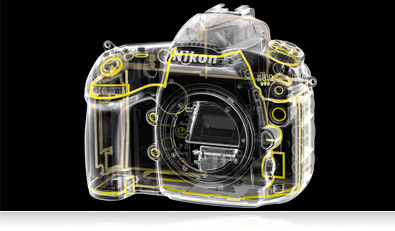 Built for tough projects
The D810 with magnesium alloy, stringently tested weather and dust sealing, a shutter that's been tested to 200,000 cycles, longer battery life, and advanced in-camera editing like NEF (RAW) processing, distortion control, image overlay and more, makes the D810 as reliable on the road as it is in the studio.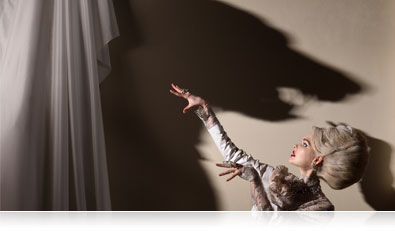 Creative freedom
Every superb NIKKOR lens tells a new story, from fast primes to versatile telephoto zooms. With optional Nikon Speedlights, lighting is as powerful and comprehensive as you want it to be, while pro-grade Wi-Fi® transmitters and remote controls streamline workflow in the studio or at a remote location. Draw the most from RAW files with the new Capture NX-D software, or tailor your images and customize your picture control settings with the optional Picture Control Utility 2. Unleash the full potential of the D810.
Two amazing D810 kits for the budding Filmmaker & Animator
For storytellers looking to get outstanding video quality and high resolution animations out of their D810, two kit options are available—learn how they can help you tell your story.
Storage Media
CompactFlash© (CF) (Type I, compliant with UDMA)
SD
SDHC
SDXC
Top Continuous Shooting Speed at full resolution
Movie
Full HD 1,920x1,080 / 60 fps
Full HD 1,920x1,080 / 50 fps
Full HD 1,920x1,080 / 30 fps
Full HD 1,920x1,080 / 25 fps
Full HD 1,920x1,080 / 24 fps
HD 1,280x720 / 60 fps
HD 1,280x720 / 50 fps
Monitor Type
Wide Viewing Angle TFT-LCD
Battery / Batteries
EN-EL15 Lithium-ion Battery
Approx. Dimensions (Width x Height x Depth)
Type

Single-lens reflex digital camera

Lens Mount
Effective Pixels

Sensor Size

Image Sensor Format

Image Sensor Type

Total Pixels

Dust-reduction system

Image sensor cleaning




Image Dust Off reference data (optional Capture NX 2 software required)

Dust-Off Reference Photo

Image Area (pixels)

FX-format
(L)

7,360 x 4,912

1:2 format (30 x 20)
(L)

6,144 x 4,080

5:4 format (30 x 24)
(L)

6,144 x 4,912

DX-format
(L)

4,800 x 3,200
File Format Still Images

JPEG: JPEG-Baseline Compliant; can be selected from Size Priority and Optimal Quality




JPEG: JPEG-Baseline Compliant with fine (approx 1:4), Normal (approx 1:8) or Basic (approx 1:16) Compression




NEF (RAW): 12 or 14 bit, lossless compressed, compressed, or uncompressed; small size available (12-bit uncompressed only)




NEF (RAW) + JPEG: Single Photograph Recorded in both NEF (RAW) and JPEG Formats




TIFF (RGB)

Storage Media

CompactFlash© (CF) (Type I, compliant with UDMA)




SD




SDHC




SDXC

Card Slot

1 CompactFlash© (CF) card and 1 Secure Digital (SD) card

File System

Compliant with

DCF (Design Rule for Camera File System) 2.0




DPOF (Digital Print Order Format)




EXIF 2.3 (Exchangeable Image File Format for Digital Still Cameras)




PictBridge
Viewfinder

Eye-level Pentaprism Single-Lens Reflex Viewfinder

Viewfinder Frame Coverage

FX (36x24):

100% Horizontal and 100% Vertical

(Approx.)


1.2x (30x20):

97% Horizontal and 97% Vertical

(Approx.)


DX (24x16):

97% Horizontal and 97% Vertical

(Approx.)


5:4 (30x24):

97% horizontal and 100% vertical

(Approx.)

Viewfinder Magnification

Viewfinder Eyepoint

Viewfinder Diopter Adjustment

Built-in diopter adjustment (-3 to +1 m¯¹)

Focusing Screen

Type B BriteView Clear Matte Mark VIII with AF Area Brackets (grid lines can be displayed)

Reflex Mirror

Mirror Lock Up
Lens Aperture

Depth-of-field Control

Lens Compatibility at a Glance***

AF-S or AF lenses fully compatible




Metering with AI lenses

Compatible Lenses

AF NIKKOR lenses, including type G, E, and D lenses (some restrictions apply to PC lenses) and DX lenses (using DX 24 x 16 1.5x image area), AI-P NIKKOR lenses, and non-CPU AI lenses (exposure modes G and H only).




Electronic rangefinder can be used with lenses that have a maximum aperture of f/5.6 or faster (the electronic rangefinder supports the 11 focus points with lenses that have a maximum aperture of f/8 or faster).




IX NIKKOR lenses, lenses for the F3AF, and non-AI lenses cannot be used.
Shutter Type

Electronically controlled vertical-travel focal-plane

Shutter Speed

Fastest Shutter Speed

Slowest Shutter Speed

Flash Sync Speed

Up to

1/250 sec.




Synchronizes with shutter at 1/320s or slower (flash range drops at speeds between 1/250 and 1/320s)

Bulb Shutter Setting

Shutter Release Modes

Continuous low-speed [CL] mode




Continuous high-speed [CH] mode




Mirror-up [Mup] mode




Quiet Shutter Release




Quiet Continuous Release




Self-timer Mode




Single-frame [S] mode

Continuous Shooting Options

FX-format
CH: Up to

5

frames per second


CL: Up to

1-5

frames per second


5:4 format
CH: Up to

5

frames per second


CL: Up to

1-5

frames per second


DX-format
CH: Up to

6

frames per second


7 fps in DX-crop mode when using optional MB-D12 battery pack and EN-EL18a battery


CL: Up to

1-6

frames per second


1:2 format
CH: Up to

6

frames per second


CL: Up to

1-6

frames per second


Top Continuous Shooting Speed at full resolution

Self-timer

2, 5, 10, 20 sec.; 1 to 9 exposures at intervals of 0.5, 1, 2, or 3 sec.


Timer duration electronically controlled
Exposure Metering System

TTL exposure metering using 91,000-pixel RGB sensor

Metering Method

Center-weighted: Weight of 75% given to 12 mm circle in center of frame




Matrix: 3D Color Matrix Metering III (type G, E, and D lenses); Color Matrix Metering III (other CPU lenses); Color Matrix Metering available with non-CPU lenses if user provides lens data




Spot: Meters 4 mm circle (about 1.5% of frame) centered on selected focus point




Highlight-weighted: Available with type G, E, and D lenses; equivalent to center-weighted when non-CPU lens is used

Metering Range

0 to 20 EV (3D Color Matrix, center-weighted metering or highlight weighted metering)




0 to 20 EV (spot metering)

Exposure Meter Coupling

Exposure Modes

Aperture-Priority (A)




Manual (M)




Programmed auto with flexible program (P)




Shutter-Priority (S)

Exposure Compensation

±5 EV in increments of 1/3, 1/2 or 1 EV

Exposure Bracketing

2 to 9 frames in steps of 1/3, 1/2, 2/3 or 1 EV

Exposure Lock

Picture Control

Flat




Landscape




Monochrome




Neutral




Portrait




Standard




User-customizable Settings




Vivid
ISO Sensitivity

Lowest Standard ISO Sensitivity

Highest Standard ISO Sensitivity

Lowest Expanded ISO Sensitivity

Highest Expanded ISO Sensitivity

Hi-2 (ISO 51,200 equivalent)

Expanded ISO Sensitivity Options

Lo-1 (ISO 32 equivalent)




Hi-1 (ISO 25,600 equivalent)




Hi-2, (ISO 51,200 equivalent)

Long Exposure Noise Reduction

High ISO Noise Reduction

Active D-Lighting

Auto




Extra High




High




Normal




Low




Off

D-Lighting Bracketing

2 frames using selected value for one frame




3–5 frames using preset values for all frames
Single-point AF Mode

Dynamic AF Mode

Number of AF points: 9, 21, 51 and 51 (3D-tracking)

Auto-area AF Mode

Autofocus System

Nikon Advanced Multi-CAM 3500FX autofocus sensor module with TTL phase detection

Detection Range

-2 to 19 EV (ISO 100, 68°F/20°C)

Lens Servo

Autofocus (AF): Single-servo AF (AF-S); Continuous-servo AF (AF-C); predictive focus tracking activated automatically according to subject status




Manual focus (MF): Electronic rangefinder can be used

AF-area Mode

9, 21 or 51 point Dynamic-area AF




Auto-area AF




Single-point AF




3D-tracking (51 points)




Group-area AF

Focus Lock

Focus can be locked by pressing AE-L/AF-L button




Focus can be locked by pressing shutter-release button halfway (single-servo AF)

Focus Modes

Auto AF-S/AF-C selection (AF-A)




Continuous-servo (AF-C)




Face-Priority AF available in Live View only and D-Movie only




Full-time Servo (AF-A) available in Live View only and D-Movie only




Manual (M) with electronic rangefinder




Normal area




Single-servo AF (AF-S)




Wide area

Maximum Autofocus Areas/Points

Autofocus Sensitivity

-2 to +19 EV (ISO 100, 20°C/68°F)

Autofocus Fine Tune
Built-in Flash

Flash Bracketing

2 to 9 frames in steps of 1/3, 1/2, 2/3, or 1 EV

Built-in Flash Distance

X-Sync Speed

Top FP High Speed Sync

Flash Control

TTL: i-TTL flash control using 91,000-pixel RGB sensor are available with built-in flash and SB-910, SB-900, SB-800, SB-700, SB-600, SB-400, or SB-300; i-TTL balanced fill-flash for digital SLR is used with matrix and center-weighting metering, standard i-TTL flash for digital SLR with spot metering

Flash Sync Modes

Auto FP High-Speed Sync supported




Front-curtain sync (normal)




Rear-curtain sync




Red-Eye reduction




Red-Eye reduction with slow sync




Slow rear-curtain sync




Slow sync




Off

Flash Compensation

-3 to +1 EV in increments of 1/3, 1/2 or 1 EV

Flash-ready Indicator

Lights when built-in flash or optional flash unit is fully charged; flashes after flash is fired at full output

Accessory Shoe

Nikon Creative Lighting System (CLS)

Flash Sync Terminal
White Balance

Auto (2 types)




Choose color temperature (2500K–10000K)




Cloudy




Direct Sunlight




Flash




Fluorescent (7 types)




Incandescent




Preset manual (up to 6 values can be stored, spot white balance measurement available during live view)




Shade

White Balance Bracketing

2 to 9 exposures in increments of 1, 2 or 3 EV
Live View Shooting

Photography Live View Mode




Movie Live View Mode

Live View Lens servo

Autofocus (AF): Single-servo AF (AF-S); full-time-servo AF (AF-F)




Manual focus (MF)

Live View AF-area mode

Face-priority AF




Wide-area AF




Normal-area AF




Subject-tracking AF

Live View Autofocus

Contrast-detect AF anywhere in frame (camera selects focus point automatically when face-priority AF or subject-tracking AF is selected)
Movie Metering

TTL exposure metering using main image sensor

Movie Maximum recording time

20 minutes at highest quality




29 minutes 59 seconds at normal quality

Movie File Format

Movie Video Compression

H.264/MPEG-4 Advanced Video Coding

Movie Audio recording format

Movie

Full HD 1,920x1,080 / 60 fps




Full HD 1,920x1,080 / 50 fps




Full HD 1,920x1,080 / 30 fps




Full HD 1,920x1,080 / 25 fps




Full HD 1,920x1,080 / 24 fps




HD 1,280x720 / 60 fps




HD 1,280x720 / 50 fps

Movie Audio

Built-in microphone, stereo




External stereo microphone (optional)
Monitor Size

Monitor Resolution

Monitor Type

Wide Viewing Angle TFT-LCD

Monitor Angle of View

170

-degree wide-viewing angle

Monitor Adjustments

Brightness control using ambient brightness sensor

Virtual Horizon Camera Indicator

Yes




Also visible in LiveView Modes




Also visible in Viewfinder
Playback Functions

Auto Image Rotation




Full-frame and thumbnail (4, 9, or 72 images)




Highlights




Histogram Display




Image Comment




Movie Playback




Movie Slideshow




Playback with Zoom




Slideshow

In-Camera Image Editing

Color Balance




Color Outline




Color Sketch




D-Lighting




Distortion Control




Edit Movie




Filter Effects




Fisheye




Image Overlay




Miniature Effect




Monochrome




NEF (RAW) Processing




Perspective Control




Quick Retouch




Red-Eye Correction




Resize




Selective Color




Side-by-Side Comparison




Straighten




Trim

Image Comment
Interface

HDMI output: Type C mini-pin HDMI connector




Headphone Connector




NTSC




Stereo Microphone Input




Super Speed USB 3.0

Wi-Fi Functionality

GPS

GP-1 GPS unit




GP-1A GPS unit

Save/Load Camera settings
Total Custom Settings

My Menu

Recent Settings

Supported Languages

Arabic




Bengali




Brazilian Portuguese




Bulgarian




Chinese (Simplified and Traditional)




Czech




Danish




Dutch




English




Finnish




French




German




Greek




Hindi




Hungarian




Indonesian




Italian




Japanese




Korean




Marathi




Norwegian




Persian




Polish




Portuguese




Romanian




Russian




Serbian




Spanish




Swedish




Tamil




Telugu




Thai




Turkish




Ukrainian




Vietnamese

Date, Time and Daylight Savings Time Settings

Yes




The camera clock is powered by a separate, non-rechargeable CR1616 lithium battery with a life of about two years.

World Time Setting
Battery / Batteries

EN-EL15 Lithium-ion Battery

Battery Life (shots per charge)

AC Adapter

EH-5b AC Adapter; requires EP-5B Power Connector (available separately)

Battery Charger
Tripod Socket

Approx. Dimensions (Width x Height x Depth)

Approx. Weight

Operating Environment
Speedlights/Flashes

Microphones

Eyepieces/Viewfinders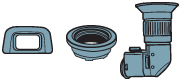 Remotes & Releases

NIKKOR Lenses

Optimized for FX Format but compatible with extensive range of NIKKOR lenses.
GPS

Cases/Straps

Power Accessories

Wireless Accessories & Transmitters

Cords & Cables

"I AM" REVELING IN THE DYNAMIC RANGE
The best "hands down" feature of the D810 - is owning one!! Conversely, the worst feature by far, is not owning one. Every time I pick up this camera up and shoot - "I AM" happy I made the purchase. I call my self a "Pro-thusiast" - enthusiastic about owning a pro camera; "I AM" stunned in awe at the color precision of this camera. If you look at the included image of a sunset I took March 16th, 2015 you will see what I am talking about - I have taken colorful sunrises and sunsets before - never have I seen the sensor do such a detailed job color-wise; best part is, it's completely 100% untouched - no post production other than cropped / watermarked... "I AM" ALWAYS NIKON!!!
March 18, 2015
Completely Satisfied!
Have owned this body for 6 months I feel that I can now express what I felt the first time I used it. I have been a Nikon user since the mid 70's and have always been satisfied with the product quality. After graduating I got away from my hobby and began using 35mm point and shoots as most of my photos were just snap shots of family events. As digital photography began to evolve I purchased digital point and shoots and watched them improve over the years. As our children became involved in school sports, plays etc. I would always take my camera. Most of the shots were good, but the one you really wanted seemed to always be flawed. My wife would comment that she wished "that one" would have come out better. My interest in photography was reborn! I purchased a D90 about 6 years ago for my re entry. I was amazed at the results and quality of my photos. My old skills and passion were reborn. I then purchased the D600 when it was released as I wanted to go to the full frame mode. I read the reviews about complaints of dust or oil on the mirror but never experienced it on mine. My skills were improving and so were my shots. At the end of this summer I began to have the problem with my D600, returned it to Nikon and they repaired it however I did not want to be without a camera. I began reading the reviews on the D810 and was interested, I had to have one. I am my own worst critic and demand perfection in all that I do. When I processed the first set of photos from the D810 on my mac i could not believe the quality, color and resolution. I was blown away. There are no limits to what this camera can do with the right lenses. It tests your imagination and skills. I was asked to video a wedding by my friend who is a semi professional photographer of his sister. I had never done video before but agreed to and put myself and the D810 to the test. Used the Nikkor 24-70 F2.8 lens. The results were incredible, definitely beyond what I expected. I believe it was the fiddle not the fiddler in this case. As the holidays approached I found myself in testing this camera in very low light environments. I can't say enough about the ability of this camera. It seems to invent light that doesn't exist. It is great for high school football, both day and night games and I find it plenty fast. My daughter had a part in her high school play. Used the highlight weighted metering and the 70-200 f2.8, the results were fabulous. This camera will not disappoint I highly recommend it!
March 3, 2015
The Camera Is A Godsend
I do fine art reproduction. My livelihood is based upon getting accurate color reproduction across the entire surface of the image. The prints I make must look exactly like the paintings artists bring me. For over a decade I have been doing this and I have always used a scanner. I even developed my own methods for scanning oversized pieces and stitching them together to capture the entire image. My scanner is near the end of its usefulness and there is no other scanner out there that can do the job. I have spent over 2 years looking for a scanner and have even explored some very exotic, very expensive scanners. Nothing worked. I dreaded the thought of using a camera, but that was my only remaining option. I used to do quite a bit of photography decades ago, but that was before the digital age. The new dslr cameras are a whole new tool. I needed to capture images accurately, be able to stitch segments of images into a complete image and get dead on accurate color across the entire surface of the image. I spent months researching what camera to get and after traveling to a photo show in New York, I finally decided on the D810.This camera is fantastic. It is a precision instrument like nothing else I have ever used. I can capture a 16x24 raw image and print it at a 300dpi. This is essential for me. If I shoot multiple sections of larger images, they stitch flawlessly - much better even than the scanner. If you know how to setup the camera you can accurately reproduce color across the entire image. Of course there were a number of other things to get right as well. I had to decide on a light source and a studio setup. I also had to decide on a lens and the tools I would use to profile the camera to get accurate color. I will not get into all that here. What I will tell you is that this camera is a godsend. It is extremely versatile and I can set it up exactly as I want it. The metering is phenomenal and the autofocus is excellent. There is nothing I wanted to do that I was unable to do. Most people will not use this camera or any camera for what I do. This is not a point and shoot environment. However, what I do is one of the most demanding things any photographer will ever do. If the camera works for me, I can only assume it will work for anyone who takes the time to learn how to use it. The manual that comes with the camera is complete, but it leaves a lot to be desired. I purchased David Busch's Nikon D810 Guide To Digital SLR Photography. This is the perfect manual for this camera. You can find anything you want to very quickly and very clearly. Nikon should include this with the camera. So, do I like this camera? I love this camera. I wish I had been using a camera like this all along. Once you know what you are doing, its a breeze. The scanner I used cost me over $3,000 almost 15 years ago. It was worth every penny. The cost of this camera by comparison is not expensive. It is much more versatile and I have only begun to explore the depths of what I can do with the camera. If you buy this camera, you should expect to take some time learning how to use it properly. It will not disappoint you. I have nothing negative to say about this camera. You will need to get a memory card for it. I strongly recommend a safe case and top quality lenses and filters. In a studio setting, I also recommend getting Nikon's AC adapter. I have done things with this camera that I have never done before with any camera - tethering for example - and I have not even scratched the surface. I will be exploring other uses for this camera and I expect that is will enable me to create some new sources of revenue.
February 27, 2015
Great body, but not for everything
I've rented and now own the 810. The larger sensor/resolution is great for landscapes, particularly with high quality Zeiss prime lens. It will unmask shortcomings in lessor quality lens, so choose your lens wisely. I also used it for wildlife and sports. Using my D4 as a reference, the 810 is just a little bit slower, or "squishy" when trying to focus on fast moving sporting events. Same is true for faster moving wildlife (i.e., birds in flight). Stationary or slow moving animals are no problem. I'm very happy with my purchase and now travel with both the D4 and 810 for wildlife trips. Sports-its still the D4 as the primary body. The 810 will work best when focusing on a set location and letting the action come into the frame.
February 22, 2015
Excellent camera.
I have been shooting the Nikon D4s and wanted a second camera to do time lapse while I shot stills along side it. . I was amazed by the D810. It is quiet and the resolution is amazing. It is my go to camera now unless I'm shooting action or want better low light capability, then back to the D4s. Nikon has a real winner with the D810. The video and time lapse are excellent.
February 20, 2015
60

Questions
|
65

Answers
Product Q&A
Ask your questions. Share your answers.
60

Questions
|
65

Answers