MH-25 Quick Charger
Enables charging of Rechargeable Li-ion Battery EN-EL15.
$67.95
*

SRP

SRP (Suggested Retail Price) listed only as a suggestion. Actual prices are set by dealers and are subject to change at any time.
Smart charger
No one ever thinks about the charger, but apparently Nikon did when they made this model. It has a similar look to its predecessor, the MH-18a, but with a few more features and faster charging. The battery slides in through an open port and locks into place as opposed to getting put into a rail slot. Also, the charger comes with a wall adaptor and uses a lock to allow the charger plug to either lay flat or be used vertically. The charge time is also faster, about 1 hour for a fully discharged battery. Good job Nikon!
November 7, 2010
11

Questions
|
12

Answers
Product Q&A
Ask your questions. Share your answers.
11

Questions
|
12

Answers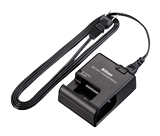 MH-25 Quick Charger
0
out of
0
found this question helpful.
Was this helpful?
helpful
0
unhelpful
0
http://answers.nikonusa.com/answers/7022-en_us/product/27015/question/750059/undohelpfulness.djs?format=embeddedhtml&sessionparams=__BVSESSIONPARAMS__&return=__RETURN__&innerreturn=http%3A%2F%2Fanswers.nikonusa.com%2Fanswers%2F7022-en_us%2Fproduct%2F27015%2Fquestions.djs%3Fformat%3Dembeddedhtml%26page%3D2%26scrolltotop%3Dtrue%26expandquestion%3D750059&user=__USERID__&authsourcetype=__AUTHTYPE__&submissionparams=__BVSUBMISSIONPARAMETERS__&submissionurl=__BVSUBMISSIONURL__
Answers
0
out of
0
found this answer helpful.
Was this helpful?
helpful
0
unhelpful
0
http://answers.nikonusa.com/answers/7022-en_us/product/27015/answer/872182/undohelpfulness.djs?format=embeddedhtml&sessionparams=__BVSESSIONPARAMS__&return=__RETURN__&innerreturn=http%3A%2F%2Fanswers.nikonusa.com%2Fanswers%2F7022-en_us%2Fproduct%2F27015%2Fquestions.djs%3Fformat%3Dembeddedhtml%26page%3D2%26scrolltotop%3Dtrue%26expandquestion%3D750059%26expandanswer%3D872182&user=__USERID__&authsourcetype=__AUTHTYPE__&submissionparams=__BVSUBMISSIONPARAMETERS__&submissionurl=__BVSUBMISSIONURL__
Product Q&A
11

Questions
 | 
12

Answers