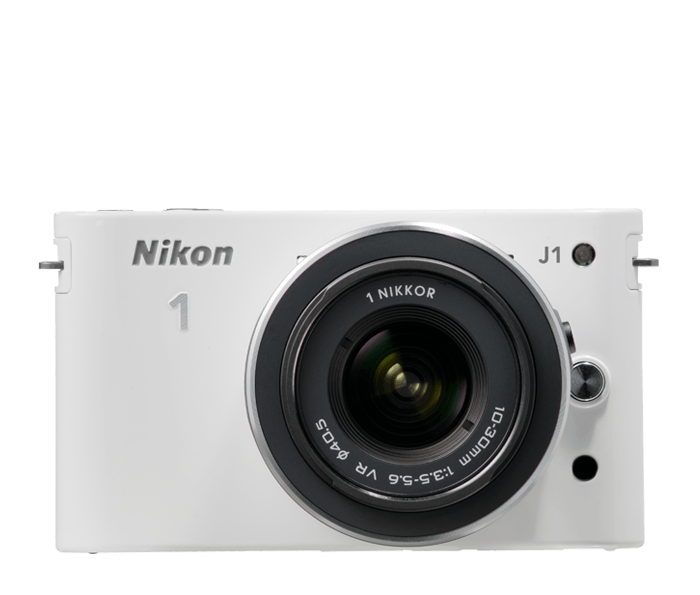 White

Black

Red

Silver

Pink
Infuse your world with imagery
For your very mobile lifestyle comes a completely new imaging system with freedom to create and express as never before. Highly compact and portable, the Nikon 1 J1 goes everywhere you go. Moments from your amazing world are captured using a highly responsive autofocus and super fast shooting speed. In one touch you can work in Full HD (1080p) movie record mode. A camera so versatile you can even snap photos while recording movies. Unleash your creativity with Nikon 1—offering a balance of high performance, advanced features, portability and a newly designed interchangeable lens system. Infuse your world with photos from every moment and connect as never before.
CX-Format
High-Speed AF CMOS Sensor
10 FPS
Continuous Shooting
Motion Snapshot
One-Touch Photo Animation Experience
Revolutionary new Nikon 1 system breaks visual barriers
Innovation in technology and design
Today, all it takes is a single imaging device to capture and share every moment of an incredible and connected life. Nikon brings an evolution in imaging technology, starting with a newly developed Nikon CX-format super high-speed AF CMOS sensor that powers every capture. Ensure image precision through the new, compact interchangeable lens system featuring image stabilization (VR) and superior fast and quiet autofocus motors built on the NIKKOR heritage of optical excellence.
Focus that's as fast as you
Capture all the action
Not a moment is missed with a camera that keeps up with you! Always on the go, you know moments worth sharing can happen all the time. Don't let your creativity be hindered by slow focus speed; Nikon 1 J1 delivers an amazing 10 fps speed in autofocus mode. Grab every turn of the swimmer as he leaps from the high dive and glides into the water below. Even fast moving action like this is rendered with amazing clarity—thanks to an incredible 73 point AF array continuously working to ensure everything is sharp and clear.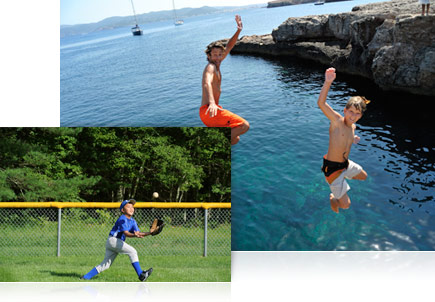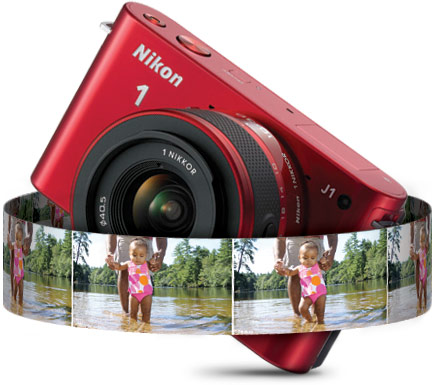 For moments that deserve more
Motion Snapshot brings photos to life
Certain snapshots from life evoke emotions that just cannot be retold with merely a photograph. Remember the feelings you had while watching a wave crash to the shore or fireworks exploding overhead? Make those moments come alive in a single click using Motion Snapshot. Reveal the essence that can't be captured in a single photo.
Share a richer experience
Simultaneously capture Full HD (1080p) movies and photos
There will be moments when you're recording a great movie and an opportunity to grab an amazing photo comes along. Capture both at the same time! Start your movie recording with a touch of a button. See that great still? Hit the shutter even during record mode. Autofocus keeps everything sharp, working double duty to simultaneously capture both movies and photos. Infuse even more personality into multimedia creations by adding slow motion. For times when photos alone are not enough, family and friends will appreciate your expressions brought to life.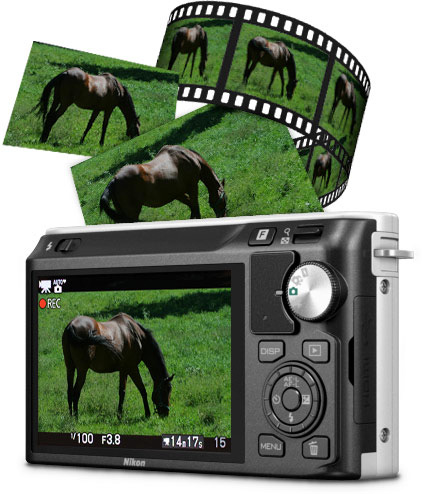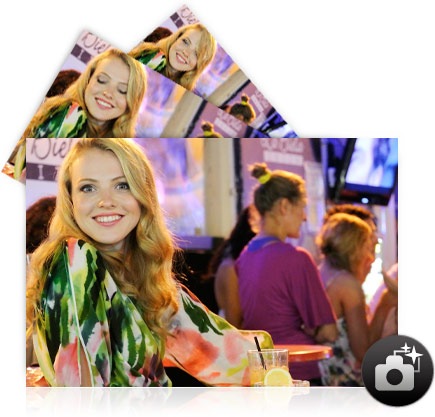 Get the best of what's seen
Let the camera do the work with Smart Photo Selector
For all the times you wished your camera could capture those great spontaneous moments while they unfolded in front of you, there is Nikon 1. Have too many blurry or poorly lit photos? Or how many photos do you have where someone's eyes were shut? With a single touch using Smart Photo Selector there are no more imperfect photos. Get the best of what you see. Engage in the moment while you let the camera do the work for you.
Creativity expanded with 1 NIKKOR Lenses
Compact, light, high performance optics
Expand creativity and select from a range of lens options, including one designed specifically for movie filming. Engineered for fast and easy swap-out, stay photo-ready all the time. Compactness brings portability, whether using the single focal length 10mm or the 30-110mm telephoto. 1 NIKKOR lenses feature Vibration Reduction (VR) to keep photos sharp, extending a heritage of precision symbolized by durability, superior image quality and optical excellence.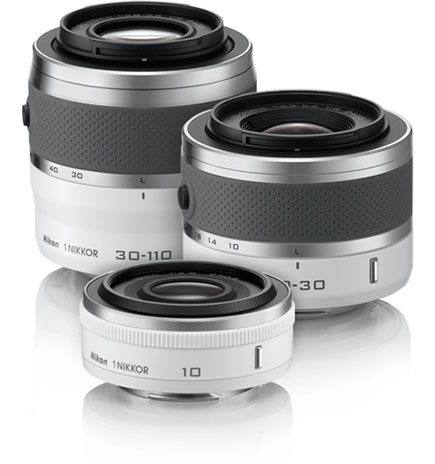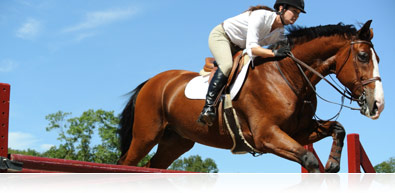 EXPEED 3 processor
EXPEED 3 marks the culmination of years of dedication to advancing digital imaging technologies. At the heart of Nikon 1 is EXPEED 3, with dual image processors, to deliver outstanding system performance, high-speed processing, state-of-the-art phase detection autofocus and the fastest data transfer rates. Witness outstanding image quality, tone reproduction and advanced autofocus at unprecedented speeds.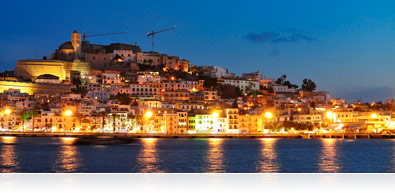 Low light
An advanced, innovative Nikon super high-speed AF CMOS imaging sensor, wide ISO range and option to select the best lens for the job give you even more control over the light. Produce amazing photos in all those moody environments. Tap only ambient light and open the most artistic doors to photographing on the dance floor, nabbing dramatic sunsets and candlelit moments.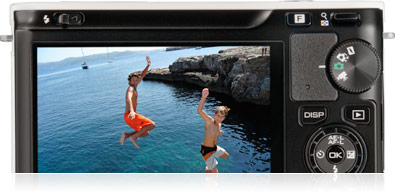 LCD monitor
Check your creativity: frame and share your creations on the large and sharp three-inch LCD color display. An ultra-high resolution screen featuring 460k-dots shows every detail to precision. An anti-glare coating renders easy viewing of photos and HD movies, even outdoors.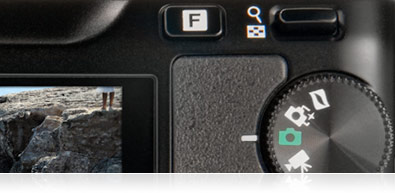 Intuitive simplicity
Easy access to advanced features are hallmarks of the Nikon 1 system. From the ultra intuitive command and features buttons, easy-to-understand menu and fast mount lens, you'll be expressing your thoughts and visions as never before. Even advanced features for photos and movies can be created with one-click ease.
Top Continuous Shooting Speed at full resolution
10, 30 or 60 fps using Electronic (Hi) shutter
Movie
HD: 1920 x 1080/60i
HD: 1920 x 1080/30p
HD: 1280 x 720/60p
Slow-motion: 640 x 240/400fps
Slow-motion: 320 x 120/1200fps
Motion Snapshot: 1920 x 1080/60p (plays at 24p)
Audio file format: ACC
Movie file format: MOV
Monitor Type
TFT-LCD with brightness adjustment
Battery / Batteries
EN-EL20 Lithium-ion Battery
Approx. Dimensions (Width x Height x Depth)
Type

Advanced Camera with Interchangeable Lenses

Lens Mount
Picture Angle

Approx.

2.7x lens focal length

(Nikon CX format)

Effective Pixels

Sensor Size

Image Sensor Format

Image Sensor Type

Total Pixels

Dust-reduction system

Optical anti-dust mechanism

Image Area (pixels)


Still Images (3:2 aspect ratio)


3,872 x 2,592




2,896 x 1,944




1,936 x 1,296


Smart Photo Selector (3:2 aspect ratio)


3,872 x 2,592




2,896 x 1,944




1,936 x 1,296


Movie Mode (16:9 aspect ratio)


3,840 x 2,160 (1080/60i)




1,920 x 1,080 (1080/30p)




1,280 x 720 (720/60p)


Motion Snapshot (16:9 aspect ratio)


3,840 x 2,160
File Format

Compressed 12-bit NEF (RAW)




JPEG: JPEG-Baseline compliant with fine (approx 1:4), normal (approx 1:8), or basic (approx 1:16) compression




NEF (RAW) + JPEG: Single photograph recorded in both NEF (RAW) and JPEG formats

Storage Media

Card Slot

File System

Compliant with

DCF (Design Rule for Camera File System) 2.0




DPOF (Digital Print Order Format)




EXIF 2.3 (Exchangeable Image File Format for Digital Still Cameras)




PictBridge
Lens Aperture

electronically controlled
Shutter Type

Fastest Shutter Speed

Slowest Shutter Speed

Flash Sync Speed

Bulb Shutter Setting

Shutter Release Modes

Single-frame [S] mode




Continuous




Electronic [Hi]




Self-timer mode




Delayed remote




Quick Response Remote




Interval Timer Shooting

Frame Advance Rate

Electronic [Hi]: Approx. 10, 30 or 60 fps




Other modes: Up to 5 fps (single AF or manual focus, S Shutter- priority auto or M Manual exposure mode, shutter speed 1/250 sec or faster, and other settings at default values)

Top Continuous Shooting Speed at full resolution

10, 30 or 60 fps using Electronic (Hi) shutter

Self-timer

2, 5, 10 sec.

Timer duration electronically controlled

Remote Control Modes

Delayed remote (2 sec.)




Quick-response remote
Exposure Metering System

TTL metering using image sensor

Metering Method

Matrix




Center-weighted: Meters 4.5 mm circle in center of frame




Spot: Meters 2 mm circle centered on select focus area

Exposure Modes

Programmed Auto with flexible Program (P)




Shutter-Priority Auto (S)




Aperture-Priority Auto (A)




Aperture-Priority (A)




Manual (M)




Scene Auto Selector

Scene Modes

Portrait




Landscape




Night Portrait




Close-up




Auto

Shooting Modes

Still Image (3:2)




Smart Photo Selector (3:2)




Movie (HD 16:9)




Movie Slow Motion (8:3)




Motion Snapshot (16:9)

Exposure Compensation

±3 EV in increments of 1/3EV

Exposure Lock

Luminosity locked at detected value with AE-L/AF-L button
ISO Sensitivity

Active D-Lighting
Picture Control

Standard




Neutral




Vivid




Monochrome




Portrait




Landscape




Selected Picture Control can be modified




User-customizable Settings

Autofocus System

Hybrid autofocus (phase detection/contrast-detect AF)




AF-assist illuminator

AF-area mode

Single-point AF: 135 focus areas




Auto-area AF: 41 focus areas




Subject tracking




Face-priority AF

Focus Lock

Focus is locked by pressing AE-L/AF-L button or lightly pressing shutter release button in (S) AF

Focus Modes

Auto (AF)




Auto AF-S/AF-C selection (AF-A)




Single-Servo AF (AF-S)




Continuous-Servo (AF-C)




Full-time Servo (AF-F)




Manual Focus (MF)
Built-in Flash

Guide Number

5/16 (m/ft ISO 100, 20°C/68°F) Approx.

Flash Control

i-TTL flash control using image sensor available

Flash Mode

Fill-flash




Red-eye reduction




Rear curtain with sync




Rear curtain with slow sync




Slow sync




Slow sync with red-eye reduction

Flash Compensation

-3 to +1 EV in increments of 1/3 EV

Flash-ready indicator

Lights when built-in flash unit is fully charged
White Balance

Auto




Incandescent




Fluorescent




Direct Sunlight




Flash




Cloudy




Shade




Preset Manual




All except preset manual with fine tuning
Movie Metering

TTL exposure metering using main image sensor

Movie Metering Method

Matrix




Center-weighted: Meters 4.5 mm circle in center of frame




Spot: Meters 2 mm circle centered on select focus area

Movie File Format

Movie Video Compression

H.264/MPEG-4 Advanced Video Coding

Movie Audio recording format

Movie Audio recording device

Built-in stereo microphone; sensitivity adjustable

Movie

HD: 1920 x 1080/60i




HD: 1920 x 1080/30p




HD: 1280 x 720/60p




Slow-motion: 640 x 240/400fps




Slow-motion: 320 x 120/1200fps




Motion Snapshot: 1920 x 1080/60p (plays at 24p)




Audio file format: ACC




Movie file format: MOV
Monitor Size

Monitor Resolution

Monitor Type

TFT-LCD with brightness adjustment
Interface

USB: Hi-speed USB




HDMI output: Type C mini-pin HDMI connector
Supported Languages

Arabic




Chinese (Simplified and Traditional)




Czech




Danish




Dutch




English




Finnish




French




German




Indonesian




Italian




Japanese




Korean




Norwegian




Polish




Portuguese




Russian




Spanish




Swedish




Thai




Turkish




Spanish

Date, Time and Daylight Savings Time Settings

World Time Setting
Battery / Batteries

EN-EL20 Lithium-ion Battery

Battery Life (shots per charge)

AC Adapter

EH-5b AC Adapter




Requires EP-5C Power Supply Connector
Tripod Socket

Approx. Dimensions (Width x Height x Depth)

Approx. Weight

Operating Environment

32 to 104°F (0 to 40°C)


Less than 85% humidity (no condensation)
Extend your Creativity and Capabilities
Have fun and express yourself creatively with a wide range of accessories, including cases in matching colors.
Cases & Straps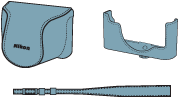 Power Accessories

1 NIKKOR Lenses

Caps & Covers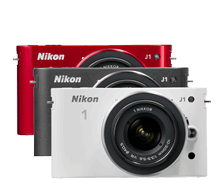 Cords & Cables

Remotes

Waterproof Housing & Accessories

Very impressed
Bought this camera to take on an Alaska cruise. I purchased the two-lens zoom kit. I have only owned point-and-shoot auto-focus cameras before, so I was ready to move up to the next level. After spending some time to learn the features and different modes, I was very excited to use the camera to take landscape and wildlife shots. While our trip was lacking in wildlife, the landscapes were gorgeous and I believe this camera captured the landscapes beautifully. The telephoto lens, in particular, was great and the images I captured are nothing short of amazing. Using the Electronic (Hi) mode to take photos of the glaciers in Glacier Bay calving, I was able to capture ice chunks in mid-air. Using a polarizing filter, water glare from the ship was greatly diminished, and the detail I was able get was stunning (at least in my eyes). As much as I enjoyed using the camera in Alaska, I have really enjoyed using it around my town taking pictures of flowers, landscapes, insects, etc. The size makes it easy to haul around, and with the addition of the 10MM f/2.8 prime lens, it is the complete package for an amateur photographer like myself. I would highly recommend this for the amateur who wants to step up from a point-and-shoot to something more advanced.
August 1, 2013
Great Photographs in a small package
I own a Nikon D7000, Nikon D90 and Nikon P7100. My Nikon 1 J1 shots are much better then my Nikon P7100 and in low light match my DSLR'S. I own the 10-30mm and 30-110mm lens which produce great photographs. The size of The Nikon 1 J1 is so compact you can use it when you don't want to carry a DSLR. My Nikon P7100 is great for parties but for low light the Nikon 1 J1 beats it hands down. The built in flash is great. I wish it had an optical viewfinder however the LCD is very bright.
July 21, 2013
Excellent camera in small package. Do I need still my D50 ?
I bought this camera week ago and must say.....great. I did not expect a much but after I take a few pictures and see them on my computer I was in shock. Really there is no differences between pictures taken using Nikon D50 and J1. I'm not professional photographer but this camera is awesome. To take a picture is very easy , and the quality of pictures especially in RAW format is so good. Also close up are amazing .Details are so clear and sharp .. Built in flash is the best I ever seen in compact camera . It was the best choice I ever made buying a camera. After few mistakes with "power shoot's" and other gizmos finally got a super compact DSLR quality camera with changeable lenses.
July 6, 2013
Really nifty camera!
This camera takes great shots that are almost at a professional level, and you can take it anywhere because of its small size.
April 1, 2013
Amazing!!!
This camera is a must in families. I don't know what I did without it for so long. Thought the one I had was good, but this is amazing! It's great for action sports. My family rides dirt bikes and now I can get clear action shots of them just about every time. I simply love this camera!!!
February 27, 2013
118

Questions
|
128

Answers
Product Q&A
Ask your questions. Share your answers.