Key Features
Snap-on lens hood provided with select NIKKOR lenses.
By reducing the amount of non-essential light falling onto the front lens element, lenses can better achieve their optimum optical performance, producing more saturated images.
Use of specifically engineered Nikon lens hoods is highly recommended.
In less-than-ideal lighting conditions, the performance difference can be substantial.
Product Q&A
Ask your questions. Share your answers.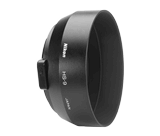 HS-9 Rubber Lens Hood
Jul 19, 2013 by
by
Beginning Photo
Rio Vista, CA, USA
1
out of
1
found this question helpful.
Was this helpful?
helpful
1
unhelpful
0
http://answers.nikonusa.com/answers/7022-en_us/product/543/question/1037641/undohelpfulness.djs?format=embeddedhtml&sessionparams=__BVSESSIONPARAMS__&return=__RETURN__&innerreturn=http%3A%2F%2Fanswers.nikonusa.com%2Fanswers%2F7022-en_us%2Fproduct%2F543%2Fquestions.djs%3Fformat%3Dembeddedhtml%26scrolltotop%3Dtrue%26expandquestion%3D1037641&user=__USERID__&authsourcetype=__AUTHTYPE__&submissionparams=__BVSUBMISSIONPARAMETERS__&submissionurl=__BVSUBMISSIONURL__
10 months ago
by
Beginning Photo
Rio Vista, CA, USA
Location : 
Rio Vista, CA, USA
Favorite Subject: 
Family & Friends
Role: 
Just getting started with photography
Answers
0
out of
0
found this answer helpful.
Was this helpful?
helpful
0
unhelpful
0
http://answers.nikonusa.com/answers/7022-en_us/product/543/answer/1222993/undohelpfulness.djs?format=embeddedhtml&sessionparams=__BVSESSIONPARAMS__&return=__RETURN__&innerreturn=http%3A%2F%2Fanswers.nikonusa.com%2Fanswers%2F7022-en_us%2Fproduct%2F543%2Fquestions.djs%3Fformat%3Dembeddedhtml%26scrolltotop%3Dtrue%26expandquestion%3D1037641%26expandanswer%3D1222993&user=__USERID__&authsourcetype=__AUTHTYPE__&submissionparams=__BVSUBMISSIONPARAMETERS__&submissionurl=__BVSUBMISSIONURL__
Answer: 
No, its for the 50 f/1.4D only