Key Features
Practical, flexible arm with clips at either end to enable small objects, such as a diffuser to be held static in front of the lens during close-up photography. The other end can be attached to a firm surface, such as a tabletop.
The SW-C1 cannot support Speedlight units or cameras.
The SW-C1 can also be attached to the guide groove of the Attachment Ring SX-1. For example an additional purpose might be to use two SW-C1 units to support a ruler for a scale reference during close-up photography.
Product Q&A
Ask your questions. Share your answers.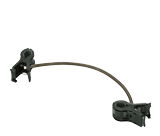 SW-C1 Flexible Arm Clip
0
out of
0
found this question helpful.
Was this helpful?
helpful
0
unhelpful
0
http://answers.nikonusa.com/answers/7022-en_us/product/4906/question/1184399/undohelpfulness.djs?format=embeddedhtml&sessionparams=__BVSESSIONPARAMS__&return=__RETURN__&innerreturn=http%3A%2F%2Fanswers.nikonusa.com%2Fanswers%2F7022-en_us%2Fproduct%2F4906%2Fquestions.djs%3Fformat%3Dembeddedhtml%26scrolltotop%3Dtrue%26expandquestion%3D1184399&user=__USERID__&authsourcetype=__AUTHTYPE__&submissionparams=__BVSUBMISSIONPARAMETERS__&submissionurl=__BVSUBMISSIONURL__
how long is it
how wide do the clamps open
Answers
0
out of
0
found this answer helpful.
Was this helpful?
helpful
0
unhelpful
0
http://answers.nikonusa.com/answers/7022-en_us/product/4906/answer/1403360/undohelpfulness.djs?format=embeddedhtml&sessionparams=__BVSESSIONPARAMS__&return=__RETURN__&innerreturn=http%3A%2F%2Fanswers.nikonusa.com%2Fanswers%2F7022-en_us%2Fproduct%2F4906%2Fquestions.djs%3Fformat%3Dembeddedhtml%26scrolltotop%3Dtrue%26expandquestion%3D1184399%26expandanswer%3D1403360&user=__USERID__&authsourcetype=__AUTHTYPE__&submissionparams=__BVSUBMISSIONPARAMETERS__&submissionurl=__BVSUBMISSIONURL__