Key Features
The CL-M3 is a Semi-soft lens case.

Comes with an attached carrying strap.
CL-M3 Semi-soft Lens Case
3
3
CL-M3 Semi Soft Case is Great Thanks!
I bought two of these cases for my Nikon lenses and am very pleased with them. For extra protection the Nikon Lens Bags with the pull tops fit into the cases. Waiting for them to restock to order additional cases.
May 12, 2014
Easy Access
I own two of these bags. I enjoy the combination of a velcro opening and zippers. For quick storage on the hip I use the velcro and after accomplishing the lens change I can follow up with the zippers. Very efficient. The bags protect the lens very well, better than the Lowepro and Tamaron lens cases I also own. A BIG draw back is that the belt loop is closed such that the belt has to be threaded through otherwise the loop is very secure. Because the bag is loose around the lens it tends to hang out from the belt more than I would like, this is where the Lowepro and Tamaron are better.
April 6, 2011
Almost
It seemed like a nice casse, tough and well padded with fast access. But after just a few hiking trips the belt loop began to tear away. The same thing happened with the much lighter case for my sb-900 flash which was even more surprising given how light it is. Was quite disappointing, it would be nice to get some of the weight off my shoulders and onto a belt.
July 22, 2010
Product Q&A
Ask your questions. Share your answers.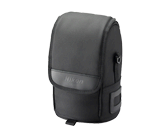 CL-M3 Semi-soft Lens Case
0
out of
0
found this question helpful.
Was this helpful?
helpful
0
unhelpful
0
http://answers.nikonusa.com/answers/7022-en_us/product/4921/question/519656/undohelpfulness.djs?format=embeddedhtml&sessionparams=__BVSESSIONPARAMS__&return=__RETURN__&innerreturn=http%3A%2F%2Fanswers.nikonusa.com%2Fanswers%2F7022-en_us%2Fproduct%2F4921%2Fquestions.djs%3Fformat%3Dembeddedhtml%26scrolltotop%3Dtrue%26expandquestion%3D519656&user=__USERID__&authsourcetype=__AUTHTYPE__&submissionparams=__BVSUBMISSIONPARAMETERS__&submissionurl=__BVSUBMISSIONURL__
Does the CL-M3 Semi-soft Lens Case come with Styrofoam inserts specifically shaped for the 14-24mm lens?
Answers
0
out of
1
found this answer helpful.
Was this helpful?
helpful
0
unhelpful
1
http://answers.nikonusa.com/answers/7022-en_us/product/4921/answer/635795/undohelpfulness.djs?format=embeddedhtml&sessionparams=__BVSESSIONPARAMS__&return=__RETURN__&innerreturn=http%3A%2F%2Fanswers.nikonusa.com%2Fanswers%2F7022-en_us%2Fproduct%2F4921%2Fquestions.djs%3Fformat%3Dembeddedhtml%26scrolltotop%3Dtrue%26expandquestion%3D519656%26expandanswer%3D635795&user=__USERID__&authsourcetype=__AUTHTYPE__&submissionparams=__BVSUBMISSIONPARAMETERS__&submissionurl=__BVSUBMISSIONURL__
Answer: 
The inside of the case with hokey white foam on the top and bottom