GP1-CA90 Accesory cable for GP-1
GP1-CA90 cable for connection to cameras with accessory terminals. Cable for connecting the GP-1 to a D90 or D5000. Comes supplied with the GP-1.
$56.00
*

SRP

SRP (Suggested Retail Price) listed only as a suggestion. Actual prices are set by dealers and are subject to change at any time.
GP1-CA90 Accesory cable for GP-1
1
1
GP-1 is Great - CA90 Miserably Designed Cable
I was a "first adopter" of the GP-1 over a year ago when it first came out. The GP-1 has its quirks, but it works and provides a convenient and accurate means of geotagging photos directly. My camera is a D90, therefore, I have to use the CA90 cable to connect the GPS unit to my camera. The CA90 is an incredible weak point and point of damage and failure for both the GP-1 unit and the D90 port. Why? It sticks about a half an inch straight out from the left side of the D90 camera body. So, if the D90 is mounted on the hot shoe - which is the opitmal position to get GPS lock up - the cable has to travel 90-degrees connect to the camera body. This exposes the cable to damage and even worse, the port inside the D90 body to damage as the cable plug point is jostled and struck. I have personally gone through three cables, others have had a similar experience, however, I have been more fortunate than many others who have had their port damaged by the CA90 cable as it moves fore and aft due to incidental contact. The bottom line is the CA90 is poorly designed and should be recalled and replaced by another cable that provides more a of flush mount that would travel parallel to the camera body rather than directely perpendicular to it. I cannot believe given all the complaints, damaged CA90 cables, and damaged D90 bodies that Nikon has yet to remedy this situation.
October 26, 2010
Product Q&A
Ask your questions. Share your answers.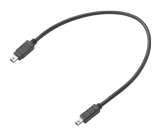 GP1-CA90 Accesory cable for GP-1
0
out of
0
found this question helpful.
Was this helpful?
helpful
0
unhelpful
0
http://answers.nikonusa.com/answers/7022-en_us/product/27002/question/531224/undohelpfulness.djs?format=embeddedhtml&sessionparams=__BVSESSIONPARAMS__&return=__RETURN__&innerreturn=http%3A%2F%2Fanswers.nikonusa.com%2Fanswers%2F7022-en_us%2Fproduct%2F27002%2Fquestions.djs%3Fformat%3Dembeddedhtml%26scrolltotop%3Dtrue%26expandquestion%3D531224&user=__USERID__&authsourcetype=__AUTHTYPE__&submissionparams=__BVSUBMISSIONPARAMETERS__&submissionurl=__BVSUBMISSIONURL__
For use in an airplane, we hope to purchase a GP-1 and set it further away from the camera (on the dashboard perhaps?) for better reception. Hard to tell how long the standard cord actually is, didn't see any specs. Would splicing one of these cables with an extension be possible without affecting performance?
Answers
0
out of
0
found this answer helpful.
Was this helpful?
helpful
0
unhelpful
0
http://answers.nikonusa.com/answers/7022-en_us/product/27002/answer/643614/undohelpfulness.djs?format=embeddedhtml&sessionparams=__BVSESSIONPARAMS__&return=__RETURN__&innerreturn=http%3A%2F%2Fanswers.nikonusa.com%2Fanswers%2F7022-en_us%2Fproduct%2F27002%2Fquestions.djs%3Fformat%3Dembeddedhtml%26scrolltotop%3Dtrue%26expandquestion%3D531224%26expandanswer%3D643614&user=__USERID__&authsourcetype=__AUTHTYPE__&submissionparams=__BVSUBMISSIONPARAMETERS__&submissionurl=__BVSUBMISSIONURL__