Key Features
Diffuses light from the speedlight to soften shadows.


Attaching it to the flash produces an omnidirectional diffused light.
The SW-14H Diffusion Dome is a rigid plastic diffuser that is placed over the Speedlight's flash head to soften shadows.

Product Q&A
Ask your questions. Share your answers.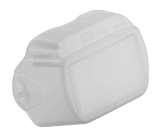 SW-14H Diffusion Dome
Jan 26, 2014 by
by
AGW11
Jersey City, NJ, USA
0
out of
0
found this question helpful.
Was this helpful?
helpful
0
unhelpful
0
http://answers.nikonusa.com/answers/7022-en_us/product/4963/question/1176787/undohelpfulness.djs?format=embeddedhtml&sessionparams=__BVSESSIONPARAMS__&return=__RETURN__&innerreturn=http%3A%2F%2Fanswers.nikonusa.com%2Fanswers%2F7022-en_us%2Fproduct%2F4963%2Fquestions.djs%3Fformat%3Dembeddedhtml%26scrolltotop%3Dtrue%26expandquestion%3D1176787&user=__USERID__&authsourcetype=__AUTHTYPE__&submissionparams=__BVSUBMISSIONPARAMETERS__&submissionurl=__BVSUBMISSIONURL__
I was wondering if I would be able to use this diffusion dome with my targus flash and would it give the same effect as a nikon flash?
4 months, 2 weeks ago
by
AGW11
Jersey City, NJ, USA
Location : 
Jersey City, NJ, USA
Favorite Subject: 
Family & Friends
Role: 
Just getting started with photography
Answers
1
out of
1
found this answer helpful.
Was this helpful?
helpful
1
unhelpful
0
http://answers.nikonusa.com/answers/7022-en_us/product/4963/answer/1380751/undohelpfulness.djs?format=embeddedhtml&sessionparams=__BVSESSIONPARAMS__&return=__RETURN__&innerreturn=http%3A%2F%2Fanswers.nikonusa.com%2Fanswers%2F7022-en_us%2Fproduct%2F4963%2Fquestions.djs%3Fformat%3Dembeddedhtml%26scrolltotop%3Dtrue%26expandquestion%3D1176787%26expandanswer%3D1380751&user=__USERID__&authsourcetype=__AUTHTYPE__&submissionparams=__BVSUBMISSIONPARAMETERS__&submissionurl=__BVSUBMISSIONURL__