Key Features
Connect additional TTL Speedlights with the three TTL flash units.
Attaches to the SB-800, SB-50DX, and SB-30.

The AS-10 TTL Multi-Flash Adapter allows for the hard wired connection of additional TTL Speedlights, using the SC-26 or SC-27 Sync Cords.
11

Questions
|
11

Answers
Product Q&A
Ask your questions. Share your answers.
11

Questions
|
11

Answers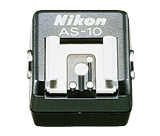 AS-10 TTL Multi-Flash Adapter
0
out of
0
found this question helpful.
Was this helpful?
helpful
0
unhelpful
0
http://answers.nikonusa.com/answers/7022-en_us/product/4560/question/1008647/undohelpfulness.djs?format=embeddedhtml&sessionparams=__BVSESSIONPARAMS__&return=__RETURN__&innerreturn=http%3A%2F%2Fanswers.nikonusa.com%2Fanswers%2F7022-en_us%2Fproduct%2F4560%2Fquestions.djs%3Fformat%3Dembeddedhtml%26page%3D2%26scrolltotop%3Dtrue%26expandquestion%3D1008647&user=__USERID__&authsourcetype=__AUTHTYPE__&submissionparams=__BVSUBMISSIONPARAMETERS__&submissionurl=__BVSUBMISSIONURL__
Hello, I've 3 SB-600 and 1 SB-800 and I want to connect them by TTL cable because the CLS Flash System doesn't function when there is to much light, for example in sun condition for a synchronization high-speed.
I want to let the SB-800 on my Nikon D800 and connecting the master Flash SB-800 to the others SB-600 using sync TTL cord like SC-18 or SC-19 and three AS-10. Does it work ?
Thank You
5 months, 3 weeks ago
Experience: 
More than a year
Role: 
Professional photographer
Answers
0
out of
0
found this answer helpful.
Was this helpful?
helpful
0
unhelpful
0
http://answers.nikonusa.com/answers/7022-en_us/product/4560/answer/1234216/undohelpfulness.djs?format=embeddedhtml&sessionparams=__BVSESSIONPARAMS__&return=__RETURN__&innerreturn=http%3A%2F%2Fanswers.nikonusa.com%2Fanswers%2F7022-en_us%2Fproduct%2F4560%2Fquestions.djs%3Fformat%3Dembeddedhtml%26page%3D2%26scrolltotop%3Dtrue%26expandquestion%3D1008647%26expandanswer%3D1234216&user=__USERID__&authsourcetype=__AUTHTYPE__&submissionparams=__BVSUBMISSIONPARAMETERS__&submissionurl=__BVSUBMISSIONURL__