This new flagship offers speed and accuracy with a 16.2 MP FX-format CMOS sensor, 10 fps continuous shooting, a 91,000-Pixel RGB sensor and Advanced SRS, improved 51 point AF System, ISO expanded to 204,800 and 1080p video at 30p with stereo sound.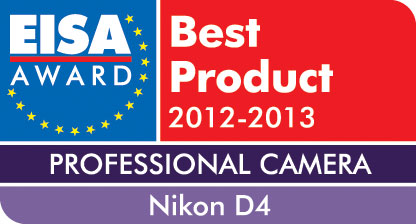 $5,999.95
*

SRP

SRP (Suggested Retail Price) listed only as a suggestion. Actual prices are set by dealers and are subject to change at any time.
AN-DC7 strap
EN-EL18 Rechargeable Li-ion Battery
MH-26 Battery Charger
UC-E15 USB Cable
USB Cable Clip
BF-1B Body Cap
BS-2 Accessory Shoe Cover
UF-2 Connector cover for stereo mini plug cable
UF-1 Connector cover for USB cable
Nikon View NX2 CD ROM
Transmitter Utility CD
Continued…. The Guru of SLRs - Nikon D4
The Nikon D4 excels with regards to sports and action photography. It allows you to get the shot before anyone else. The other factors like its metering, auto white balance and face-recognition all work twice as hard and fast to keep those frames per second truly great. The ISO range is fantastic. The D4 weighs much less and is very comfortable handling. It will definitely be the choice for photo journalists shooting the Olympic Games this summer. The WT-5 Wi-Fi transmitter enables Live View image to be seen on the iPad/iPhone and it can be used remotely to control the shooting mode, select the AF point and trigger the shutter. Overall this is an Awesome Camera.
July 9, 2012
The Guru of SLRs - Nikon D4
I have used an F5 (special edition) for 14 years and recently joined the family of Digital FX, the D4. Though I never owned a digital SLR, I have used various plenty D-SLRS and must say D4 outshines in all facets of photography. I feel my wait for the D4 had been momentous since F5 and D4 shares many features specially the same 11 fps shooting speed which is fair enough for any sort of photography, the dials, buttons and displays and most of all the same body platform. The image quality is outstanding as they are rich and sharp. Good Job Nikon and your Crew.
June 28, 2012
D4 - How to Perfect Perfection
I am NOT a professional photographer. In fact, I owned the Nikon D3 and now, the D4 only to make family pictures and document my life, which I consider to be an equally worthy pursuit as the business professionals that use this as a tool for their livelihoods. However, the fact that I am not a professional may color the perspective of my review, so take it for what it's worth ... My first Nikon "pro body" was the Nikon D3 and I skipped the D3s, which had I not done so, I would probably have skipped the D4. So, to me the upgrade path from the D3 to the D4 was significant. I also own the Nikon D7000 (walk around camera) and the Nikon D800 (to make those pictures that really need 36 million pixels to punctuate). The sensor on the D4 is a major upgrade over the D3. I always felt the D3 sensor produced images that were a tad bit "warm" in color and didn't handle indoor lighting as well as I expected a professional DSLR to do. That is not a problem with the D4 and in fact, I find the opposite is true now -- I have to punctuate the color on some of my D4 pictures, as the RAW files from the D4 seem a bit cool (pun intended too). Generally, colors (especially for skin tones) are far more accurate on the D4 (even indoors) ... a characteristic it shares with both the D800 and D7000. But I love the way Nikon tweaked the profile on this new sensor. ISO - well, what's there to say? I can shoot at ISO 6400 and get results (signal to noise) that are equal or better to the D7000 at ISO 800 (not a fair comparison). The other day, we were in a dingy restaurant in New York City (dark - think candle light) and I was shooting my 13-mo. old daughter with the 85 f1.4G (that lens doesn't focus at close distances) and popped the ISO to 12000 and when I later pulled them from the camera, I was shocked there was so little noise in the photos. Blown up to 100%, sure there is noise, but really well controlled at such a crazy high ISO. I didn't even want to try ISO 204000, since I figured those were not pictures I wanted to see unless it was a dire emergency and I had to take the picture or forever lose a most precious moment. With an additional 4 million pixels over the D3 and D3s, I assumed it would do worse (although I read reviews that it does do worse than the D3s), I was astonished to see the performance over the D3. I even went to a NYC "big box retailer" to compare against the Canon EOS 5D Mark III and as good as that camera is, the D4 quashes its ISO performance - they didn't have the Canon EOS 1Dx displayed, so couldn't compare the D4 against that camera. I am impressed. XQD and Compact Flash (CF) slots - in a word, annoying!!! Even though it came with the XQD 16GB card and reader, still annoying. I understand that CF has long reached its limits and even with mfgs boasting of 1000x read/write speeds, the actual realizable speeds with CF are far less than they claim, whereas after using XQD, I have no doubt that it can actually do 125 mbps (no lie). XQD may be the future of pro memory cards, but this is a pretty gutsy call on Nikon's part to force its pro users to early adopt a format that is still in flux. But hey, if you're going to early adopt, then go all out ... no holds barred. Why on Earth do you want to limit my 2nd card slot to CF, which now slows my redundancy or forces me to abandon the 2nd card slot ... that was a bad call by Nikon, although I understand the business rationale that is the basis for this decision. And moreover, if the D4 was to adopt the XQD, why use CF and SD on the D800? I am not sure I understand or fully appreciate Nikon's decision on this point. USB 2.0? Really? If adopting 2 different card slots was silly, then this is just STUPID. I was expecting that Thunderbolt connection that Apple and Intel are selling, which also doesn't seem to attract a whole lot of interest. If the market abandons Thunderbolt, then USB 3.0 promises to be the future I/O port, so I would expect the D4 to use that technology, especially since the D800 supports USB 3.0. AF - now, this is a point that I debate with myself. It's right on, and somewhat clairvoyant. That's the good news, but in terms of speed, I'm not sure I see significant speed over the D3, even though it focuses in less light. The other issue I seem to have is that the shutter seems to fire without the AF acquiring focus -- an issue that I did not have with the D3. I am going through the Ulysses-like instruction manual to figure out if I'm missing a setting, or if my technique is flawed somehow. I do like the D4's AF over the D800's b/c there are no black boxes that obscure my subjects. Okay, so for now, I call the AF a draw. Video, well that's fantastic even though it can't acquire focus as fast as my 6-yr. old video camera that was about $300. I guess at this stage in the technology game, it's either phase change AF or contrast AF, and we must remember that this is primarily a STILL CAMERA, not a video camera. It's nice to be able to take HD video at 1080p - and those crop factors are very useful. Personally, I didn't think I'd use them much, but then taking video of my daughter, it was nice to get that crop magnification. The video is crisp and clear and I love the bokeh from the FX sensor, which I can't do on my small video camera b/c of the DOF. HDR / time lapse / light up buttons - great to see Nikon bring consumer functions into a pro body, and not even very well. Look, bracket RAW pictures at various exposures and shoot at that stunning 10 fps, and just combine them in Photoshop CS5. At 10 fps, one doesn't even need a tripod to bracket and do HDR pictures. Personally, to me, HDR is for people that can't seem to get decide on exposure for their pictures ... it's a cool effect but pick an exposure. The buttons, why don't they all light up Nikon? Every electronic device since 1995 has had backlit buttons and I don't remember any of those electronics costing $6,000 USD. OK, so what's the ultimate verdict here from this amateur photographer, on this Nikon pro body? Well, there are good and bad points here, but I have to settle on what is this tool designed to do and how well does it do it. This camera body is designed to capture those moments that other cameras simply cannot capture ... in pictures (not video). To that end, it is phenomenal at fullfilling its purpose. I dare say that I have not seen a camera that can capture a moment as well as the Nikon D4. I have caught candid moments and intimate expressions that I would miss with the D800 at 4 fps - the D4's 10 fps and AF are simply blistering fast and married to the XQD card; well, shoot away. This is not a careful composer's camera choice like the D800 or perhaps Leica - this is a hunt an kill camera ... as in hunt the target and shoot and get the picture. This is a camera that has a metering system that is so precise that it can properly expose a human face in harsh bright backgrounds of the afternoon sun, and has such awesome dynamic range to not blow out everything else and still capture sufficient detail. This is not your candid street camera that you can stick in someone's face without too much objection ... if you shoot a subject with the D4 with the holy trinity of lenses (especially) 14-24 f2.8, 24-70 f2.8, 70-200 f2.8, that subject is aware he/she is being shot ... even my fearless Jack Russell Terrier is fearful of the blistering 10 fps SLR flapping up/down. But then again, that's what this camera was designed to be ... the evolution of the perfect professional DSLR: rock solid and built to military grade, to enable the photographer to get the perfect shot in the most imperfect of environments with enough detail to wow the viewer of the picture. I love this DSLR and I consider a significant upgrade over the original revolutionary DSLR (D3), and that is how Nikon perfected an already perfect professional DSLR.
June 12, 2012
The Mighty D4!
I have had my D4 for only 6 weeks and it has turned out to be a fantastic camera for performance and resolution! I moved up to the D4 from a D300 and I am not looking back. I was enticed by the 11 fps shooting speed, which will come in very handy for airshows and action photography. The image quality is superb! At 16MP, images are rich and sharp. Even though I also bought a D800 for landscape and portrait work, the D4 will be my goto body for most everything that does not require a tripod. Well done Nikon!
June 4, 2012
New D4 - Replacing D3
I have used a D3 for years and just recently upgraded to the D4. Everything about this camera is top-notch! I am enjoying my purchase and feel confident in my purchase. I need to include a small comment about the camera's White Balance function. Initially, I noticed the introduction of too much green in my images. This occurred with both Auto White Balance and Pre-set Custom White Balance. With out any white balance bias on my part through a custom shift, the images resulting were noticeably too green. I have overcome this issue through the use of a White Balance Shift by moving away from green. I don't see this inconvenience as a major problem, but I would certainly like to see this minor issue corrected as I do not wish to have to intervene on a regular basis with a 'Shift' to the Auto White Balance or Preset Custom White Balance settings default to the camera. The auto focus system is extremely efficient. The plethora of customization features are a great asset. The extent to which this camera can be customized is incredible! The build could not be better. The improved LCD previews are very good. The improvements over its predecessor have been well engineered. I am very content with this piece of equipment for my professional portrait photography. I am a proponent for Nikon equipment and do certainly recommend it to my colleagues as a reliable brand.
May 13, 2012
Product Q&A
73

Questions
 | 
96

Answers
Best of CES 2012
Anna Attkisson posted LAPTOP magazine's Best of CES 2012 award winners, naming the Nikon D4 D-SLR the Best Camera. Attkisson said, "Nikon's new flagship DSLR, the D4, makes every other camera feel inadequate." She added that for prosumers and aspiring filmmakers, "the D4 is the pinnacle."
January 2012
Best of CES 2012
Daniel Bruns posted the winners of the Videomaker magazine Best of CES 2012 awards, announcing that the Nikon D4 D-SLR won Best of Show. He explained that the awards were created to help readers of the magazine find products that are: "especially innovative, affordable, dependable, easy-to-use, and most of all products which empower each of you to make better video."
January 2012
Best in Show | Best Digital Cameras at CES 2012
Digital Trends posted their choices of best digital cameras that the editors saw at this year's CES show, naming the Nikon D4 D-SLR Best in Show. She said the D4 "more than impressed" the editors. McHugh said the camera is "faster than fast, shoots great video and has adjusted the ergonomics for quicker and better use," adding that, "everything pales to the camera's speed and image processor."
January 2012
Nikon D4 D-SLR Review
by Jim Fisher
April 2012
Jim Fisher posted his review of the Nikon D4 D-SLR on the pcmag.com website, giving the camera 4.5 stars out of 5 and naming it an Editor's Choice for full-frame D-SLR cameras. Fisher was impressed with many features of the camera, calling its viewfinder "stunning" and with all the physical controls you'd need while shooting at your fingertips. Of the D4 D-SLR's video functionality, Fisher said "its video capability is almost as impressive as its still features." Fisher calls the D4 "a pro shooter's dream." Other features that impressed Fisher were the camera's quick start and autofocus, variety of connectivity options and low noise. He stated: "The ISO performance of the D4's sensor truly amazed me…" Fisher said that the D4 is "arguably the finest" Nikon D-SLR; perfect for photographers who value speed and image quality at higher ISOs over pure resolution.
Nikon D4 D-SLR Review
by Dan Havlik
May 2012
Dan Havlik posted his review of the Nikon D4 D-SLR on the PDNonline.com website, touting the camera's speed and design. He found the camera "feels solid" and offers photographers an ergonomic design with improvements in the vertical grip, added function and AF buttons and back-illuminated buttons. "Overall, the D4 feels like a tighter ship than the previous models, with design improvements and refinements that subtly improve the camera's shooting experience," he said. Havlik noted that the AF was speedy and spot-on; and the camera's low-light performance at high ISO produced clean images. Havlik added: "Speed is this 11-fps-shooting D-SLR's forte and the Nikon D4 delivered, allowing us to shoot and freeze action in a range of lighting conditions."