Key Features
This case is made from genuine leather and was designed specifically to protect and store the COOLPIX A. Strap included for easier carrying while on-the-go.
Product Q&A
Ask your questions. Share your answers.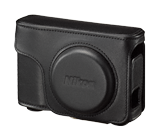 COOLPIX A Leather Body Case
Apr 21, 2013 by
by
New CoolpixA user
Los Angeles, CA, USA
1
out of
1
found this question helpful.
Was this helpful?
helpful
1
unhelpful
0
http://answers.nikonusa.com/answers/7022-en_us/product/93543/question/978321/undohelpfulness.djs?format=embeddedhtml&sessionparams=__BVSESSIONPARAMS__&return=__RETURN__&innerreturn=http%3A%2F%2Fanswers.nikonusa.com%2Fanswers%2F7022-en_us%2Fproduct%2F93543%2Fquestions.djs%3Fformat%3Dembeddedhtml%26scrolltotop%3Dtrue%26expandquestion%3D978321&user=__USERID__&authsourcetype=__AUTHTYPE__&submissionparams=__BVSUBMISSIONPARAMETERS__&submissionurl=__BVSUBMISSIONURL__
Is it mounted to the camera at the tripod mount? Is it a single cover piece that unfolds from the front, over the top and down the back? How about a photo?
1 year, 1 month ago
by
New CoolpixA user
Los Angeles, CA, USA
Location : 
Los Angeles, CA, USA
Nikon Family: 
11-20 years
Role: 
Serious passion, hobbyist
Answers
0
out of
0
found this answer helpful.
Was this helpful?
helpful
0
unhelpful
0
http://answers.nikonusa.com/answers/7022-en_us/product/93543/answer/1182227/undohelpfulness.djs?format=embeddedhtml&sessionparams=__BVSESSIONPARAMS__&return=__RETURN__&innerreturn=http%3A%2F%2Fanswers.nikonusa.com%2Fanswers%2F7022-en_us%2Fproduct%2F93543%2Fquestions.djs%3Fformat%3Dembeddedhtml%26scrolltotop%3Dtrue%26expandquestion%3D978321%26expandanswer%3D1182227&user=__USERID__&authsourcetype=__AUTHTYPE__&submissionparams=__BVSUBMISSIONPARAMETERS__&submissionurl=__BVSUBMISSIONURL__