Flagship pro D-SLR with a 12.1-MP FX-format CMOS sensor, blazing 9 fps shooting at full FX resolution and low-noise performance up to 6400 ISO.
EN-EL4a Rechargeable Li-ion Battery
MH-22 Quick Charger
UC-E4 USB Cable
EG-D2 Audio Video Cable
AN-D3 Camera Strap
BF-1A Body Cap
BS-2 Accessory Shoe Cap
DK-17 Eyepiece
BL-4 Battery Chamber Cover
USB Cable Clip
Software Suite CD-ROM
*Supplied accessories may differ depending on country or area.
Worth the wait
This Nikon body was the first entry into the FX sensor, and it was definitely worth the wait. Here is a snippet of an article I wrote on it: What I like about the D3: FX full frame sensor that equates with returning the original angle of view to my wide-angle lenses. Image quality. Oh, yeah. Nikon metering and autofocus is terrific. The D3 will mount almost any Nikon lens made in the last 25 years. Nikon flash technology is years ahead of Canon in my opinion. Excellent battery life, and the batteries from my D2X and D3X interchange. Comfortable ergonomics. Controls (mostly) positioned where I expect them to be. Most shoots I do don't require me to delve into the menus.
April 16, 2011
No more deep thought
years ago, I used a 4 x 5 view, a Weston meter and a black cloth, not to mention loading and unloading film holders every night- but that was very long ago Now as a limited pro photog. I own this incredible D3, of one of the finest cameras ever made. Almost just frame, point and shoot - yes there are settings to be concerned with, however this marvelous piece of technology does so very much for the holder. NIKON D3-none finer!!
April 16, 2011
Excellent, Versatile Camera Body
I do a variety of work ranging from fast paced event/ working /sports subjects to landscapes and products. Shooting environments range from in a studio to out into remote areas in all sorts of weather including heavy snow and rain. Through all of this the D3 works marvelously. Continuous shutter and AF speeds make it a perfect sports body. Its FX sensor's high ISO performance make it perfect for shooting weddings or other low, available light only. 12 megapixels gives you enough resolution to shoot commercially with it as well. Ergonomics are fantastic. Adjustments can be made without leaving the viewfinder and your hands won't hurt from holding it all day. Because it uses the Nikon F-mount you have access to a vast amount of lenses to meet any of your needs. All of these qualities make it, the updated D3s, and the D700 the most versatile camera bodies on the market.
April 15, 2011
A real workhorse
The D3 is superior in quality to many newer competitors models offering higher mega-pixel counts. Works consistantly, very dependable, a real workhorse! Easy to navigate, accessories work reliably, As a professional it makes perfect economic sense to depend on the best.
April 14, 2011
Speed shooter
I had to buy another D3 just for the speed shutter. I did not need a video camera.This is a fantastic camera. I will do anything you set it to do.Great Great shooter....I now own 2 D3 cameras with a D700 and a D200. Also a Nikkor 800mm,24-70 nikkor-70-200 lense-300mm manual focus lense-Nikon 2x entender-14-24 lense all f2.8 and a Mb10 power pack for the D700. What a perfect set of cameeras to shoot anything i want...Happy Camper. Alaska is my June trip ths year....
February 24, 2011
Got this camera as a x-mas gift. It is an awesome camera, easy to use, great built-in features & great for a first time user. I highly recommend this camera for a beginner or a pro.
December 29, 2010
D3, the best Nikon I have ever owned
For its quality of image, its high ISO capacity, its protection against dust (except sensor) and water, the possibility to use a micro-Nikkor I bought in 1973, the D3 is the best Nikon I have ever owned. I have had and used Nikons cameras since 1973 (including the whole Fn range except for the F6), this is the camera that feels and performs the best wherever I go, from tropical rainforest to extreme cold, sports or photojournalistic photography to landscape... Its huge versatility makes it a formidable asset for the dedicated photographer. Hoping for the next model to include a slightly higher pixel count (without curtailing the ISO/lack of noise capacity of the D3) and a sensor-cleaning possibility that does not require having to send the camera back to Nikon (for safety). Thank you again Nikon!
December 1, 2010
The perfect digital solution
Full frame with huge pixels makes this camera the perfect companion to my F6. My digital assignments don't require huge files, this is why the D3 works great for those projects that need fast turnaround. The 8.4 pixel pitch means no diffraction and loss of image quality at f16.0. I make 24" x 36" prints with beautiful details and color. Will I upgrade to the D3x? At this time I don't need that much in a digital body, but I do know the pixel pitch is 5.9 and I would still be able to maximize depth of field if I wanted to step up to 24mp. This picture was taken with an old 1980's era Nikkor lens, the 28 f3.5 at f16.0 and is one of my biggest sellers.
November 10, 2010
Wow! Awesome Camera!
We own 4 of the Nikon D3! We use them day in and day out for our Wedding Photography and Portrait Business and they always perfom great! All of the important controls, (ISO, White Balance, Flash Controls, High Speed Mode, Custom Function) are all easily accessable and intuitive to find and use. The 3" Screen cannot be underestimated, I originally saw it as a somewhat silly upgrade, but it has made a huge difference in conveying to us what we are capturing while we are shooting! Once you use these LCD's you cannot go back to anything else! The color is vibrant, accurate and sharp. You can easily and accurately determine correct focus and depth of field due to the high level of detail that these exception LCD's offer. The images are clear and crisp beyond belief! And don't let the "mere" 12mp fool you! The high level of quality that comes from the sensor and processor makes this camera perform well above what you would expect from 12mp! We regularly print crystal clear, beautiful 20x30 inch metallic prints without ANY worry of resolution! Resolution is more than adequate. We regularly shoot at 3200 ISO and below and the images are very usable, even for our high end wedding clients. I use 1600 ISO without even thinking twice and get wonderful images where often the noise in the image cannot even be seen. I love the Vivid Mode on these Cameras and I often use Custom Sepia Tones and Black and White Mode and they work quite well. The autofocus is spot on, even when shooting very dimly lit wedding receptions! I love the second shutter button on these cameras too! I very frequently shoot using the vertical grip and find a huge advantage in comfort, (which makes a big difference shooting a 10 hour wedding day), stabililty and intuitive control of the camera. I could go on and on about this camera, it really is awesome!
August 12, 2010
Work Horse
The D3 is never not hanging on my shoulder. I am street photographer and this baby performs! She has never let me down. My only complaint is some of the rubber padding is separating looks bad but she stills performs.
August 3, 2010
Changed the Photography World
The D3 changed everything for me as a wedding and portrait photographer. Amazing speed and low light capabilities. The best investment I have ever made!
July 31, 2010
Phenominal Camera
I usually wait for a year before purchasing a new release, but when I read about this model I new it was going to be the one time I purchased right away. I received mine shortly after it was out and I have not been sorry. This camera has impressed me in every way possible, from its high frame rate, its incredible exposure and color accuracy, to its clean high ISO settings. I am fussy about my photographs, and this camera makes me look even better. The files print well, and enlargements are most impressive. The camera is shaped well, and very comfortable to hold and shoot. The controls are well placed. The user interface is quick and easy to move through and when I am working, I find myself mindlessly making changes to my camera, allowing me to concentrate on my subject. I have had the D1 line, the D2 line, and this camera is light years beyond them.
July 30, 2010
Simply the Best
I don't have a single negative thing to say about this camera - it exceeds every detail in the product description - I have read some owners complaining or wishing it had a "sensor-cleaner", but this is not something that concerns me in the least...
July 30, 2010
The Best camera, Ever!
Words fail to express the incredible experience that shooting with this camera offers. From its incredible color to its noiseless chip. We routinely print 48"x60" prints straight out of this camera. Its high ISO ability alone is worth the price. This camera is better then the venerable F3HP, which I still own.
July 20, 2010
Shutter too loud!!
Great camera, BUT.....On my D3, the shutter is so loud and clunky that it cannot be used in many situations because it is too disruptive. My D300 is quieter, but both are much louder than comparable Canon DSLR's. PLEASE fix this! I cannot be the only one with this issue.
April 14, 2011
Great add ons
I am an international paparazzi and I use this camera as my backup in my bag along with using it in tight spaces such as clubs and other high security ares because bouncers do not like large equipment. The features that this camera allows to be added onto it is astounding that such a little camera can do such great things with lenses flashes and other add on technologies.
September 28, 2010
Has issues.
I was one of the first people to get my hands on this camera when it came out. Imagine my disappointment when the thing just wouldn't lock focus indoors. Very quickly, I found out that most of my colleagues who bought this camera have the same problem. I also discovered that both the D700 and the D300 have the same issues. Less then a year later, two shutter blades broke off with less then 25,000 actuations on the shutter and the rubber grip started pealing off. Nikon would not honor the warranty and charged me $375 to replace the shutter claiming that the famous 350,000 shatter actuations is only an estimate, but they corrected the focusing problem a bit. It is still not nearly as fast as my D2XS in focusing department, but the image, once you get it is superior to all other brands. Overall, I'm disappointed that a $5000+ camera has this many problems and that Nikon does not stand behind its product.
August 21, 2010
Product Q&A
Ask your questions. Share your answers.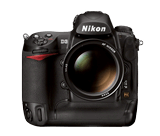 D3
1
out of
1
found this question helpful.
Was this helpful?
helpful
1
unhelpful
0
http://answers.nikonusa.com/answers/7022-en_us/product/25434/question/505907/undohelpfulness.djs?format=embeddedhtml&sessionparams=__BVSESSIONPARAMS__&return=__RETURN__&innerreturn=http%3A%2F%2Fanswers.nikonusa.com%2Fanswers%2F7022-en_us%2Fproduct%2F25434%2Fquestions.djs%3Fformat%3Dembeddedhtml%26scrolltotop%3Dtrue%26expandquestion%3D505907&user=__USERID__&authsourcetype=__AUTHTYPE__&submissionparams=__BVSUBMISSIONPARAMETERS__&submissionurl=__BVSUBMISSIONURL__
7 months ago
Favorite Subject: 
Family & Friends
Experience: 
More than a year
Role: 
Occasional user, memory keeper
Answers
0
out of
0
found this answer helpful.
Was this helpful?
helpful
0
unhelpful
0
http://answers.nikonusa.com/answers/7022-en_us/product/25434/answer/612401/undohelpfulness.djs?format=embeddedhtml&sessionparams=__BVSESSIONPARAMS__&return=__RETURN__&innerreturn=http%3A%2F%2Fanswers.nikonusa.com%2Fanswers%2F7022-en_us%2Fproduct%2F25434%2Fquestions.djs%3Fformat%3Dembeddedhtml%26scrolltotop%3Dtrue%26expandquestion%3D505907%26expandanswer%3D612401&user=__USERID__&authsourcetype=__AUTHTYPE__&submissionparams=__BVSUBMISSIONPARAMETERS__&submissionurl=__BVSUBMISSIONURL__
Answer: 
Here is Nikon's answer:http://support.nikonusa.com/app/answers/detail/a_id/2605/~/what-does-the-fee-or-f---error-message-displayed-on-an-slr-camera-mean%3F
July/August 2008, Nikon D3, Camera of the Year
The editors of American PHOTO crowned the Nikon D3 the Camera of the Year, applauding its light-gathering capabilities and amazing firing rate. They were also impressed with the Live View autofocus and overflow/backup memory card slots along with many other advanced features that allow the Nikon D3 to shine over its competitors. Editors also found that the D3's large viewfinder and prodigious responsiveness make you feel like you're taking better photos.
March 2008, D3 Review
by Shun Cheung
Photo.net's Shun Cheung named the D3 a "top choice" in his recent review, highlighting the D3's versatility in photographic applications both in and out of the studio. Cheung was blown away by the D3's prowess in low-light shooting situations, praising it as simply "wonderful." In addition, Cheung was impressed by the myriad of in-camera editing features, noting their effectiveness when making adjustments on the fly.
Nikon D3 Review
by Jonathan Barkey
November 2007
American Photo's Jonathan Barkey applauded the new Nikon D3 for setting world records. Barkey praised the D3's blazing-fast shooting capabilities and said its LCD screen was one of the sharpest in its class. Moreover, Barkey gave accolades to the D3's large and unbelievably smart autofocus system that generates some of the best images in its class.
Nikon D3 Review
by Michael McNamara
January 2008
Popular Photography and Imaging's Michael McNamara hailed the D3 as "The Greatest Nikon Ever," crowning it on the issue's cover and via a lengthy article naming the five main reasons for the D3's success. McNamara lauded the D3's rock-solid build and sophisticated design, praised the FX format, and advanced 51-point autofocus system as well.
February 26, 2008, Nikon D3
by J. Keenan
DigitalCameraReview.com's J. Keenan, a Nikon shooter since 1975, took the D3 for a test drive and was thoroughly pleased. Keenan was impressed by the D3's incredibly quick response and FX-format advantage when shooting at wide angles. The D3's solid build also won Keenan's heart with its ergonomic design, perfectly placed grips and weather sealing. Likening the camera to a thoroughbred racehorse, the D3 performed well past the quarter post in all areas including autofocus, battery life and, most importantly, image quality.
February 2008, Nikon D3
by Laurie Excell
Photoshop User's Laurie Excell lauded the D3 for its image-capturing excellence, commenting that Nikon has put the "wide" back in wide angle thanks to the D3's FX-format sensor. Excell was blown away by the D3's lightning quick response and stunning image quality, especially in low-light shooting situations and branded the D3 a Photoshop User
"Hot Pick."
February 2008, Nikon D3
by Dan Havlik
PDN's Dan Havlik dubbed the D3 the digital SLR camera Nikon shooters have been "pining for," chalking up the D3's performance to the integration of the FX-format image sensor and other camera innovations like Live View, blazing burst speeds and amazing low-noise performance at high ISO's. Additionally, Havlik enjoyed the large, bright, 3-inch LCD screen for composing and reviewing images and the benefit of recording to the D3's dual CompactFlash card slots