Rechargeable Li-ion Battery EN-EL5
AC Adapter EH-66
USB Cable UC-E6
Audio Video Cable EG-CP14
Strap AN-CP18
Software Suite CD-ROM
*Supplied accessories may differ depending on country or area.
Excellent for my needs
I am not a professional, but I do care about the artistic quality of my work.I used Nikons for years before moving to larger formats, so it was natural to turn to Nikon when digital came along. I am glad I did. I feel at home though I am a long way from exploring a it can do. I especially like using Nikon Transfer to view the images with Preview onmy Mac. If you have similar equipment and needs it is what you should think of.
July 23, 2010
Excellent compact Camera
This camera has many features to reccomend it. - Long duration rechargeable battery. - Strong pop-up flash. - High ISO capability. - Many Dail selections for shooting mode. - And, the ability to shoot in camera raw. .
July 23, 2010
Outdoes expectations
I am a broadcast editor, therefore picture quality is vital. I was actually expecting just a 'fair' result, as point and shoot is meant for all photographers, from beginners to experienced. But I did not expect the incredible features of this camera. My shots are fantastic. It is also 'easy learn'....it gives the shooter so many options and delivers 'make sense' instructions in one of the best 'manuals' I've seen. And in a world of manuals which sometimes hinder rather than help....this is laid out in just the right way....and is a real aid. My P6000 which I call my 'Sixer', now has a big brother, the P100. If it's as good as the P6000 I will be buying it for gift giving.
July 23, 2010
This is a fantastic camera with great quality
I like the size, not too small not too big and easy to carry around. I feel the camera solid in my hand. The picture quality is A1++. I had different one and I am impress with Nikon technology. Bravo
July 23, 2010
A Good Geotagging Camera
It has its pros and cons.... Overall I am satisfied with the Camera. Cons: First like any camera it can get dust dirt or debris inside the camera be careful mine got some sort of smudge inside even tho it's not a dslr type camera. Second the battery life. It will last more then 100 photos on a single charge but when my battery gets low my camera just dies no low battery waring it just stops taking photos and the lens stays out. I keep extra charged batteries on hand for when I need them. New battery all is fine. Pros: GPS capabilities fantastic you are able to Geotag photo place location great for photo mapping applications. Camera Does take good movies Decent Zoom Photo quality is amazing most of the time I do not even need the flash engaged to take pictures. Nikon's low light feature can blow you away.. The 13.5 megapixel sensor can make you take almost professional quality like DSLR photos, from a point and shoot. Ohh yah great technical support with Nikon as well for when or if you may need it.
July 23, 2010
Great Point & Shoot Camera
I bought this camera to take along on a trip to Mexico so that I would have to take along my pro Nikon camera and lenses. What I like about this camera is that it has all the point and shoot features you could ever dream of, as well as a GPS. But I can also set it up in manual, shutter priority, aperture priority and even do bracketing. So this camera is the best of both worlds. The P6000 takes great shots in daylight and night time. I highly recommend this camera for the people who like point and shoot cameras and for the pros who might just want to leave the heavy gear at home for a vacation.
July 23, 2010
A sterling performer - yet often underrated
To begin with, I shoot with well over 50 digital cameras - that's right...50! I shoot with a variety of Nikon gear and to be quite honest, I was very disappointed when Nikon stopped producing the likes of the ole' 5400, 5700, 8400, 8700, and 8800. But a few years ago Nikon released this gorgeous P6000. Unfortunately, it didn't take off as well as Nikon had hoped for - but that's the catch here. This P6000 is a sterling performer! No camera is perfect and I'm not saying that the P6000 is - but, this camera is capable of superb imagery and I'm consistently surprised at the high quality 13.5 MP output I'm getting from this camera. Now be sure to do the firmware updates if you haven't already done so - that's always important. The P6000 produces superbly defined images with a very rich color tonality. The camera has many features - many of which I haven't even used yet. It's built like the proverbial "tank," and I love to shoot its RAW format, which results in some really fantastic images. In fact, I'm quite surprised (pleasantly so) by the amount of dynamic range headroom available in P6000 RAW images - so that's all I shoot with it really. So it's unfortunate that initially, the P6000 didn't generate the kind of reviews that Nikon had hoped for. But after the firmware updates - and after being on the market for awhile, folks started warming up to the P6000 and discovering the true quality instrument that it really is. In fact, I purchased the Canon G10 and P6000 at the same time. Hands-down, I can state that IQ-wise, the P6000 is superior and I realize that this is purely subjective. But again - recall that I shoot with a variety of different brand cameras, so I can make the comparisons without hesitation (I don't comment in gear I haven't used). So if you can still find this awesome P6000, don't hesitate to pick it up - whether new or used. You won't be disappointed and I only hope that Nikon continues to pursue this particular line of digital cameras. Well done Nikon!!!
July 23, 2010
A real viewfinder and good performance.
I initially bought the P6000 based on the need for a compact camera to carry on an extended Asian trip. As a long time Nikon user, I naturally went there first. My requirements were for a real, optical viewfinder, and high performance. The P6000 has met all of my expectations and delivers excellent images. Now for the downsides: 1.Why the NRW format? NEF works fine on my other digital Nikons. 2.The controls can be accidentally moved by my large hands. 3.Battery life, 100~150 NRW's per battery. I carry several spares. However I've never noticed the battery going flat when the camera is unused for an extended period. Of course, I use it a lot. Would I buy it again? Yes. Would I recommend it? Yes
July 30, 2010
Like camera for what I bought it for.
I bought this camera primarily for it's size and RAW capabilities. But why NRW format? I use the camera under water in an inexpensive Dicapac bag and results are great. I also use it when I just want to carry something small to take pictures with. It has all the limitations of a small sensor camera, noise over ISO 400, Poor auto white balance. Manual white balance is well rendered. With film ware up date I don't have a problem with battery life.
July 25, 2010
Low battery life
I, too, have been disappointed with the very low battery life. If it is left unused for even a week, it is "dead" and needs recharging. Any advise=fix?
July 24, 2010
Great "pocket" camera - shoots RAW
Flexible, fully featured, easy to carry - surprisingly good images for a non DSLR. RAW capability was my primary selection criteria and I've been pleased with images in wide variety of shots - landscapes to portraits, Hasn't replaced the DSLR, but provides a light weight alternative.
July 24, 2010
Perfect for me - it's my carry-around camera
I got this camera as my carry-around. It is always in my pocket, sack or briefcase. The image quality is fine. Pros: - Image quality; - Controls and menus well laid out; - Size weight and "feel" in the hand; Cons: - GPS not really quick, but I don't use it anyway; - Battery life: I have a spare; My girlfirend's carry around is from another manfufacturer and I find it bulkier and less ergonomic.
July 24, 2010
Very good point and shoot with manual controls
The P6000 is an incremental evolution of the P5000 and P5100. The P6000 still retains many of the strong traits of its predeccesors. The camera takes excellent photos (particularly macros), is well built, simple to use, reliable, and gives manual control to a small point and shoot camera. I tested the GPS function when I first got the camera and found that it need about 2-1/2 minutes to achieve lock in a brand new location. This is understandable and very normal for any small GPS receiver. When the camera is near its last location it was able to achieve lock within 20 seconds. Again, this is normal behavior for all small GPS receivers. A better question is why does someone want a GPS in a camera. Personally I don't see it as a desirable feature, but other people may. Increasing the pixel count in the P6000 over the P5000 and P5100 was a marketing ploy that left me shaking my head. The increase in pixels does NOT result in a better picture, just larger files and slower follow-on shot performance as noted by other raters. The most irksome aspect of the P6000 is its increased current drain and subsequent requirement for more frequent battery charges/changes. This is not a big problem because I always carry a spare battery. However, it is annoying because the P5000 and P5100 gave better battery performance and produce equally good photos in slightly smaller packages. What's to like about the P6000, a lot! The camera produces good photos in the hands of a photographer who knows how to use a camera. Despite other peoples' comments to the contrary, I've had very good luck with the preset and user defined white balance features. The camera focuses accurately and quickly for a point and shoot. Colors are accurately captured and rendered. The ability to capture detail is truely amazing for a small point and shoot camera. I created a panoramic image from four shots with the P6000 and the 18" x 30" print was stunning. The camera is also rugged, constantly finding itself in the bottom of my backpack on trips where I don't have room to carry my D200. And the P6000 is a reliable performer. If you do not need to shoot RAW images or have a GPS function I would buy an older P5100. However, if you want to capture RAW images and have a GPS function the P6000 is an excellent performer.
July 23, 2010
Good back up for my DSLR
I use this camera while travelling as a back up that can fit into my pocket. I purchased it for the GPS function and generally use both my cameras at each location. I like the ability to use the camera RAW capabilty which is useful when post processing, I find the quality very good. I've only two complaints with the camera: The GPS is slow to activate and the battery life when using this function is restrictive, so I carry several batteries. I like this camera and would recommend it.
July 23, 2010
POOR BATTERY LIFE
THE ONLY THING I HAVE FOUND WRONG IS THAT THE BATTERY LIFE IS VERY SHORT IF YOU HAVE A FIX IWOULD LIKE TO BE ADVISED
July 23, 2010
Good with flaws
Most features function as expected from a Nikon camera. However I find the gps useless! (at least in South America and Israel). I did not expect this from a Nikon product. The lens cover does not open fully (many times). possibly this can be repaired (but my previous 3 Nikon's did require a repair). Last and least, the automatic white balance fails recognizing incandescent light. In summary, I set my expectations too high. However previous Nikon cameras met my expectations.
July 23, 2010
The 6000 CAN produce very acceptable images
Right of the bat, this camera is extremely hard on batteries, carry at least 2 spares. Tele and Wide angle only work occasionally even on my 2nd, the first one was worse. Since the Tele. and Wide angle are motorized it is very hard to get the result you want, manual is much smoother, mind you, I am a little spoiled by my D300, Auto focus is acceptable but seems to hunt more than necessary. On full Telephoto the viewfinder gets blurred but the image turns out sharp
August 1, 2010
Rushed to market - not quite ready for primetime
I bought this camera for my wife right after it was launched because of my positive experiences with the Nikon DSLR cameras, thinking that the mix of optics and features was exactly what I was looking for, as a gift for my wife. On the bright side: 1. The shutter lag is very short and the focus speed I have found to be quite good for a point-and-shoot (better than my D90 when using live view on it!) 2. The built in GPS allows to Geotag photos - really nice when doing a lot of travel photography. 3. Initially the battery life was dreadful, but after a firmware upgrade, the battery life is quite reasonable. Can do a full day of shooting outdoors with no trouble (200+ shots) 4. The dial-control model is quite familiar to me, although my wife does not care for it too much. Unfortunately the camera has some serious shortfalls: 1. The flash does not pop-up automatically when in full automatic mode. I would expect that the flash behaves the same as on my D90 - when in full Auto if the camera determines the flash is needed - pop-it up! 2. The GPS is really really really slow to acquire a signal, and if you forget to turn it off when you are not going to use the camera for a few days, you will come back to a dead battery - usually right when you are trying to get a quick picture! 3. We sometimes find it hard to tell the camera what to focus on and get a fair number of out of focus shots (granted it could be my wife's photography skills... but it is a point-and-shoot camera after all) Overall I have not been very happy with the camera, and am in the market for a replacement camera for my wife.
April 14, 2011
Truly appalling battery management
I like the camera. It is compact, feels good in my (large) hands, takes good photos and is easy to carry around. However, what enrages me almost every time I try to use it is that the battery has drained. I also have a D70s and, perhaps, am pampered by the battery life in that. However, I do NOT expect a camera to drain itself over a couple of weeks sitting switched off in a cupboard. It is simply not acceptable and means I'm unlikely to buy another Nikon compact. BTW - I never have been able to get the camera to upload photos via the network connector.
July 27, 2010
Get an inexpensive DSLR or a point & shoot instead
I have a D300 and bought this as a sub camera. Every time I try to use it, the battery is completely exhausted after a couple of weeks of non-use. I had the local store send it back twice to NIKON. First time, NIKON replaced the battery charger while there was nothing wrong with it. The second time I requested a replacement or a credit but they refused. Not much sense of purchasing an extended warranty! The major flaw is that the battery drains even when everything is switched off. There is no battery indicator until the power is just about exhausted, which you do not see. (Unlike DSLR which you can continuously monitor the battery health.) Now I bought a second battery and always carry it in the camera pouch. Manual focusing and other manual settings are cumbersome. GPS is useless. In effect, this camera is trying to be something it is not. This camera does not fit in a pocket anyway. When I did not want to carry D300, I borrowed D40 (or I suggest D3000 for the same price) and got far better results. (I had Coolpix 5200 and its price and my expectation were lower. I gave it to my son who still uses it for snapshots.) I have been a continuous NIKON user since NIKKOMAT, F3, D1 but I am very unhappy with this camera. I wonder whether I should have bought a similar, albeit slightly larger, camera from another maker instead.
July 24, 2010
Falls way below normal Nikon standards
I have owned many Nikons over the years, and have always been satisfied. This camera, though, is the exception. It never properly did all it was said to be able to do. Worked slowly and poorly (eg, NEF). I would have sold it off, except I could not do so in good conscience. I realize that a small camera like this cannot be expected to do what my D300 does, but it should do what is advertised. Nikon really stumbled badly with this one.
November 5, 2011
This is the 1st Nikon product in 30+ years i hate!
The camera has very nice external design features BUT unfortunately it has some very negative shooting aspects as follows; -Taking a single RAW image freezes up the camera for at least 5 seconds before you can take another -The GPS simply does not work most of the time in attempting to get a fix and when it does, even outdoors in perfect open sky clear conditions it takes at least 2 minutes negating the whole idea of being able to pull the camera out and taking a grab shot with a GPS fix imbedded in the image tag -Way too much noise even in medium lighting conditions because of the very small sensor size I wish I had better news about this pricey camera but unfortunately Nikon really missed the boat with this one. The only way to improve a camera like this is to design a APS-C sized sensor camera with a socket for the more powerful Nikon GP-1 external GPS antenna attachment!
July 23, 2010
Product Q&A
Ask your questions. Share your answers.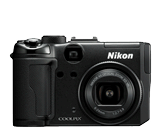 COOLPIX P6000
0
out of
0
found this question helpful.
Was this helpful?
helpful
0
unhelpful
0
http://answers.nikonusa.com/answers/7022-en_us/product/26135/question/636586/undohelpfulness.djs?format=embeddedhtml&sessionparams=__BVSESSIONPARAMS__&return=__RETURN__&innerreturn=http%3A%2F%2Fanswers.nikonusa.com%2Fanswers%2F7022-en_us%2Fproduct%2F26135%2Fquestions.djs%3Fformat%3Dembeddedhtml%26scrolltotop%3Dtrue%26expandquestion%3D636586&user=__USERID__&authsourcetype=__AUTHTYPE__&submissionparams=__BVSUBMISSIONPARAMETERS__&submissionurl=__BVSUBMISSIONURL__
Answers
0
out of
0
found this answer helpful.
Was this helpful?
helpful
0
unhelpful
0
http://answers.nikonusa.com/answers/7022-en_us/product/26135/answer/743743/undohelpfulness.djs?format=embeddedhtml&sessionparams=__BVSESSIONPARAMS__&return=__RETURN__&innerreturn=http%3A%2F%2Fanswers.nikonusa.com%2Fanswers%2F7022-en_us%2Fproduct%2F26135%2Fquestions.djs%3Fformat%3Dembeddedhtml%26scrolltotop%3Dtrue%26expandquestion%3D636586%26expandanswer%3D743743&user=__USERID__&authsourcetype=__AUTHTYPE__&submissionparams=__BVSUBMISSIONPARAMETERS__&submissionurl=__BVSUBMISSIONURL__
Answer: 
In principal .. it gets coordinates from the GPS unit attached to the camera, then saves them within the EXIF info with the pic file storing the location with the pic.
April 2009, Nikon COOLPIX P6000
by Backpacker Magazine
Backpacker Magazine awarded the Nikon COOLPIX P6000 with a 2009 Editors' Choice Award. Backpacker's staff stated that the P6000 was in a class of its own due to its built-in GPS unit and ability to capture crisp and color-rich photos with amazing clarity. Backpacker Magazine found the 2.7-inch LCD screen, full manual shooting modes, pop-up flash and the Optical and LCD Viewfinder helpful and versatile. Overall, the P6000 was declared the first affordable GPS-enabled digital camera for backpackers and hikers alike.
January 19, 2009, Nikon COOLPIX P6000
by Damon Webster
Photo Induced's Damon Webster said in his January review that the COOLPIX P6000 will provide any photographer with "excellent photographic results." Taking this camera on an assignment to Paris, Webster noted the camera's "smaller, lighter and more compact" size is a big plus while traveling. The in-camera GPS easily tracked where all Webster's photos were taken for later reference. Webster concluded by saying "it did what we expected, in a nice compact, light package."
January 18, 2009, Nikon COOLPIX P6000
by Jeff Keller
DC Resource's Jeff Keller was astounded by the COOLPIX P6000's plethora of features in his January review. Keller noted that features such as geo-tagging and the picture bank, which takes full advantage of the Ethernet port, makes this camera an extraordinary buy and plenty "bang for the buck." Keller also stated that the Optical VR image stabilization worked well at clearing image blur. Keller concluded by saying that even though the camera is geared toward the enthusiast, the COOLPIX P6000 has many features that even a beginner can appreciate.
October 2008, Nikon COOLPIX P6000
by Will Safer
Will Safer of Popular Science recently reviewed the Nikon COOLPIX P6000. Safer was amazed with the P6000's GPS feature and its ability to add the latitudinal and longitudinal coordinates of the location where a picture was taken. Though some camera phones already come with GPS features, Safer stated that no camera phone packed the photo-taking abilities of the COOLPIX P6000. Safer later praised the P6000 because of its 13.5 megapixels, its 4x zoom lens and its low-light shooting up to ISO 6400 sensitivity.
August 7, 2008, Nikon COOLPIX P6000
by John Biggs
New York Times tech reporter John Biggs was impressed with the newly launched Nikon COOLPIX P6000. Biggs claimed that travelers would enjoy the P6000's built-in GPS sensor and the ability to geo-tag photos while land lovers would take full advantage of the built-in Ethernet port. Biggs emphasized the P6000's rugged, magnesium alloy construction along with its 4x optical zoom lens, 13.5 megapixels and light sensitivity up to ISO 6400.