AF-S VR NIKKOR
300mm f/2.8G IF-ED
This fast f/2.8 telephoto lens features Nikon's VR II image stabilization technology and Nano Crystal Coat and high-speed AF for exceptional optical performance.
52mm filter holder
LN-1 strap
HK-30 hood
CL-L1 semi-soft case
Front cover
Rear lens cap
*Supplied accessories may differ depending on country or area.
AF-S VR NIKKOR 300mm f/2.8G IF-ED
11
11
My Favorite Lens
I have over 10 pieces of Nikkor Glass and this is my favorite. The images are stunning and focus is very fast, almost as fast as my 200 F2. I agree with the other poster..if you can only get 1 pro telephoto, get this one. Works well with teleconvertors to get the extra reach if you need it.
August 1, 2010
Great Lens
NIKKOR AF-S 300mm f/2.8G IF-ED VR is an absolute performer, extremly sharp at 2.8 and has a nice bokeh at wide open and works very well with the AF-S Teleconverter TC-14E II
July 31, 2010
I use it for a wide range of applications.
As a serious amateur I like to mix my photography up from time to time and I wanted a lens that would lend itself well to a wide range of applications. When I purchased this one I had in mind to use it primarily for wildlife but soon found it to be extremely versatile in so many other applications. I use it for close-up, portrait, landscape, sports and wildlife and the fast focus, sharpness, and image quality are phenomenal.
July 30, 2010
300mm f2.8
If you can buy just 1 telephoto, this is the one. Portraits will stun you, perfect for field sports, racing, indoors, outdoors, it is the King! Use one and you will NEVER give it back. It's big, heavy, expensive and probably my favorite lens. Does so much, just try it for portraits, you will be blown away. That poorly lit sports field is no match for the 300 on a D3. Can't say enough about it. One of the best lenses in Nikon's stable.
July 30, 2010
Good overall lens
Very good lens for the price. Not the highest quality but still very good
April 14, 2011
Poor connections
My lens seems to have a problem with the electrical connections between the lens and camera - I know it's the lens since the problems exist when using this particular lens with other camera bodies - and I have no issues when using other Nikkor lenses - I've had the lens into service a couple of times - all to no avail. When it happens - I lose the AF feature. This lens is a lemon in my opinion - or at least the one I have is.
July 30, 2010
Product Q&A
Ask your questions. Share your answers.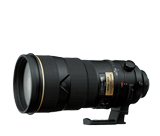 AF-S VR NIKKOR 300mm f/2.8G IF-ED
0
out of
0
found this question helpful.
Was this helpful?
helpful
0
unhelpful
0
http://answers.nikonusa.com/answers/7022-en_us/product/2154/question/744257/undohelpfulness.djs?format=embeddedhtml&sessionparams=__BVSESSIONPARAMS__&return=__RETURN__&innerreturn=http%3A%2F%2Fanswers.nikonusa.com%2Fanswers%2F7022-en_us%2Fproduct%2F2154%2Fquestions.djs%3Fformat%3Dembeddedhtml%26scrolltotop%3Dtrue%26expandquestion%3D744257&user=__USERID__&authsourcetype=__AUTHTYPE__&submissionparams=__BVSUBMISSIONPARAMETERS__&submissionurl=__BVSUBMISSIONURL__
Does anyone know if there was an advisory on VR unit not working after short amount of usage ...
Just had to replace unitand have not used lens much and only a couple of years old...very diss appointed in Nikon product..
Answers
0
out of
0
found this answer helpful.
Was this helpful?
helpful
0
unhelpful
0
http://answers.nikonusa.com/answers/7022-en_us/product/2154/answer/862793/undohelpfulness.djs?format=embeddedhtml&sessionparams=__BVSESSIONPARAMS__&return=__RETURN__&innerreturn=http%3A%2F%2Fanswers.nikonusa.com%2Fanswers%2F7022-en_us%2Fproduct%2F2154%2Fquestions.djs%3Fformat%3Dembeddedhtml%26scrolltotop%3Dtrue%26expandquestion%3D744257%26expandanswer%3D862793&user=__USERID__&authsourcetype=__AUTHTYPE__&submissionparams=__BVSUBMISSIONPARAMETERS__&submissionurl=__BVSUBMISSIONURL__
Answer: 
If you registered it when you purchased it you should have had a 5 year warrenty. (USA)