AF-S VR NIKKOR
300mm f/2.8G IF-ED
This fast f/2.8 telephoto lens features Nikon's VR II image stabilization technology and Nano Crystal Coat and high-speed AF for exceptional optical performance.
52mm filter holder
LN-1 strap
HK-30 hood
CL-L1 semi-soft case
Front cover
Rear lens cap
*Supplied accessories may differ depending on country or area.
AF-S VR NIKKOR 300mm f/2.8G IF-ED
11
11
The One to Buy!
I needed a lens to surpass the limited reach of my 70-200 2.8, a lens i adore. I'd purchased both the TC-17eII and the T-20eIII in an effort to do just that but soon discovered merely adequate results from that combo. I struggled to get into wildlife comfort zones without having to creep about for hours and started to read about this 300mm and its' stellar performance with the teleconverters. From the first shot, I knew I'd made the right choice. The images at 600mm under the right circumstances can be remarkable. Without stepping down, I can hand held at 600 with awesome results. I'm very happy with this lens!
January 28, 2012
Extraodinary
I chose this lens over the 200-400 for a number of reasons. The 300 is lighter and, in my opinion, clear than the 200-400. I enjoy shooting birds free handed, in flight, so moving the heavier lens for any period of time my arms would not be able to take the added weight. The 300, in my opinion, is one of Nikon's best optic lens on the market.
April 14, 2011
A Performer with unsurpassed Image Quality
Right from the first day we received this lens it has been a Performer with Image Quality unsurpassed by any other lens we possess. Focusing is quick in both auto or for those instances when manual is required. I literally manually focus using the tips of my fingers it moves so easily, and goes from near to infinity with one placement of my fingers on the focus barrel. Control switches are optimally positioned and easily changed even during a shot. We combine this lens with a Nikon AF-S Teleconverter TC-20E II for serious nature photography or by itself as a super-telephoto prime for weddings. It is a real work horse for us, the best investment we have ever made to our business.
September 22, 2010
From a 1 to 5 rating I give this lens a 10
I use this lens to photograph landscapes and matched up with the D3x, D3s, D3 or the D700 with a try pod is incredible and I am very very hard to please. The detail in landscapes will knock your socks off.
August 3, 2010
The only lens for sports photography
This lens is a "must have" for any serious sports photographer. It is my only lens for outdoor sports including baseball, soccer, lacrosse, and football. Coupled with a D-700 or better, night game action shots become very manageable. The auto focus is amazing. Subjects snap in focus even under low-light conditions.
August 2, 2010
Product Q&A
Ask your questions. Share your answers.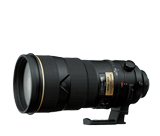 AF-S VR NIKKOR 300mm f/2.8G IF-ED
0
out of
0
found this question helpful.
Was this helpful?
helpful
0
unhelpful
0
http://answers.nikonusa.com/answers/7022-en_us/product/2154/question/744257/undohelpfulness.djs?format=embeddedhtml&sessionparams=__BVSESSIONPARAMS__&return=__RETURN__&innerreturn=http%3A%2F%2Fanswers.nikonusa.com%2Fanswers%2F7022-en_us%2Fproduct%2F2154%2Fquestions.djs%3Fformat%3Dembeddedhtml%26scrolltotop%3Dtrue%26expandquestion%3D744257&user=__USERID__&authsourcetype=__AUTHTYPE__&submissionparams=__BVSUBMISSIONPARAMETERS__&submissionurl=__BVSUBMISSIONURL__
Does anyone know if there was an advisory on VR unit not working after short amount of usage ...
Just had to replace unitand have not used lens much and only a couple of years old...very diss appointed in Nikon product..
Answers
0
out of
0
found this answer helpful.
Was this helpful?
helpful
0
unhelpful
0
http://answers.nikonusa.com/answers/7022-en_us/product/2154/answer/862793/undohelpfulness.djs?format=embeddedhtml&sessionparams=__BVSESSIONPARAMS__&return=__RETURN__&innerreturn=http%3A%2F%2Fanswers.nikonusa.com%2Fanswers%2F7022-en_us%2Fproduct%2F2154%2Fquestions.djs%3Fformat%3Dembeddedhtml%26scrolltotop%3Dtrue%26expandquestion%3D744257%26expandanswer%3D862793&user=__USERID__&authsourcetype=__AUTHTYPE__&submissionparams=__BVSUBMISSIONPARAMETERS__&submissionurl=__BVSUBMISSIONURL__
Answer: 
If you registered it when you purchased it you should have had a 5 year warrenty. (USA)