AF-S VR Zoom-NIKKOR
200-400mm f/4G IF-ED
HK-30 Hood
CL-L2 Soft Case
Front cover
Rear lens cap
*Supplied accessories may differ depending on country or area.
AF-S VR Zoom-NIKKOR 200-400mm f/4G IF-ED
18
18
I am utterly happy with this lens
I am super happy with the lens. I should have bought it years ago.
October 10, 2011
Great lens for wildlife.
Having graduated from the 80-400 mm Nikkor to this lens, I can say that the speed of focus and lower apeture over the entire range make it ideal for photographing wildlife. Coupled with a DX SLR such as the D300, it enables the photographer to shoot in low-light conditions. It's worth the added expense.
June 8, 2011
Tack Sharp and Fast
This lens is my go to lens for sports. The clarity and detail of images produced far exceeds the bulk and size of the 200-400 lens. It is fast, sharp and easy to shoot with using a monopod. I shoot primarily alpine ski racing during the winter months and in all kinds of weather. This lens was consistently the best gear choice for me.
April 14, 2011
I can't get along without it.
Works great for the soccer, football and softball games I cover.
September 22, 2010
Outstanding Lens!!
This lens is fantastic. I saw another photographer using this lens on the sidelines last year and decided I had to have one. Very fast AF and tack sharp images. Was rather disappointed to find out ten days after I purchased the lens they were coming out with a new improved version. Hard to believe they could improve on this lens.
August 13, 2010
Product Q&A
Ask your questions. Share your answers.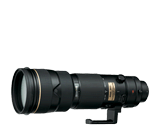 AF-S VR Zoom-NIKKOR 200-400mm f/4G IF-ED
Mar 30, 2012 by
by
Lax Dad
Mystic, Stonington, CT, USA
0
out of
0
found this question helpful.
Was this helpful?
helpful
0
unhelpful
0
http://answers.nikonusa.com/answers/7022-en_us/product/2146/question/680478/undohelpfulness.djs?format=embeddedhtml&sessionparams=__BVSESSIONPARAMS__&return=__RETURN__&innerreturn=http%3A%2F%2Fanswers.nikonusa.com%2Fanswers%2F7022-en_us%2Fproduct%2F2146%2Fquestions.djs%3Fformat%3Dembeddedhtml%26scrolltotop%3Dtrue%26expandquestion%3D680478&user=__USERID__&authsourcetype=__AUTHTYPE__&submissionparams=__BVSUBMISSIONPARAMETERS__&submissionurl=__BVSUBMISSIONURL__
I use a D90 with a monopod and have been capturing photos with the AF-S VR Zoom-Nikkor 70-300mm f/4.5-5.6G IF-ED. I would like to upgrade.

Which would be the best single choice?
AF-S Nikkor 300mm f2.8G ED VRII
AF-S Nikkor 200-400mm f4G ED VRII
AF-S Nikkor 200-400mm f4G IF ED

Any other good alternatives?
3 months, 2 weeks ago
by
Lax Dad
Mystic, Stonington, CT, USA
Location : 
Mystic, Stonington, CT, USA
Experience: 
More than a year
Role: 
Serious passion, hobbyist
Answers
0
out of
0
found this answer helpful.
Was this helpful?
helpful
0
unhelpful
0
http://answers.nikonusa.com/answers/7022-en_us/product/2146/answer/794067/undohelpfulness.djs?format=embeddedhtml&sessionparams=__BVSESSIONPARAMS__&return=__RETURN__&innerreturn=http%3A%2F%2Fanswers.nikonusa.com%2Fanswers%2F7022-en_us%2Fproduct%2F2146%2Fquestions.djs%3Fformat%3Dembeddedhtml%26scrolltotop%3Dtrue%26expandquestion%3D680478%26expandanswer%3D794067&user=__USERID__&authsourcetype=__AUTHTYPE__&submissionparams=__BVSUBMISSIONPARAMETERS__&submissionurl=__BVSUBMISSIONURL__