Immerse yourself in the world of photography.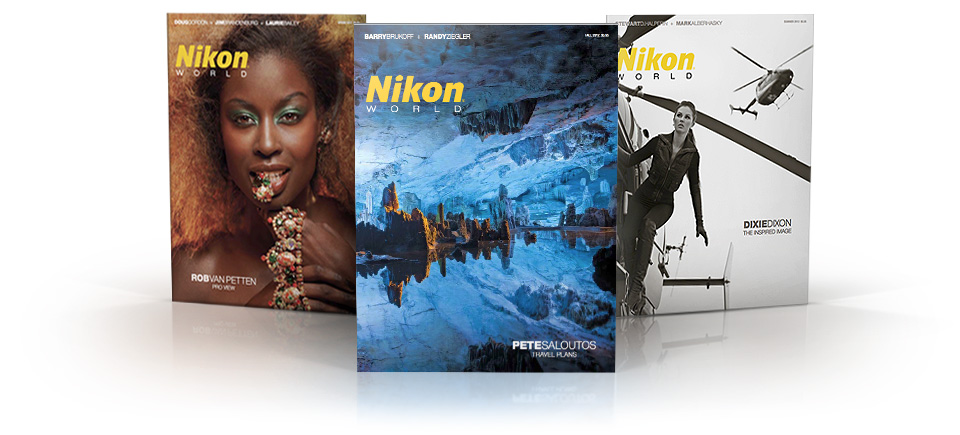 The world's greatest photographers are featured in the pages of Nikon World magazine.
Get an in-depth view of the world of photography with inspirational and educational articles from professionals of every genre, tips and techniques, shots from up-and-comers, gear reviews and more. Published quarterly (Spring, Summer, Fall, Winter), Nikon World is the perfect accessory to your Nikon gear.
$16.95 - 1 year
$29.95 - 2 years
$39.95 - 3 years
Get a FREE 2013 Calendar!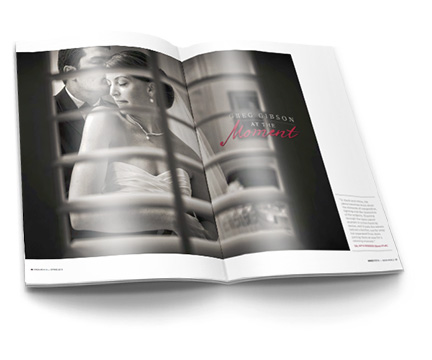 Meet today's greatest pros
Go behind the lens with today's photography legends. Learn about their techniques, get the inside scoop on some of their projects and photographs and find out what inspires them.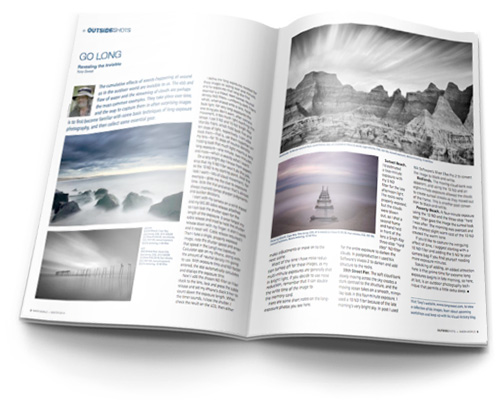 Learn new techniques
In addition to providing endless inspiration, Nikon World articles will help you master new techniques and extend your creativity and capabilities. Every issue is packed with stunning photography examples, advice and explanations.
Learn & Explore Tip of the Day
May 20, 2013
Don't forget to bring your camera to holiday barbeques so you can capture all of the fun. Take pictures of the food being grilled, games being played, as well as groupings of friends and family.
May 19, 2013
Wait until the camera has finished writing the photo(s) to the memory card (green light is off) before turning off the camera or removing the card. You can lose pictures if you do either before the camera has had time to download the file(s) from its internal memory to the card.
May 18, 2013
You should format the memory card in your camera on a regular basis. By using the camera's built-in "Format" function, found in the menus, you lessen the chance of having card problems in the future. Doing so is better than just deleting the images using the camera or the computer.
May 17, 2013
When you're at a parade take photos of the parade goers, especially your children and the looks on their faces. You'll see a lot of smiles and excitement.
May 16, 2013
Take a self-portrait each day for a week or month (or a year). It's harder than you think to take an attractive photo of yourself, and if you do it for long enough you'll have an interesting series that shows how you've changed over time.
May 15, 2013
Everyone loves a parade. For more interesting photos, look for details like the band's uniforms, a cheerleader's colorful pom-poms or a bright red fire engine.
May 14, 2013
When shooting groups of five or more people, make sure you stagger them. Put tall folks in the back and the shortest ones in front. It may seem simple, but blocking out just one face can ruin a group portrait. Always tell them, "If you don't have a clear view of me, the camera can't see you."
May 13, 2013
Posing a bride and groom for photos is sometimes difficult. Concentrate on close shots of just the two of them, with clean backgrounds. Then create a fun group shot having them in the center, with others gathered around them. Just make sure no one gets in front of them. After all, it's their day.
May 12, 2013
Take plenty of photos during your Mother's Day celebrations. Remember to print multiple copies, so everyone can have their own photographs of mom to cherish.
May 11, 2013
Use a polarizing filter to lessen or eliminate reflections from glass. This works really well on windows of stores or cars. But the trade-off is that your exposure will be a bit longer, as the light is cut down by almost two stops.