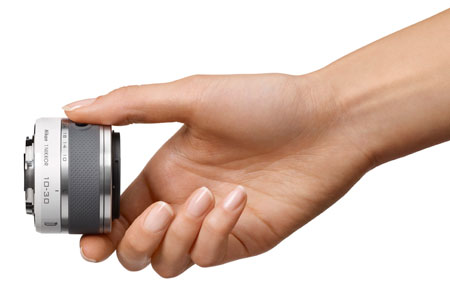 Press the retractable lens barrel button and turn the lens barrel to extend or retract the physical length of specific 1 NIKKOR lenses.
Certain 1 NIKKOR lenses that have been designed for use with the brand new Nikon 1 camera system were created to be ultra-compact. Using a retractable lens barrel, the closed lens is small, in keeping with the system's small form factor. This small form factor dramatically reduces the size of the camera for increased portability.
These lenses feature a Retractable Lens Barrel Button, which when pressed and the zoom ring rotated, extend the length of the lens barrel. In addition, pressing the Retractable Lens Barrel Button automatically turns the camera on. This allows you to immediately be ready to take great pictures. When you're done using the lens, simply press the button again and rotate the zoom ring in the opposite direction.