What I see through a NIKKOR lens is never an issue; it's whatever I choose. But what I see on a NIKKOR lens can be another matter, and that's what brought me not long ago to the office of Nikon senior technical manager Lindsay Silverman. As a writer and editor in the photo industry, I'm well aware of Lindsay's expertise.
My timing was perfect: on a side table were several NIKKORs. I picked up the AF-S NIKKOR 200mm f/2G ED VR II. "You know what confuses me?" I said.
"String theory?" he said.
"That, too," I said, "but in this case, it's the VR II designation. I see the Roman numeral II after VR in the written description of this lens, and after the G on the lens barrel, and I take it to mean that this lens offers the second generation of VR technology."
"Common misconception," Lindsay said. "There is a second generation of VR image stabilization technology that allows hand-holding the camera at up to four stops slower, but that designation appears in lens instruction booklets, on spec sheets and with lens information at NikonUSA. The Roman numeral you see in the printed name and on the lens barrel means the second generation of that particular lens."
"Like this one," I said, indicating the 200mm lens I was holding.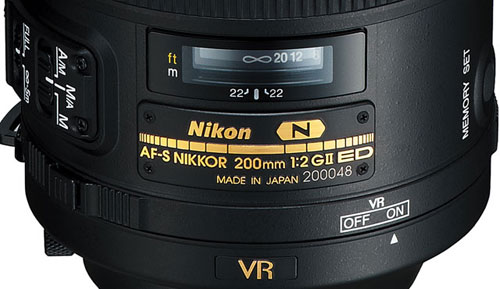 The AF-S NIKKOR 200mm f/2G ED VR II. The Roman numeral indicates
it's the second generation of the AF-S 200mm.
"Right," he said, "and it features VR II technology."
"But how would I know that?"
"From the product description at NikonUSA or the manual for the lens."
"Okay, so a Roman numeral II on a lens means second generation of that lens—and that's all it means."
"Right," he said. "Here, let me take you through the rest of what you're seeing on our lenses." He reached over and got the AF-S NIKKOR 24-120mm f/4G ED VR.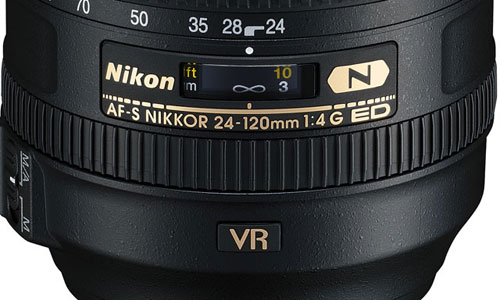 The AF-S NIKKOR 24-120mm f/4G ED VR.
"Right above the focusing ring and next to the Nikon name is the distance indicator window, which tells you in feet and meters where the lens is focused at any given point. To the right of the distance indicator window is the letter N, meaning the lens has Nikon's Nano Crystal Coat, an incredibly effective anti-reflective coating.
"There can be other notations, though." He picked up an AF-S DX NIKKOR 55-300mm f/4.5-5.6G ED VR.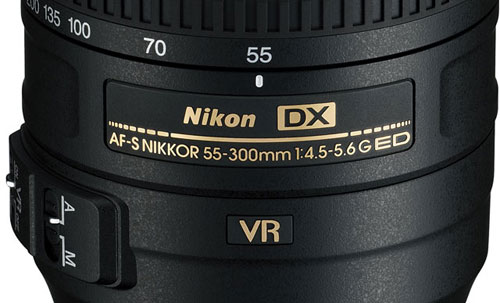 Any Lens that features the letters DX, like the AF-S DX NIKKOR 55-300mm f/4.5-5.6G ED VR,
is optimized for Nikon DX-format sensor cameras.
"Here there are the letters DX next to the Nikon name, which means this lens is optimized for cameras with a DX-format sensor—the