Capturing Images of Polar Bears






Polar bears may be one of the most fascinating creatures in the world. Their harsh conditions, overwhelming size (the largest mammal in North America) and threat of extinction make them an engaging subject for any nature photographer.
During an eight-week period every fall, the polar bear population of northern Manitoba, Canada, emerges from slumber to await the incoming ice floes on Hudson Bay. This ice provides the bears a home for the winter so they can catch ringed seals and feed themselves for the long harsh months. Historically the ice floes come in mid November, and in the course of days the bears can be gone... out to sea hunting.
Nature photographers have been capturing this yearly exodus for years. I was fortunate to spend time in Churchill, Manitoba, to photograph these magnificent animals roaming wild. So how does a photojournalist head out to the subarctic to become a nature photographer? Very carefully.
Prepping for a shoot like this raises three questions: What equipment do I need? How do I prepare for the weather? How do I get to see the bears?
Equipment preparation: I am a huge fan of long lenses. I use them all the time, but the most important aspect of photographing any animal (especially when surrounded by other photographers) is flexibility. I want to be able to move, recompose and make artistic decisions quickly without bothering the photographers to my immediate left or right. On my trip I chose the NIKKOR 200-400mm. It gave me everything I needed in a long lens.
I also had along my favorite medium zoom, the 17-35mm. I figured I would not really need it, because if a polar bear got that close to me, I might be in trouble. Boy was I wrong! I used it and made one of my favorite pictures.
On the polar bear trips, you travel by Tundra Buggy, basically a school bus on steroids that can traverse the frozen land effortlessly. You are ten feet off the ground, but it's the ideal platform for photographing the bears.
Weather preparation: I always use my D3 or D700 when I'm counting on the cameras to survive harsh conditions. The key in the cold is to have a spare battery with you for each camera and let the cameras get acclimated. We actually left our cameras in the Tundra Buggies each night (in bags of course). We just popped in new batteries and flash cards and were ready to go.
Travel preparation: Knowing the life patterns of the species is a necessity—when will the bears be in a place where you can visit them easily. Be prepared and think smart.
Animals are like people in that they have personalities, and you need to place them in their environment. If you shoot too tight, it looks like you are at a zoo. But give them scale in the wilderness, show them living in unspoiled nature and you can really capture something special.

Welcome to the NEW
Nikon Learn & Explore
We've redesigned the site to make it easier to find stories you care about, get tips and advice from pros, learn new shooting techniques, discover classes and workshops—in short, help you find new inspiration every time you visit. (And we hope you visit often.)

Access all the photography techniques, advice and inspiration of Nikon's Learn & Explore anytime, anywhere with the free app for iPhone, iPod Touch and iPad.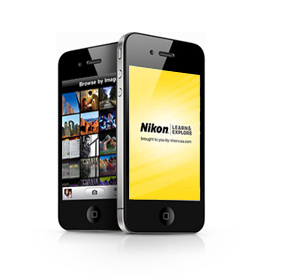 Take Today's Poll
Along with the new look of Learn & Explore, we've added polls. Make your opinion count and check back often to participate in new polls.
Take your photographic knowledge to the next level; get a working understanding of your camera's features; learn how to create HD-SLR videos; discover how to edit your images using Capture NX2 software and more.