Many photographers have found the versatility of today's modern zoom lenses invaluable. Let's face it, we can't always get as close to our subjects as we would like, and sometimes, as in wildlife photography, we want to work from a safe distance. The zoom lens makes it possible for us to work from a fixed location and still get a wide variety of images.
The first illustration in the Media Center to the right is of a small dock in the harbor of Bernard near Acadia National Park. Without actually walking out on the dock, I was able to take a variety of images by switching between a wide-angle zoom and a telephoto zoom, in this case Nikon's AF-S Zoom-NIKKOR 17-35mm f/2.8D IF-ED and the AF-S VR Zoom-NIKKOR 70-200mm f/2.8G IF-ED lenses. The light was just perfect—and changing fast. With the help of the two zooms I was able to get all four shots in less than a minute and half before the light went away. As a travel and nature photographer I often find images that simply can't be made without the range of a zoom lens. While walking down the street in old San Diego I spotted some colorful guitars in a sidewalk vendor's booth. I waited until no one was standing in the way and composed an image of just the guitars using the AF-S VR Zoom-NIKKOR 70-300mm f/4.5-5.6G IF-ED lens.
The two stream shots—one in the Great Smoky Mountains with the fall leaves and one in Vermont with the two red leaves—were made by zooming in from a position close by that afforded me just the right composition.
Lastly, a sunset behind acacia trees on Africa's Serengeti Plains. There were lions roaming nearby, so leaving the vehicle was out of the question. Using a Zoom-NIKKOR lens I was able to compose the image of the setting sun and two trees—and that's a lot better than being eaten by lions!
Bill Fortney has been an NPS member since 1975.

Welcome to the NEW
Nikon Learn & Explore
We've redesigned the site to make it easier to find stories you care about, get tips and advice from pros, learn new shooting techniques, discover classes and workshops—in short, help you find new inspiration every time you visit. (And we hope you visit often.)

Access all the photography techniques, advice and inspiration of Nikon's Learn & Explore anytime, anywhere with the free app for iPhone, iPod Touch and iPad.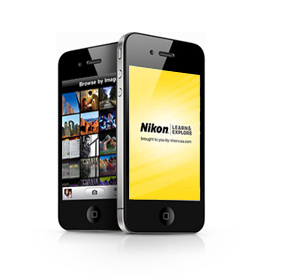 Take Today's Poll
Along with the new look of Learn & Explore, we've added polls. Make your opinion count and check back often to participate in new polls.
Take your photographic knowledge to the next level; get a working understanding of your camera's features; learn how to create HD-SLR videos; discover how to edit your images using Capture NX2 software and more.